Academic Boycott – FAQs for University of Leicester Staff
Published: 7th May, 2021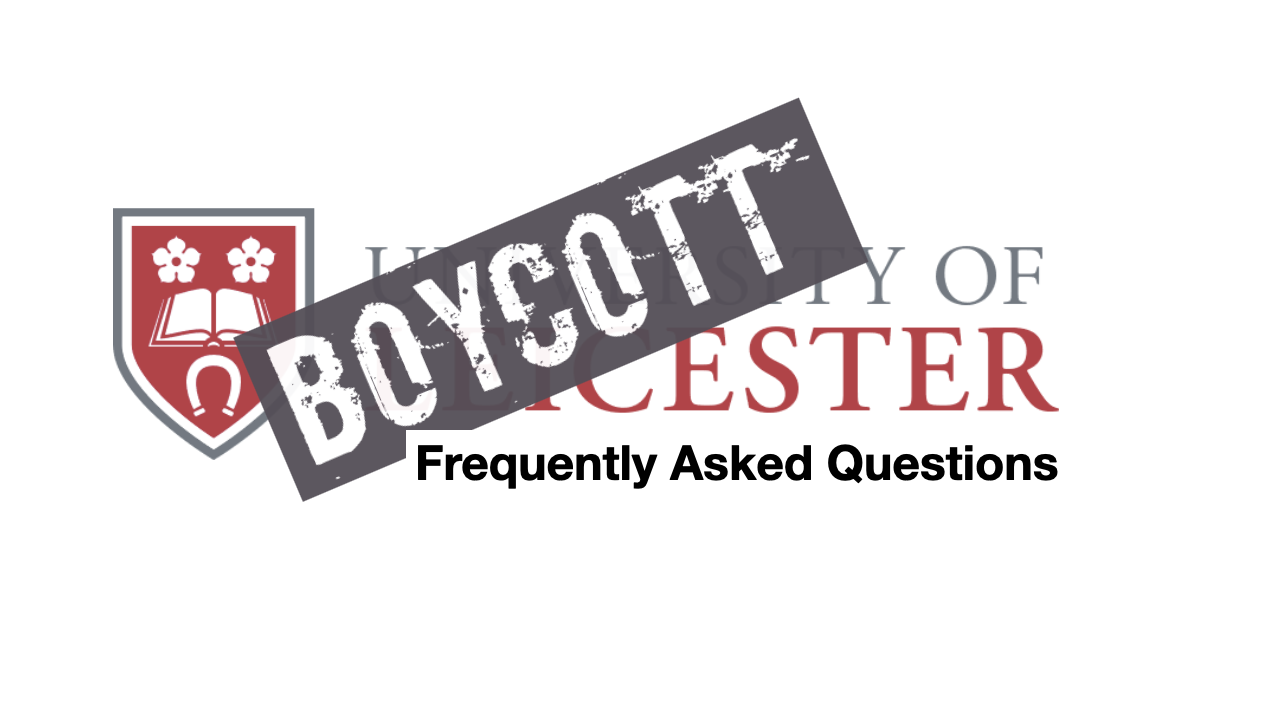 On Tuesday 4th May UCU formally announced a Global Academic Boycott of the University of Leicester and informed its members across all institutions.
For UCU members and supporters outside UoL, this means
not applying for any advertised jobs at Leicester
not speaking at or organising academic or other conferences at Leicester which are outside of contract
not accepting new invitations to give lectures at Leicester
not accepting new positions as visiting professors or researchers at Leicester
not accepting invitations outside of contract to write for any academic journal which is edited at or produced by Leicester
not accepting new contracts as external examiners for taught courses at Leicester
refusing to collaborate on new outside of contract research projects with Leicester.
Academic Boycott is aimed at providing a means for our colleagues across the sector to support our struggle, rather than at those of us working at UoL – but, clearly, there are implications for how we work and UCU members at UoL are likely to have questions about how to best to facilitate the broader union's ability to support us. As such, we have put together this internally focused FAQs document, which we can update as and when new issues arise.
What is a Global Academic Boycott?
Global Academic Boycott is incredibly damaging to an institution's reputation and is, quite rightly, rarely used, being reserved only for the most egregious cases of mismanagement that are likely to cause sector-wide damage to our working conditions and to those of our students. It is a form of sanction where members of the union, and others from around the world wishing to act in solidarity with affected staff at a given institution, are asked to forego interactions with that institution which may build its reputation, enhance its standing, or enable a whitewashing of the issues at the heart of the dispute. The specific actions called for by UCU are listed above.
What is Greylisting?
'Greylisting' (in an HE context) is another way of saying 'Academic Boycott'
Who should observe the boycott?
The boycott is aimed at colleagues across the sector – and globally – working outside the University of Leicester.
Can I still publish/speak at events?
Yes you can. There is no intention to boycott individual members of staff at Leicester. Instead the action is aimed at the institutional level. It is intended to support staff by putting pressure on our employer to cancel the redundancies, not to create obstacles to our careers. If you're due to publish in a journal (as long as it is not based at UoL) or speak at an event (as long as it is not based at UoL), go for it – and all the very best of luck to you. You may be able to help to enhance the Academic Boycott by hiding or downplaying your institutional affiliation. Alternatively you could use the opportunity to draw attention to what's happening at the University and condemn the actions of its Executive Board. At a conference you could, for instance, use a Teams/Zoom background in which you state your support for at-risk colleagues and/or spend a couple of minutes at the beginning of your presentation explaining the situation.
If you're publishing in a UoL-based journal or speaking at a UoL-based conference we would recommend boycotting them in the way you would do if you were not UoL staff except in cases where it is a specific part of your job to deliver such things. This is unlikely to be the case for academics but some professional services staff may, for example, be contractually required to deliver talks at Leicester-hosted events. Academic Boycott is not strike action and does not have the same protections in cases of breach of contract.
Will my own work be boycotted?
Not in most cases but it does slightly depend on the meaning and context of 'work'. It is not the intention of the boycott that UoL staff should be disinvited from events, or projects, or publications. As stressed above, this is a boycott of the institution, not the staff. However, where your work consists of organising conferences at UoL, editing or publishing journals based at UoL, or inviting people from other institutions to be part of exciting new projects with you and colleagues at UoL, it is inevitable that you will come up against limitations created by the sector's support for the boycott. See the following question for how you might approach that.
Should I cancel the event I've organised at UoL to which I've invited external speakers?
The Boycott, being externally-facing, does not require you to do that. Provided that organising the event is not a specific contractual duty you certainly could cancel it in order to avoid putting speakers on the spot. But, it is far better that there are events from which speakers can withdraw than that there are no events. Why not contact the speakers, explain what's happening at Leicester, ask them to support the boycott, and ask that they make their withdrawal from the event public? You may, of course, end up cancelling the event due to a lack of speakers but better not to waste the opportunity to hammer home the consequences of our employer's ill-considered attacks! If your speakers don't want to support the boycott, you might decide to cancel the event anyway.
Will my collaborators and co-authors withdraw from the projects we're doing together? (And should I encourage them to if they don't?)
UCU is not asking them to and you don't need to encourage them to in order to support the boycott. UCU is only asking people not to enter into new projects based or part-based at UoL.
The UCU advice says not to apply for jobs advertised at University of Leicester, but as an existing employee can I still apply for jobs or promotion internally?
Yes. The boycott doesn't affect that.
And what about applying through an external route for jobs at UoL if I already work there?
You should treat this as you would if you were not an employee of UoL – i.e. don't do it. However, it may be worth speaking to UCU (or another advisor) to make sure that this is not a post that you ought to be being considered for through an internal process (for example if you are on the redeployment register and feel that this is something to which you possibly should have been alerted)
As a member of professional services, can I ask UoL academics to contribute to my events (e.g subject taster days/school visits)?
Yes, although we would hope that they would say no due to following ASOS and not volunteering for things. However, as stressed above, it is more useful for the visibility of the campaign for there to be events from which people can withdraw and invitations that colleagues can decline, than that there are no events in the first place. How best to approach this might be something you can discuss with the academics that you would, under normal circumstances, be of a mind to ask to get involved.
How can professional services staff partake in the boycott more generally?
Professional services staff are more likely than academics and researchers to be contracted to organise or facilitate events at UoL. We do not advise refusing such activity – as above the global academic boycott does not have the same legal status as action short of a strike. However, many professional services staff have a far greater knowledge than academics of the number and extent of UoL-hosted events that are taking place. You can use this knowledge to promote awareness of the boycott and encourage people outside the institution to observe it. If you know an event is happening, you can write to Leicester UCU (ucu@uculeicester.org.uk) and tell us what the event is, who the speakers are, etc. and we can write to them explaining the situation and asking them to withdraw. You could do this yourself, of course, but it's safer if the request comes from UCU – unless you trust the person you're writing to.