Strike Dates: November 2022
Published: 11th November, 2022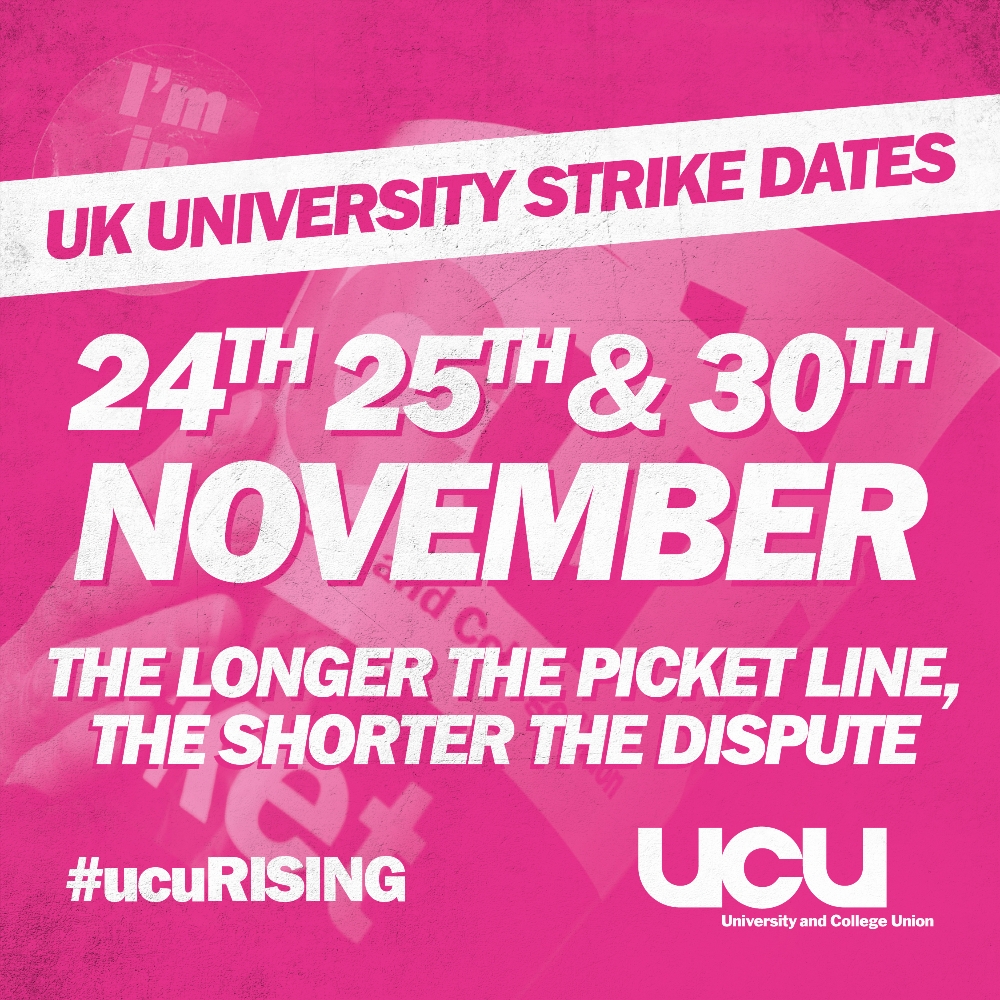 When we are striking:
Thursday 24 November
Friday 25 November
Wednesday 30 November
Why we are striking:
Meaningful pay rise (RPI +2%) to address over a decade of below inflation salary uplifts.
Stamp out insecure and casual contracts.
Revoke pension cuts imposed earlier this year.
Address equality pay gaps (E.g. Gender Pay Gap at Leicester is 20%)
The UK university sector generated a record income of £41.1bn last year with vice chancellors collectively earning an estimated £45million. The sector can more than afford to meet staff demands. Industrial action, and a strong mandate for action from 70000 members in the UK, is the leverage needed to bring employers to the negotiating table.
UCU is not unique. We join dozens of British trade unions with a mandate for industrial action. Workers are frustrated at wealthy employers with record profits and giving bonuses to those at the top, whilst workers at the bottom have their wages stifled in the face of rising costs and crippling energy bills.
Members will also commence Action Short of a Strike from 23 November. This involves:
Working to contract (not undertaking duties outside of work contracts)
Not undertaking voluntary activities
Not covering for absent colleagues
Not rescheduling missed classes due to industrial action
Removing materials for classes that would have taken place on strike days from online learning platforms.
We never undertake action lightly. Members are at breaking point. We are doing this to save the institutions we love, and to achieve dignity at work. Students learning conditions are our members' working conditions.
How you can get involved
Join us on the picket lines. Each morning of the strike days we will be picketing outside University entrances telling staff, students and visitors why we are on strike and encouraging people to join us. We will also have a number of teach out events on a number of different topics. These are lively, friendly and safe spaces which everyone is welcome to attend.
Share your support for our action on social media, tagging us on Facebook. Twitter and Instagram @leicesterucu #ucuRISING
Download resources to show your support here.
Not a member? Join us today.
Donate to our Fighting Fund.