LUCU June Bulletin
Published: 10th June, 2022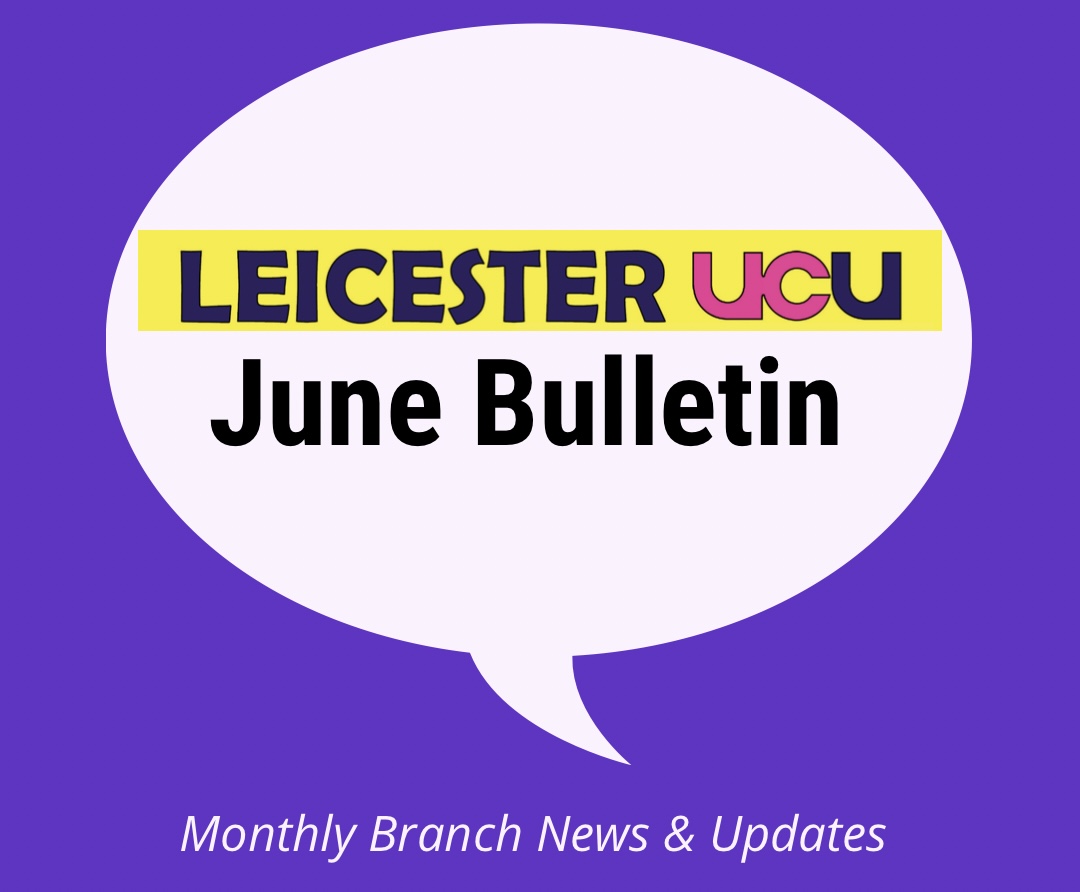 Welcome to the first monthly bulletin of LUCU. Here we share the latest branch news and work that has been going on over the last month, and share how you can get involved in upcoming events. For news on national UCU campaigns, see here.
Meeting with Executive Board
Senior branch officers, along with a UCU regional official, met with the University Executive Board on 23 May to begin discussions about what can be learned from the redundancy programmes of last year, as stated by the dispute resolution agreement.
This meeting was the first of many to discuss all of the above points. Branch co-chair, Joseph Choonara, reported to the committee that this was a polite and productive meeting. Among the topics discussed were redundancy ordinances, information sharing (and issues of confidentiality), academic freedom, and staff morale.
We will keep you informed of the ongoing meetings, and any outcomes agreed.
Governance
The branch co-chair, Joseph Choonara, and co-secretary, Jose Carvajal Lopez, met with University Registrar and Secretary, Geoff Green, to discuss the issues of governance that became a concern for members during the wave of redundancies last year.
The governance structures at Leicester are quite different to, and much less democratic than, other pre-92 institutions. UCU is asking for staff representation on both Council and Senate.
Senate should have three staff representatives. The Executive Board has agreed to set up elections shortly. The Branch will need to campaign to get UCU members elected.
As for representation on Council staff, the Executive Board are not inclined to agree to that. Therefore, the Branch needs to campaign for better democracy in the University and representation on Council.
Grade 7 to 8 Progression
Work has been ongoing among senior officers and reps to lobby the University to create better opportunities for career progression from grade 7 to 8. This has begun by looking at teaching fellows in the School of Business specifically, and it is hoped that this meaningful work can be replicated in other academic departments, in professional services, and for post-doctoral research staff.
The Exec/HR has agreed to carry out a review of the introduction of a progression path between grade 7 & 8. Leicester UCU is participating in the working group and a proposal should be out by the end of the year.
Office Hours
We are pleased that our office doors have re-opened, and you can drop by and speak to senior officers. Upcoming hours can be found here, including information on how to find us.
These are an opportunity to speak to branch officers about any issues that have arisen, and get
There will also be online sessions commencing soon, the schedule will be circulated shortly.
JNCC (Joint Negotiation and Consultation Committee)
The Branch has not been attending JNCC meetings as it was in dispute with the University. It was agreed amongst the committee that this is not serving the interest of the Branch, as discussions are happening without our consultation. The Committee voted to recommence attendance but revisit the situation if/when there is industrial action.
Anti-Casualisation Working Group
This consists of branch officers and reps who meet regularly with Emma Stevens from HR to discuss ways in which anti-casualisation in the University can be addressed. The group have worked hard to gain employment for those on recurrent short-term contracts, and has had a number of successes over the last few years.
Currently, they are working to on a mission statement that will continue to push for fewer fixed-term contracts, and ensure that job security is a priority. More news will follow shortly.
UCU National meetings report
Andreas Anastasiou, is the branch UCU Congress delegate, and attended online 1-3 June. Andreas gave a brief report to committee, and a full report will be made available shortly.
It was noted that there were heated debates on particular motions and some vote results were very close. It looks that, due to opposing views and close votes, there does not appear to be a consensus on strategy. Full information about Congress and the motions discussed can be found here.
The main decisions were:
The next ballot will be aggregated
There will be ballots on both USS and Four Fights over the summer and again in the autumn
The Branch is entitled to send two delegates, and it was agreed by committee that, in future, it would be of benefit to send our full complement of delegates to UCU national meetings.
LUCU Social Events
We are pleased that our first in-person social get together on 1 June was a great success. This was an informal opportunity to meet fellow members, reps and officers and to chat outside of work. As we received such great feedback, senior officers are looking to organise regular meet ups as a way to unwind and catch up with fellow LUCU comrades.
If you have an ideas for locations, specific dates/times that will work well, please contact incoming co-chair Nataly Papadopoulou (Nataly@uculeicester.org.uk).
Committee Meeting is Thursday 7 July
Senior Officers meet every Friday
TUC Rally
On Saturday 18 June, the TUC is holding a march & rally in London to demand a better deal for working people. We are currently organising transport to the rally for Leicester UCU members. To get a sense of numbers, if you would like to attend, please fill out this form. More information about the rally can be found here.
Staff Benefits Roadshow
On Wednesday 29 June, 11am-2pm in Charles Wilson Belvoir Park Lounge, there will be a staff benefits roadshow, run by staff health & wellbeing. Leicester UCU will have a stall at the roadshow, along with a number of other vendors. Please show your support and come say hello. Bring colleagues, and non-members to come and have a chat.
Become an Officer or Rep
We are always on the look out for activists and new reps. There are a number of positions within the branch committee that are vacant, as well as a number of departments that are without a rep.
If you're interested in becoming more involved in the branch, please contact us (ucu@uculeicester.org.uk). For more information about the roles, see our webpages, or feel free to contact us for an informal chat.