LUCU July Bulletin
Published: 11th July, 2022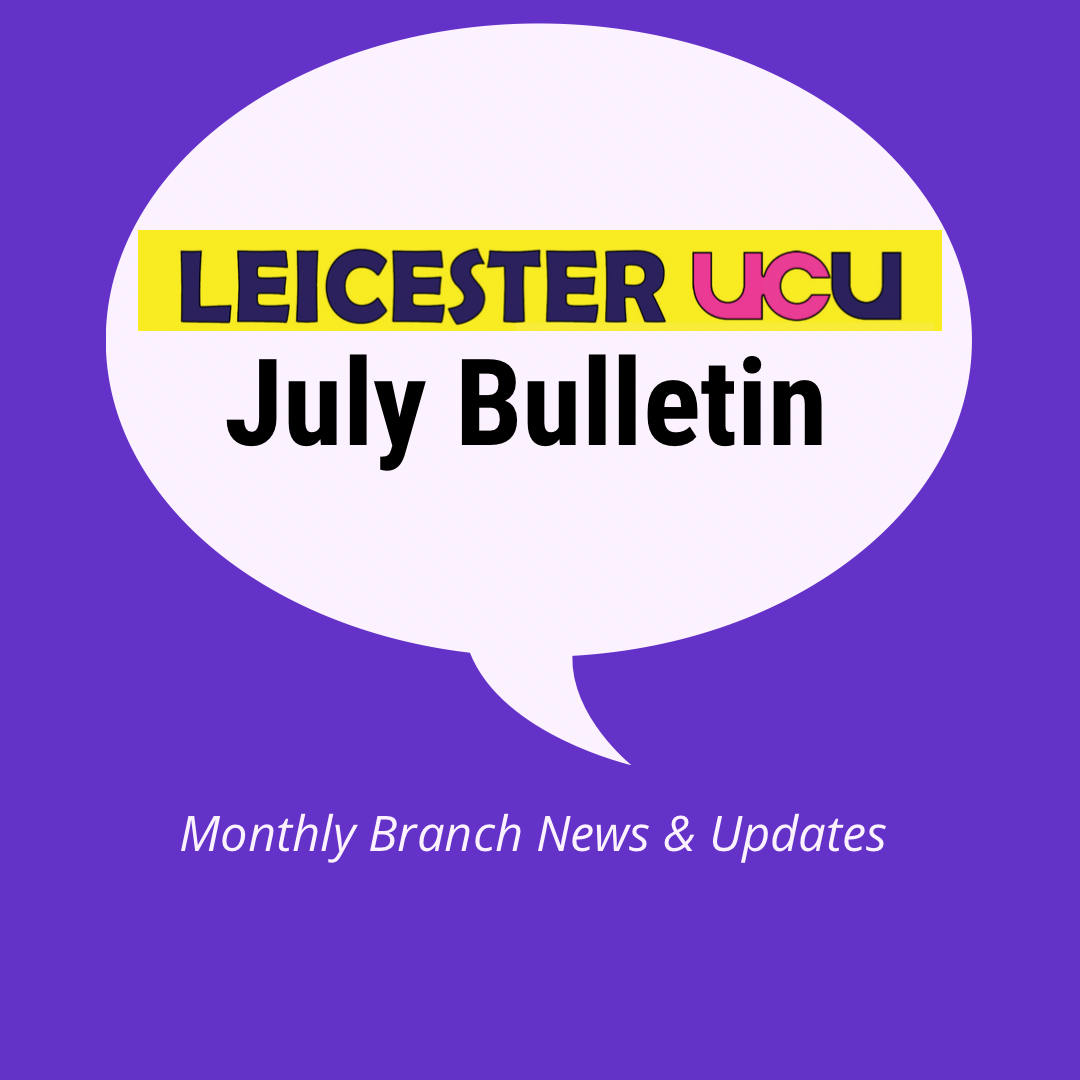 Welcome to Leicester UCU's monthly bulletin. Here we share the latest branch news and work that has been going on, and how you can get involved in upcoming events. For news on national UCU campaigns, see here.

JNCC (Joint Negotiation and Consultation Committee)
Nataly (incoming co-chair) and Cara (Communications Officer) attended the JNCC meeting on behalf of the branch. This was our first JNCC meeting in several months, and the resumption of our attendance was very welcome. Alongside reps from the two other campus unions, we heard the latest reports from the Executive Board, including an update on financial matters. We also had the opportunity to share pressing matters that need addressing by our membership. The agenda items we brought forward were concerns about the staff survey, and the need to establish realistic and achievable workload allocation models.
If you have feedback, concerns or would like to discuss either of these matters, contact Nataly.
TUC Demo – 18 June
A delegation of branch officers attended the TUC's We Demand Better rally on 18 June in London. The event was a great display of solidarity across the trade union sector, and was a lively, energetic collective effort to demand pay rises. More info can be found here.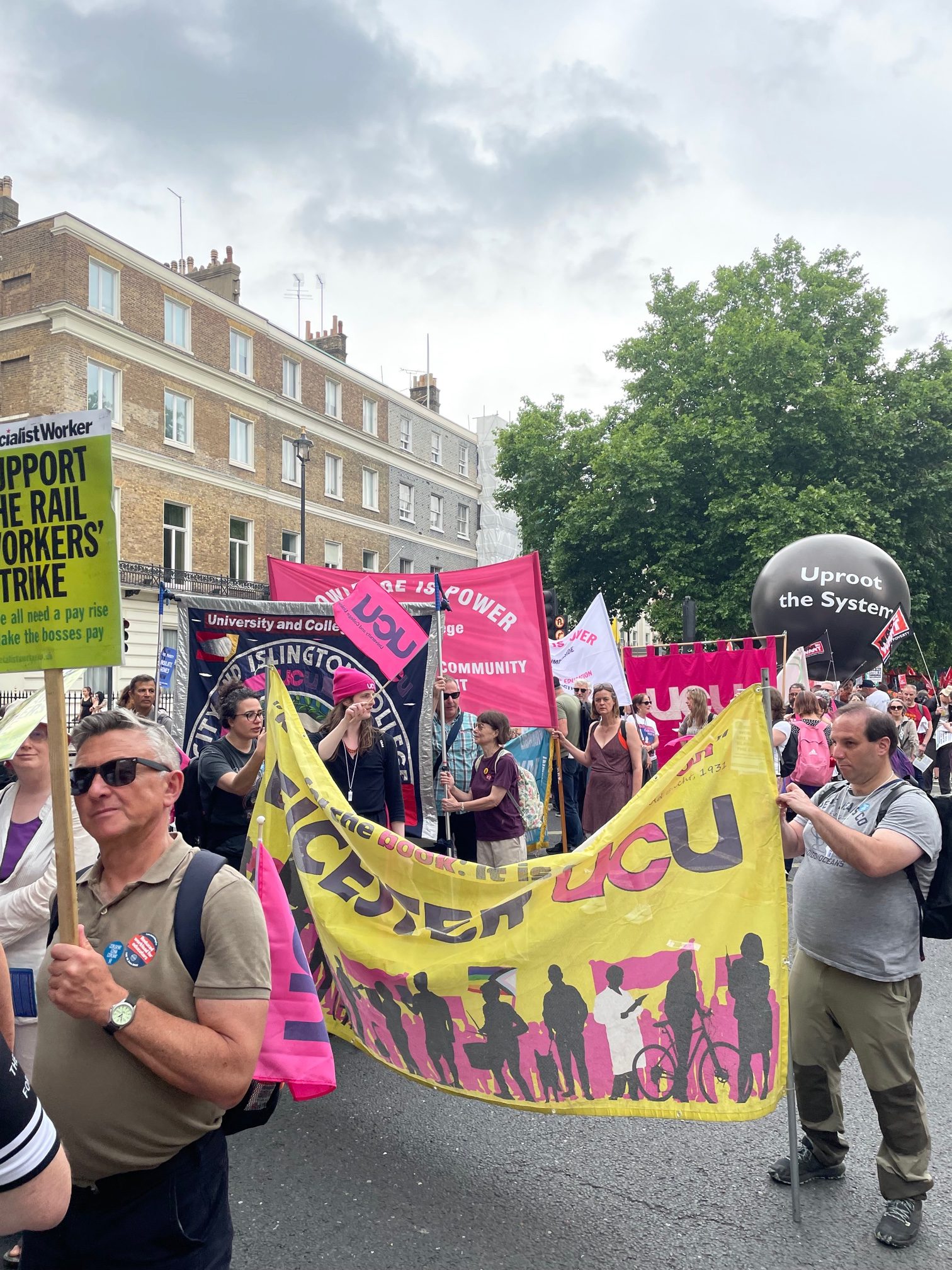 Staff Benefits Roadshow
On 29 June, branch officers held a stall at the staff benefits roadshow. This was well attended, and gave both members and non-members the chance to find more about UCU and what we do.
Office Hours
We are pleased that our office doors have re-opened, and you can drop by and speak to senior officers. Upcoming hours can be found here, including information on how to find us. These are an opportunity to speak to branch officers about any issues that have arisen, and get advice.

Branch Delegates Meeting – 27 June
UCU held a Branch Delegates' Meeting (BDM) on 27 June to advise the union's Higher Education Committee (HEC) on how to carry forward our industrial disputes. Our branch delegates, Andreas Anastasiou and Joseph Choonara, attended on our behalf. You can view the results of the voting here.
The HEC then met to discuss the voting outcomes, and UCU's strategy for planning forthcoming action was outlined. The outcome can be viewed here.
If you wish to contact our officers and reps, contact information can be found here.

LUCU Social Events
Our next informal, social gathering will be on 12 July at 6pm at the Clarendon Pub.
All welcome, feel free to bring colleagues and friends along.
Contact Nataly if you require any further information.

Committee Meeting is Tuesday 2 August
Reps Meeting is Tuesday 16 August
Senior Officers meet every Friday

Become an Officer or Rep
We are always on the lookout for activists and new reps. There are a number of positions within the branch committee that are vacant, as well as a number of departments that are without a rep.
If you're interested in becoming more involved in the branch, please contact us (ucu@uculeicester.org.uk). For more information about the roles, see our webpages, or feel free to contact us for an informal chat.