LUCU September Bulletin
Published: 16th September, 2022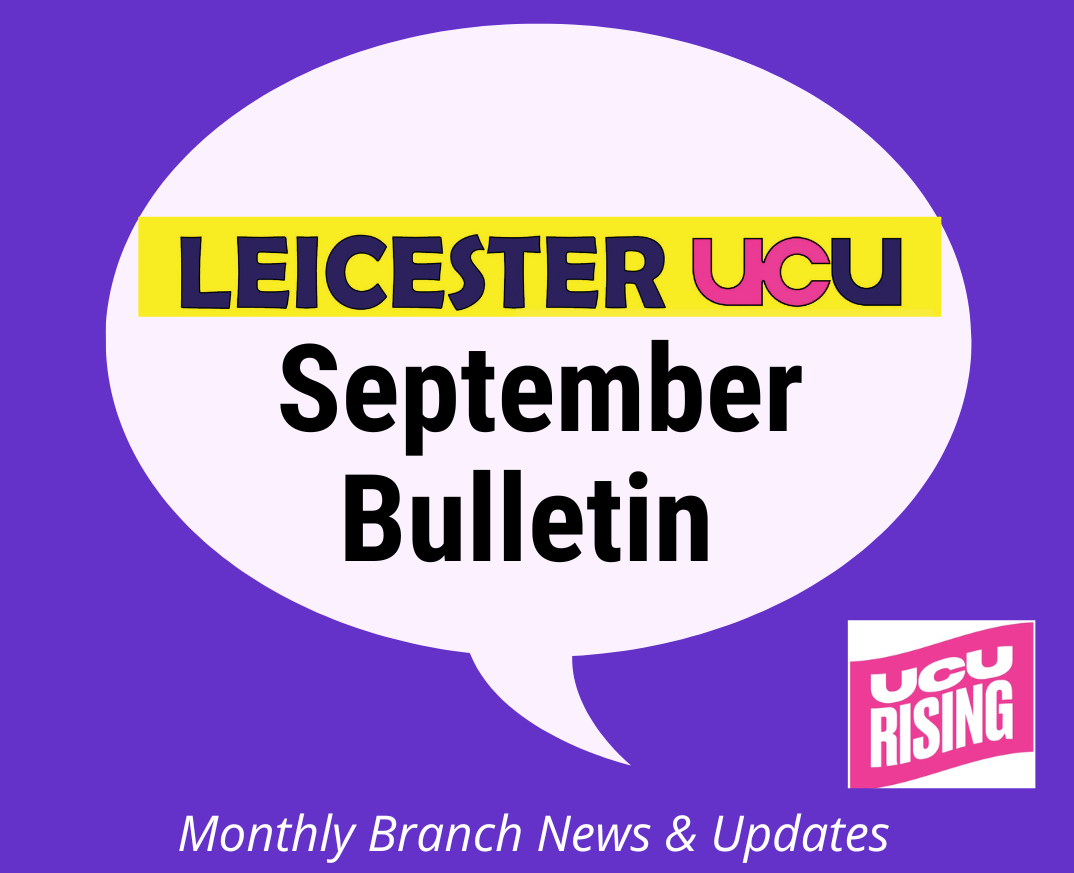 Welcome to Leicester UCU's monthly bulletin. Here we share the latest branch news and work that has been going on, and how you can get involved in upcoming events. For news on national UCU campaigns, see here.
This edition is a ucuRising special, as our new national campaign and ballot for action is now underway. Full information about the campaign, along with useful resources, can be found here.
ucuRising Local Campaign strategy
Branch officers have been working hard to devise events and coordinate the ucuRising campaign at a local level. The ballot window for returning your votes runs from 6 September until 21 October. It's important to note that there are two new features to the current national action:
(a) in the broad context of the growing cost of living crisis, the current offer of 3% represented a significant pay cut
(b) many other unions were taking action over pay meaning we were now part of a much broader movement than in previous disputes. For example, the Enough Is Enough Campaign is growing rapidly.
Ballots have started to arrive, please do vote and return yours in the pre-paid envelope as soon as you can. It is important to return your vote in order to exceed the 50% turnout threshold. Unlike recent ballots, this is an aggregated ballot so well-organised larger branches like ours had a responsibility to exceed greatly the 50% threshold to compensate for those branches who might fail to achieve it.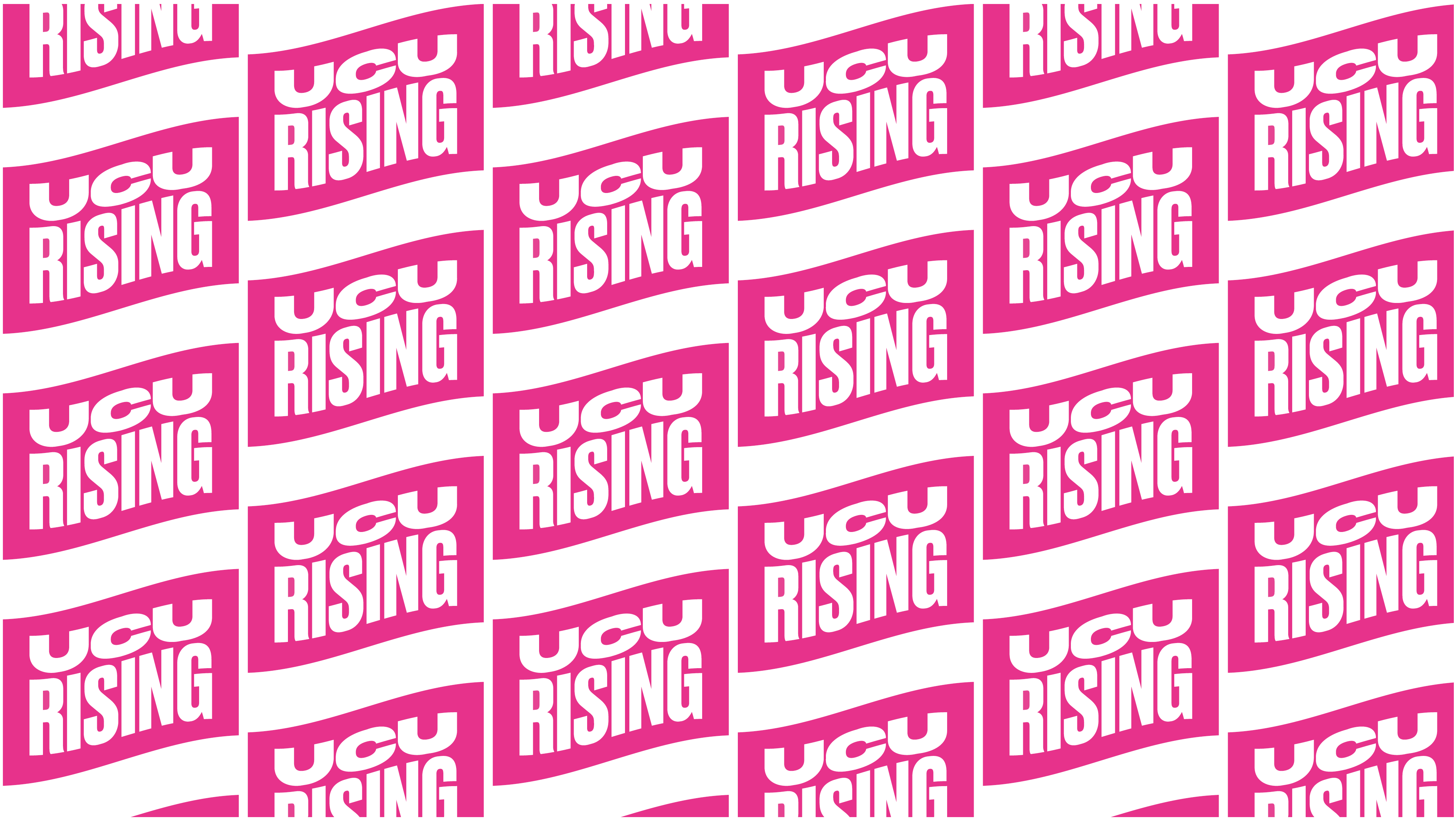 Local Events
Communications Officer, Cara, has been coordinating our campaign initiatives. The amount of emails you receive from the branch will increase during the ballot period, as well as our social media activity. Please take the time to read these emails, and engage with social media posts and links.
There are also lots of opportunities to speak to officers and reps about the campaign. We have weekly drop in office hours, as well as stalls happening on campus. The full schedule can be found here.
LUCU Response to the University Staff Survey Results
The results of the survey are a cause of concern for Leicester UCU and should be a wake-up call to the executive board and University Council. Particularly, the question over the handling of change.
You can read our response in full here.
Governance Campaign & Senate Elections
As previously reported, branch co-chair Joseph is leading on the local governance campaign to ensure that staff representation on University senate and council are addressed. Leicester is an outlier in terms of staff representation on both bodies. After successful lobbying from Leicester UCU, the University is finally holding elections after 3 years remaining vacant. More information will be circulated on this ongoing issue in due course.
To help coordinate the local UCU Rising campaign, branch reps will be organising departmental meetings. Do attend your local one and ask any questions about the ballot & campaign.
Reps will also be a point of contact for campaign resources such as fliers, posters and stickers.
All member general meeting is 22 September 4-6pm, Ken Edwards LT 1
Committee Meeting is Thurs 6 October
Senior Officers meet every Friday
UCU Rising Campaign
Share with the branch why you are voting Yes in the ucuRising ballot. Do this via our social media platforms (@leicesterucu), or email Cara (cara@uculeicester.org.uk) with your reasons to be included in an upcoming, anonymous website piece.
Share your postbox pictures when returning your ballot. Again, via social media or directly to Cara.
Talk to colleagues. Tell them why we're balloting members and why this is their chance to join in the national mood of action.
Fill out the HE Pay Modeller to see just how your pay has been impacted by years of below inflation rises.
Use our resources on your backgrounds, email signatures and profile pictures to share our campaign.
Become an Officer or Rep
We are always on the lookout for activists and new reps. There are a number of positions within the branch committee that are vacant, as well as a number of departments that are without a rep.
If you're interested in becoming more involved in the branch, please contact us (ucu@uculeicester.org.uk). For more information about the roles, see our webpages, or feel free to contact us for an informal chat.