Anti-bullying week 11-15 November 2019
Published: 13th November, 2019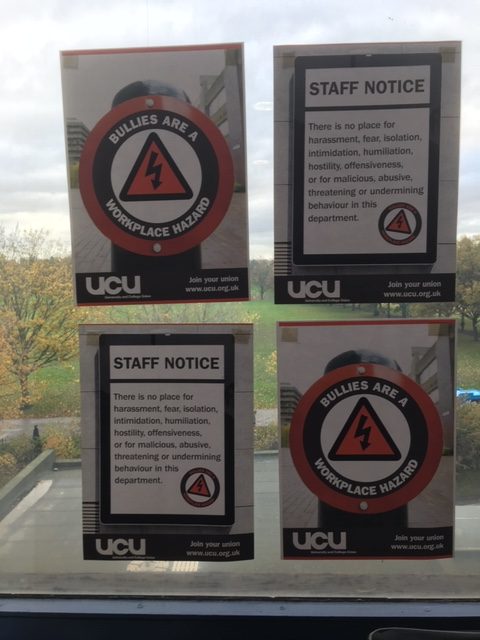 'Change starts with us' is the theme of anti-bullying week 2019. This annual UK event, started in 2004 with a mission of raising awareness of, and highlighting ways of responding to bullying of children and young people. Coordinated by the Anti-Bullying Alliance (in England) it has grown much larger than a school-based event; many UK further and higher education institutions have adopted it in recognition that bullying and its damaging consequences are common across all walks of life.
The University of Leicester launched its Dignity & Respect at Leicester Policy in August 2019. At an anti-bullying week event on 12th November attendees were encouraged to pledge how they support the Dignity & Respect framework.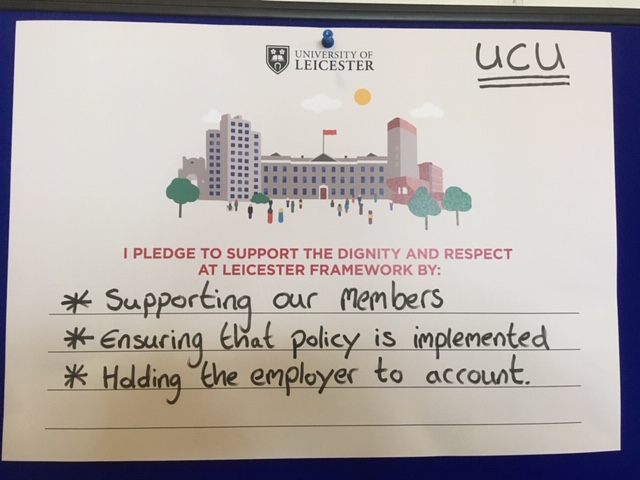 On display at the event were stalls from organisations from across the university (the three Trade Unions, the Students' Union, Student Support Services, Staff Health and Wellbeing, Equality, Diversity and Inclusion Team and the Staff Equality Fora).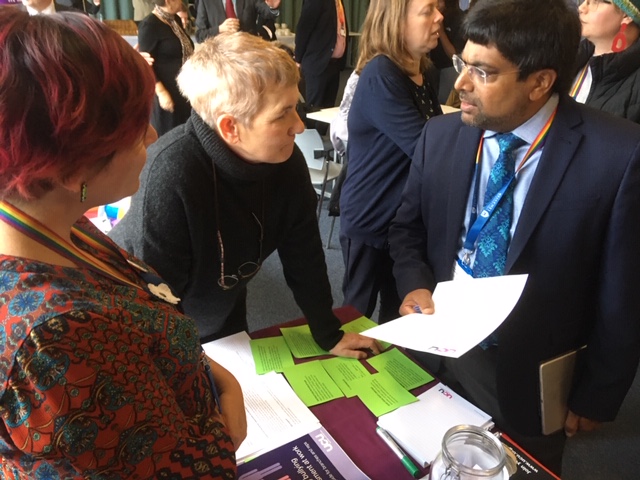 The theme of Leicester UCU's stall built on 'change starts with us': and featured an activity to provoke discussion around phrases that allow bullies to remain unchallenged. We had crowd-sourced phrases on twitter and invited attendees to pick from a 'lucky dip' of phrases, then discussed how often they heard the phrase and how they might challenge it (aided by a few suggested challenging phrases).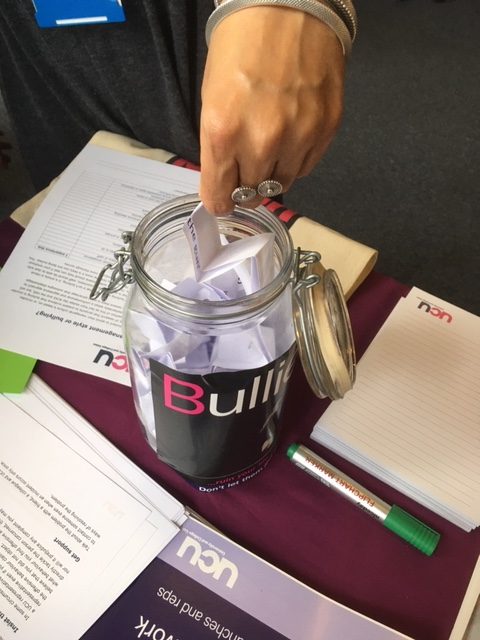 Here is the full list of phrases. Why not print out the list? We recommend reading it regularly and this will help you to easily spot – and then challenge – such phrases when you hear them being used in your workplace.
Often the person being bullied is not able to defend themselves, and needs the support of colleagues. We can challenge, or call attention to behaviour and comments that we feel are inappropriate. It's worth having some of the following phrases at the ready:
"I can't be the only who thinks that this is not ok."

"Why would you say that? Do you have any evidence?"
Or you could try Non-violent Communtication, as in the following example.
Observation: "You are raising your voice."

Feeling: "I feel this is intimidating."

Need: "We need to the best decision based on listening to each others' points of view."

Request: "Can we hear what X thinks about this?"
A particular UCU resource that was popular with attendees was this questionnaire that helps to distinguish between bullying and 'robust management'. UCU reps will find this guide useful too.
Leicester UCU members are encouraged to contact their department rep or a branch officer if they want to discuss issues relating to bullying or indeed any problems at work
And if you're feeling really brave, you could turn that focus inward, and ask 'what tactics do I use to get people to do what I want?'
Let's all challenge bullying!