Compulsory Redundancies – Strike Update
Published: 7th September, 2018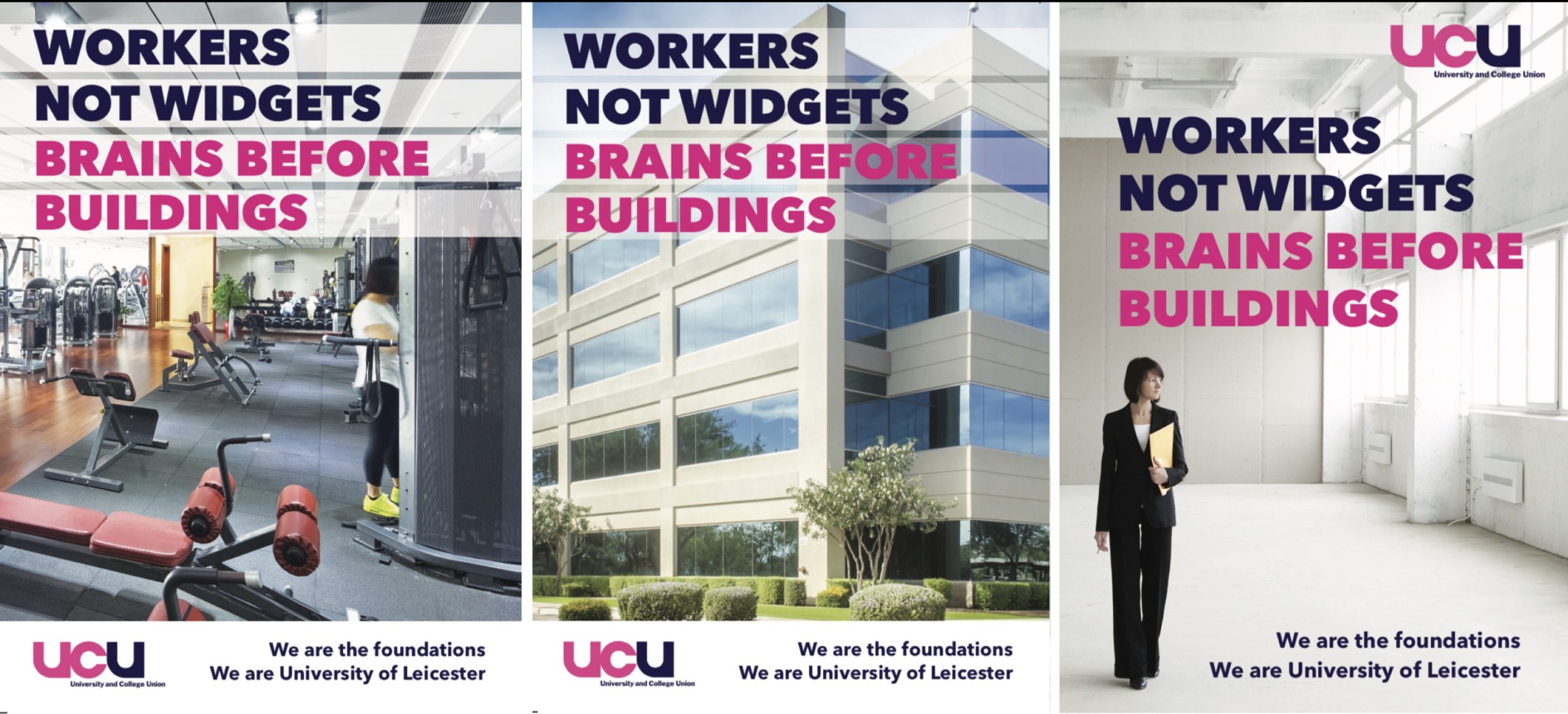 Here at University of Leicester we are currently involved in three disputes. First, the USS pension dispute – at the moment this is paused whilst the Joint Expert Panel does its business. Second, a national battle over pay, gender equality and precarity: a ballot asking if we are prepared to strike on this matter is open until 19 October. Third, a local battle against compulsory redundancies. Below we summarise the background to this local dispute, explain where we are now and what the next steps are.
[Important diary date – EGM of Leicester UCU – open to all – Thursday 20 September – 12.15–1.45pm – Ken Edwards Lecture Theatre 1]
What did you do this summer?
On May 17, the VC Paul Boyle emailed all staff with a 'University financial planning update'. In this email he lamented the fact that 'staff costs in relation to income … have continued to rise' and promised 'resolute action, which will include targeted investment and may include a small number of targeted redundancies or voluntary severance'. (Our commentary on his message is here.) Professor Boyle repeated this message in a talk to all staff a week or so later. At an extraordinary general meeting (EGM) of Leicester UCU on 22 May, we resolved to oppose all compulsory redundancies. We reminded the VC that a university is made by its employees and, on 15 June, formally declared a dispute. (Workers Not Widgets. Brains Before Buildings. We are the foundations.) We also asked our members if they (we) would be prepared to strike in defence of jobs and livelihoods. The result of that 'indicative ballot' (taken in June and July) was clear: of the 71% of members who voted, 71% voted YES for industrial action. This allowed us to proceed with a formal ballot – overseen by the Electoral Reform Society – asking members if they would take industrial action if the threat of compulsory redundancies was not lifted. This ballot took place over three weeks in August.
Again the outcome – which we learned on Monday – was clear. The turnout was 55% – high given the relatively short ballot window and the fact it was took place during the summer holidays, and comfortably above the legal threshold of 50%. Of those who voted, almost two-thirds (63%) stated they were prepared to take strike action and almost four-fifths (78%) said they were prepared to participate in action short of a strike (ASOS).
Throughout this period – ever since the vice-chancellor's email of May 17 – Leicester UCU branch officials have been meeting almost weekly with members of the 'University Leadership Team'. Branch officials and caseworkers have also been supporting at-risk colleagues in countering the 'business cases' that university managers must, by law, use in order to justify their desire to make redundant – or 'redeploy' – these people. (Here are some more details of these negotiations.)
Where are we now?
The hard work and perseverance of branch officials, caseworkers and at-risk colleagues – backed up, of course, by the likely strike threat – has borne fruit.
Perhaps half of the business cases we were expecting have not, in the end, materialised.
We have successfully contested many of the business cases that have been put forward. These have either been withdrawn entirely, or else management has accepted the counter-cases proposed by the affected colleagues.
In some cases, at-risk colleagues have agreed to be 'redeployed' and the 'University Leadership Team' has agreed to a substantial budget to support retraining in these cases.
The news is not all good, however.
Many former colleagues have either found jobs elsewhere or have accepted a 'voluntary severance' package (VSS). We regret their departure. The University of Leicester has lost their expertise forever.
The further decline in staff morale and goodwill towards our employer will be hard to undo. Even if you ultimately get to keep to your job, spending months worrying about it, months fighting for it, months feeling undermined and undervalued by senior managers is immensely damaging both to the individuals concerned and to the institution as a whole.
Last – but by no means least, and most relevant to our ballot result – a number of our colleagues continue to have hanging over their heads the threat of compulsory redundancy.
What next?
We have voted convincingly for both strike action and action short of a strike. We have now served notice on the 'University Leadership Team' that strikes will commence on Monday 24 and continue for three weeks (24–28 September; 1–5 October; 8–12 October). We have have informed the media – see this story in Times Higher Education. We are also making other necessary preparations, liaising with the police over our picketing locations, for instance, sorting out posters and fliers, and planning a new series of Free University of Leicester teach-outs – if you would like to offer a session, please get in touch.
There is still time to avert the strike, but the ball is now in the court of the 'University Leadership Team'. Of course, if at any time in the next fortnight they approach us with a guarantee that no one will be made compulsorily redundant then we will call off our action – and instead look forward to welcoming new and returning students in the more usual way.
We know that the 'University Leadership Team' is scheduled to meet on Monday 17 September – but we hope that they will be able to exercise the necessary leadership before then. Leicester UCU branch committee will meet two days later – on Wednesday 19 September – to discuss the latest developments. The day after that – Thursday 20 September – there will be an extraordinary general meeting, open to all members of Leicester UCU (i.e. including you!). At this EGM, we will make final strike plans and the final decision on whether we do in fact strike – or not.