Inclusive Ideathon and the Inclusive Curriculum Project
Published: 12th November, 2018
On Thursday 1 November, students and staff from across the University of Leicester came together to discuss how to decolonise the curriculum and create a more inclusive university. The event was jointly organised by the Students' Union and the university's Inclusive Curriculum team made up of academic and professional services staff, and coordinated by Azza Abdullah, Education Officer for the Student's Union, and Mark Peel, Director of Educational Innovation.
The afternoon began with an introduction from Azza Abdullah, who set the tone with her provocation: 'The question is not, is this important? It's what are we going to do about it?' Before we began the task of coming up with a set of recommendations to be considered by the University Leadership Team, Corinne Fowler (Co-Chair of the Race Equality Action Group and Associate Professor of Postcolonial Literature) shared with the group some data about Black and Minority Ethnic (BAME) staff and students at the university, highlighting the attainment gap between BAME students and their white counterparts, the under-representation of BAME staff on higher grade contracts across the university, and disparities in the student experience.[1] We were reminded that these are sector-wide issues, and that universities tend to be very slow institutions to change. But it was also noted that Leicester students have long been engaged in struggles for equality (see image); and the strength of commitment and collective sense of responsibility to transform our university and challenge the status quo was clear from the enthusiasm and energy in the room.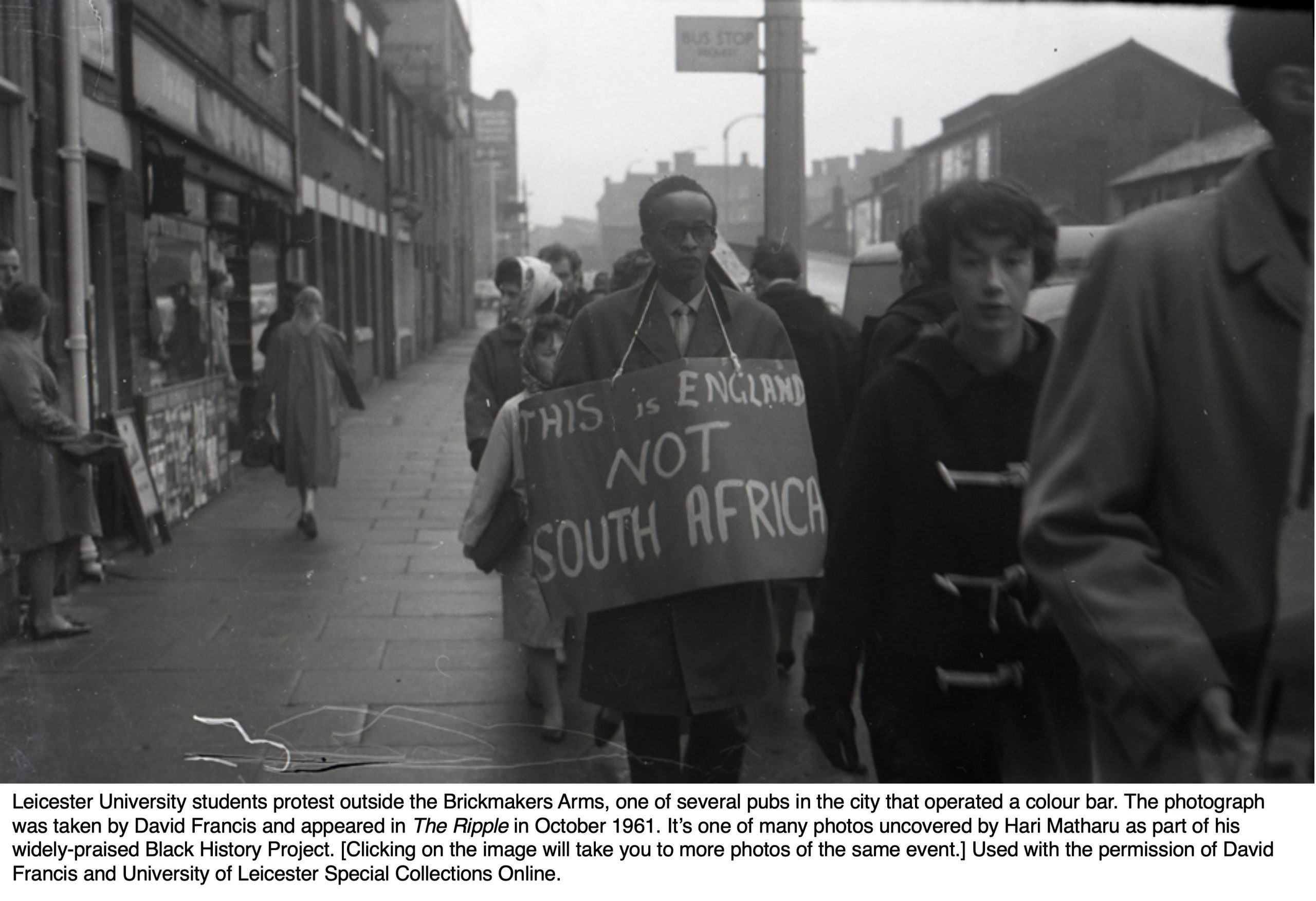 In small groups made up of staff and students we were invited to discuss the following:
What does an inclusive curriculum mean to you?
What does an inclusive university look like?
Short-term and long-term goals for the university in creating an inclusive and equal environment.
Ideas included: the implementation of a Positive Action recruitment and promotion policy (as recommended in the Royal Historical Society's recent report on Race, Ethnicity and Equality in UK History); prioritising ending the BAME attainment gap; introducing compulsory modules on decolonial thought/why is my curriculum white; and creating a staff body that reflects the diversity of Leicester's student population and the local community.
Following our group discussions, we were treated to an inspirational talk from decolonial activist Melz Owusu, former student at the University of Leeds. Her powerful talk, delivered in the Fielding Johnson Council Suite, where the walls are adorned with portraits of 'important' white men from the institution's history, as well as the newly unveiled portraits of three 'women of influence', discussed the need to challenge Eurocentrism and white supremacy, to break down the old colonial structures, and to transform education: 'Transform decolonial fury into decolonial activism!'
Margaret Byron from the Department of Geography concluded the event by noting that this was not the end of the conversation, but the beginning of an ongoing process. The Inclusivity Ideathon was an exciting opportunity for staff and students to come together, and to be bold and radical in setting out concrete ways to achieve a university that is inclusive of all regardless of gender, race, sexuality, disability and class. We wait to hear how the University Leadership Team will respond to our proposals. In the meantime, this is an opportunity for everyone to discuss, experiment, and begin to rethink, reframe, and reconstruct OUR University.
Zoë Groves, Lecturer in Modern Global, Colonial and Postcolonial History, and co-convenor of the Global, Colonial and Postcolonial research cluster in the School of History, Politics and International Relations.
[1] Black students are least likely to attain a 1st or a 2.1, and most likely to receive a 2.2 or a 3rd class degree.