Leicester UCU Strike Day One
Published: 23rd June, 2023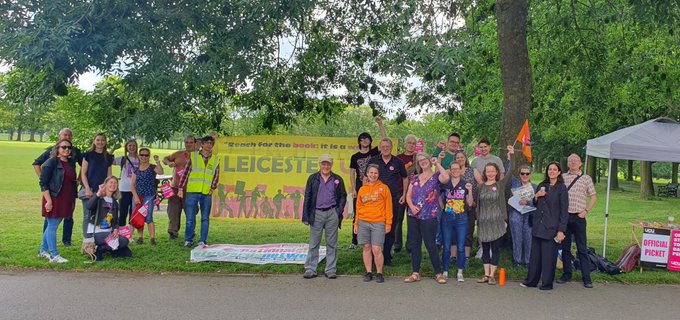 A massive thank you to all those who joined our picket line, and shared solidarity on day one of our local strike action on Wednesday (21 June).
This is the first of nine days of local action called in response to the punitive measures currently being undertaken by the management of the University of Leicester. They are deducting 50% of salaries of those members participating in the lawful Marking and Assessment boycott (MAB).
This means that a staff member with a single unmarked essay from 20 April, which could have been marked in 30 minutes, might lose over a month's salary. Some staff members will likely be pushed below the legal minimum wage by these measures.

The boycott is part of the wider, national action happening at 145 universities in the UK, and covers all marking and assessment. It will continue until employer body the Universities and Colleges Employers Association (UCEA) makes an improved offer in the ongoing pay and working conditions dispute, at which point UCU will decide whether to continue the action or call it off.

Leicester has an income of £340m and has £49m in the bank. Not all universities are deducting in such a cruel and punitive manner. These strikes are to demonstrate our outrage at the scale of these deductions, and we implore the managers to come back to the negotiating table – which they walked away from – to work out a better solution.
The next strike dates are:
• Monday 26, Tuesday 27, Wednesday 28 and Thursday 29 June
• Tuesday 18 July, Wednesday 19 July, Thursday 20 July, Friday 21 July