Leicester UCU to Strike: No to Wage Theft
Published: 7th June, 2023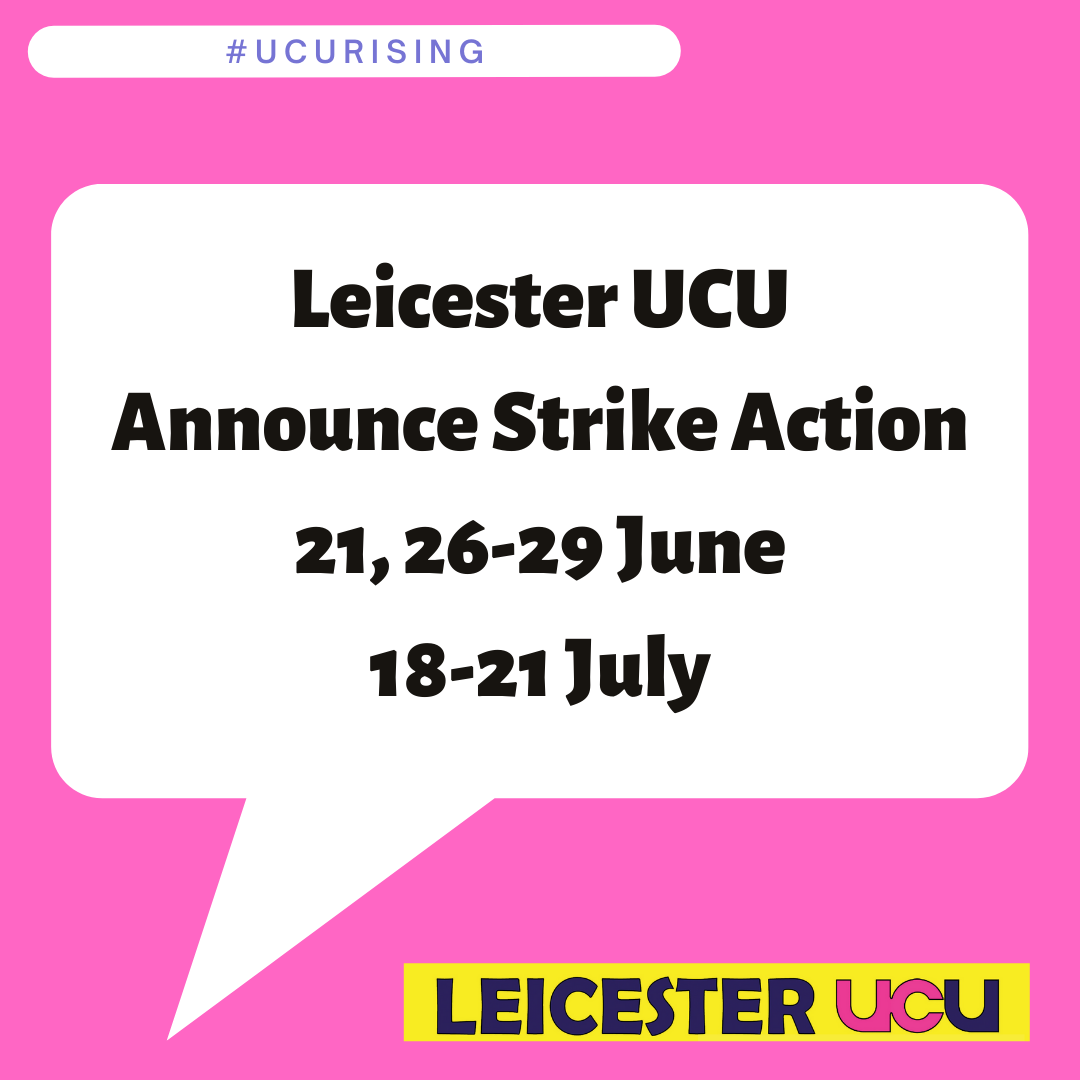 Leicester UCU branch will take strike action as part of the ongoing industrial action over pay and conditions in UK universities. Strike action will occur on these dates:
21 June
26-29 June (inclusive)
18-21 July (inclusive)
We regret that we have been forced to escalate our action. This reflects the punitive response to our Marking & Assessment Boycott (MAB) by university management and their unwillingness to negotiate with UCU. Management's plan is to stop paying staff from the first day marking becomes available until the MAB ends, instead making an "ex gratia" payment to staff of 50% of their regular income. Staff are expected to continue to carry out their other regular duties "voluntarily".
This means that a staff member with a single unmarked essay from 20 April, which could be marked in 30 minutes, might lose over two months of wages. It also means some staff members will likely be pushed below the legal minimum wage—with our university joining the ranks of the illegal textile sweatshops blighting our city. Wage theft of this kind has already been reported in the national press at institutions such as the School of Oriental and African Studies. Now the University of Leicester similarly risks having its name dragged through the mud.
The MAB was called by UCU in response to the imposition of a real-terms pay cut of approximately 15% over two years by the national employers' body, UCEA. The response to the MAB by the University of Leicester, whose vice chancellor sits on the board of UCEA, is far more draconian than that of most other universities. In the great majority of cases, deductions are time-limited and in some cases no deductions are being made at all. For example:
At Queen Margaret University the threat of strike action was withdrawn when management agreed there would be no pay deductions, joining the Ulster University and London Metropolitan who are also not making deductions.
At Goldsmiths the threat of strike action was met with a decision to reduce pay deductions by half and limit this to three weeks. At Liverpool Hope, after strikes were threatened, pay deductions were reduced from 50% to 35%.
Warwick University has agreed to deduct only 25% and only for the time that would have been spent on marking. Aston University reduce its threatened deductions to 25%. Kings College London reduced the period for which deductions would be made from 20 to 10 days.
Leicester UCU has repeatedly asked management to enter meaningful negotiations over their pay deductions, which risk deepening staff discontent. We expect the deductions will also open the university to legal challenges for wage theft. We have also asked our vice chancellor to follow others, such as the University of Cambridge's vice chancellor, to issue a joint statement with the UCU urging UCEA to return to pay negotiations.
Management have refused each of these requests. The strength of feeling of our UCU members is reflected in a successful e-ballot for strike action and two Emergency General Meetings, that voted to support such action. Nonetheless, even at this late hour, we hope to avoid strike action. We are prepared to mobilise our members to strike but we remain ready and willing to engage in meaningful negotiations.