#LeicsUniStrike 2019 – Day 1
Published: 25th November, 2019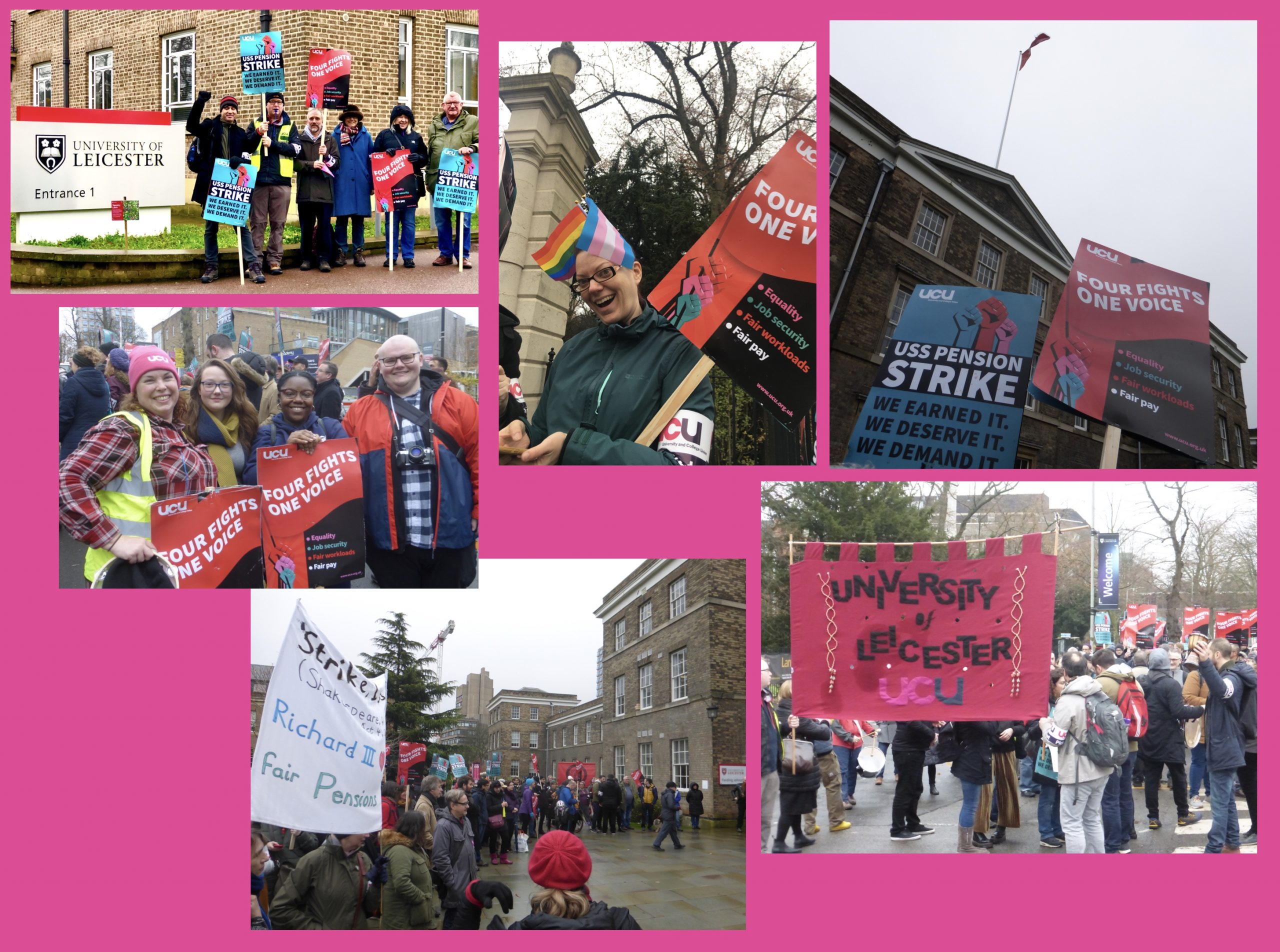 Roll back to 16th March 2018 – the final day of 14 days on the picket line and it felt like we had unfinished business. In fact, one of our picket lines even made the point that they'd be back in chalk on the pavement outside the University. And today we were back – boy were we back.
As ever, members of Leicester UCU did not disappoint. Nearly 200 staff gathered across five picket lines to make it clear that we have had enough. Those staff were accompanied by everything you would expect – flags, banners, placards, dogs, whistles, a man with a purple trombone and, most importantly, our gorgeous UCU Leicester drummers (how we've missed them!).
The first signs were good – the new VC was not in Fiji, he was not drinking a Pornstar Martini and he did visit one of the picket lines early in the morning. But, sadly, his words would be less than conciliatory, as we'd learn later in the day.
Before hearing from President Canagarajah, we first listened to co-chair of our branch, Sarah Seaton, who described life on precarious contracts. After ten years at the University, moving from one contract to the next, Sarah has been advised of her impending redundancy. The crowd stood in heartfelt solidarity with her. Sarah also told us, to loud cheers, of the increase in membership of our branch of UCU since the start of the dispute.
After a brief sojourn around campus accompanied by drums, whistles and horns – and huge thanks to the students who cheered us on our way – we were treated to an audience with the President and Vice Chancellor, the Registrar and Chief Operating Officer (who was, peculiarly wearing a 'I support the strikes' sticker) and the Head of HR (who most definitely wasn't).
President Canagarajah stated that he would do all he could to bring the dispute to a swift conclusion. He said he supported the recommendations of the JEP on pensions, and asked us to be patient with him in his fourth week in the role. But any sympathy he had from the crowd would be short lived. In discussing what he could do here at Leicester, he undertook that the University would not make strike pay deduction in December. That, he said, would be harsh. He would, instead, take all of the deductions in February instead (good news for those of us with heating bills to pay in the coldest month of the year). It is too complicated, he said, to spread the deductions over a number of months, despite the University doing so during the 2018 strike (as the assembled crowd was quick to point out). "Be considerate of your colleagues who choose to come to work", he also implored, "do not disrupt them". "That's not what a strike is for", replied the crowd.
The crowd also heard from staff and students. We cannot, in the current climate, "work with passion for the best ideals of the University", said Emma (the first winner of a UCU beanie for her picket line vociferousness). Toby spoke in solidarity with early career colleagues as he described the rough road ahead of them and the long hours that University staff are expected to work. Nick, an archaeology student, and Liz, a geography student, offered us student solidarity. They want, they said, "happy staff" at the University. Peter brought us solidarity from the Leicester and District Trades Union Council.
A strong showing on Day 1 showed that we at Leicester will not be messed about with. We love our work. We love our students. Together with them, we are the University. Fair and equal pay, fair working conditions and decent pensions is not much to ask for. Bring on Day 2.