#LeicsUniStrike 2019 – Day 2
Published: 26th November, 2019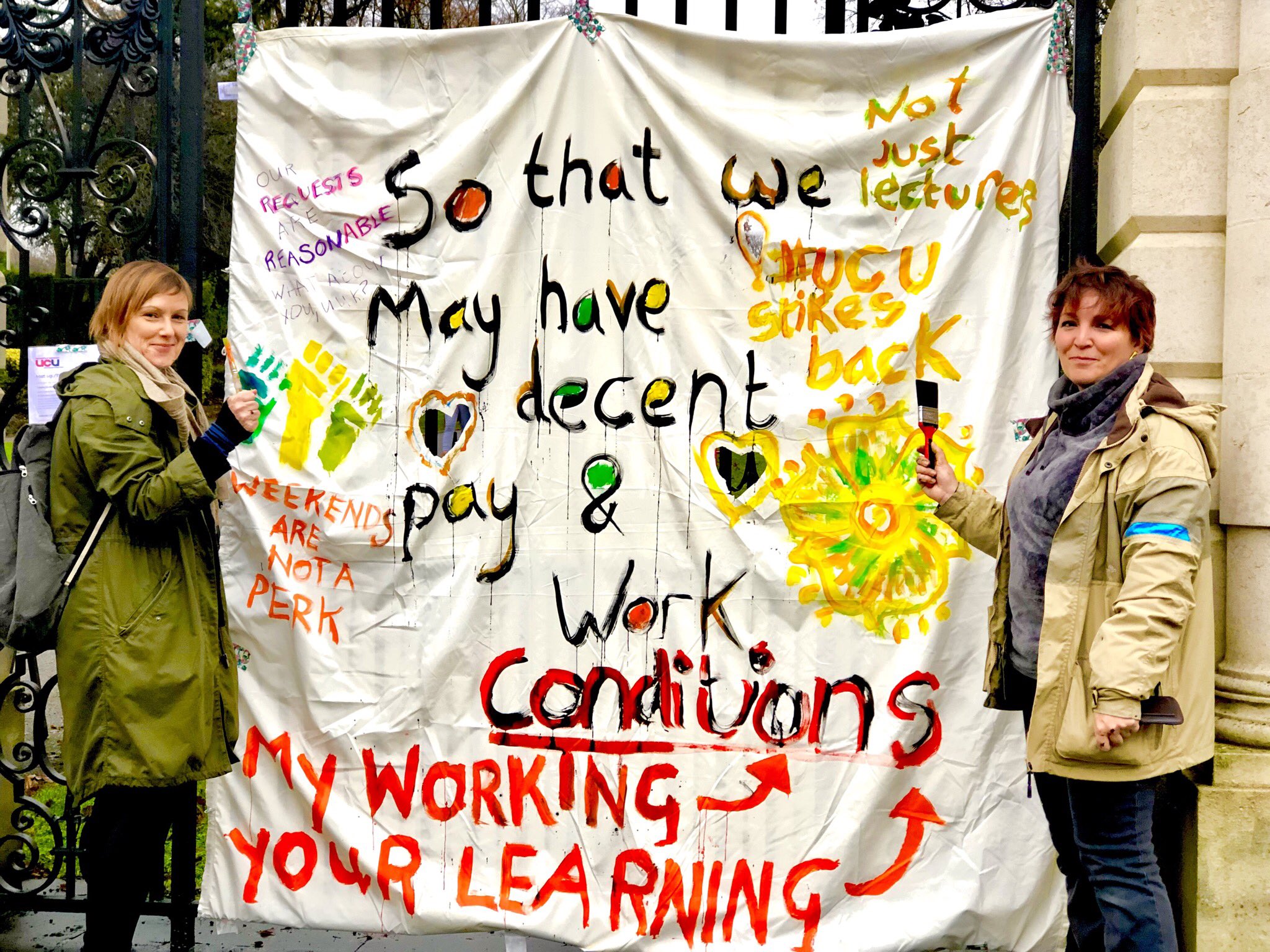 Having been featured as part of the face of the current strike on BBC News yesterday, Leicester UCU again came out in force, despite the rain, to protest in defence of our pensions and pay against a decade of steady decline, and to fight back against excessive workloads, casualisation of our professions and pay inequality across gender, race and disability lines.
The theme for the day was 'Music' and, while we can always rely on our band of drummers, whistlers, horn-blowers and purple trombonists to add rhythm and noise to our pickets, the highlight performance today was given by the Daughters of Beca, a team of musicians and songsters from the School of Arts. Their song, titled "Launch Yourself", referencing the University of Leicester's space-themed marketing campaign, adapted the music of David Bowie's Space Oddity to send a message from "ground control to management", highlighting the various ways in which our workplaces have been damaged by marketisation and its associated regimes of measuring, monitoring, precarity and casualisation.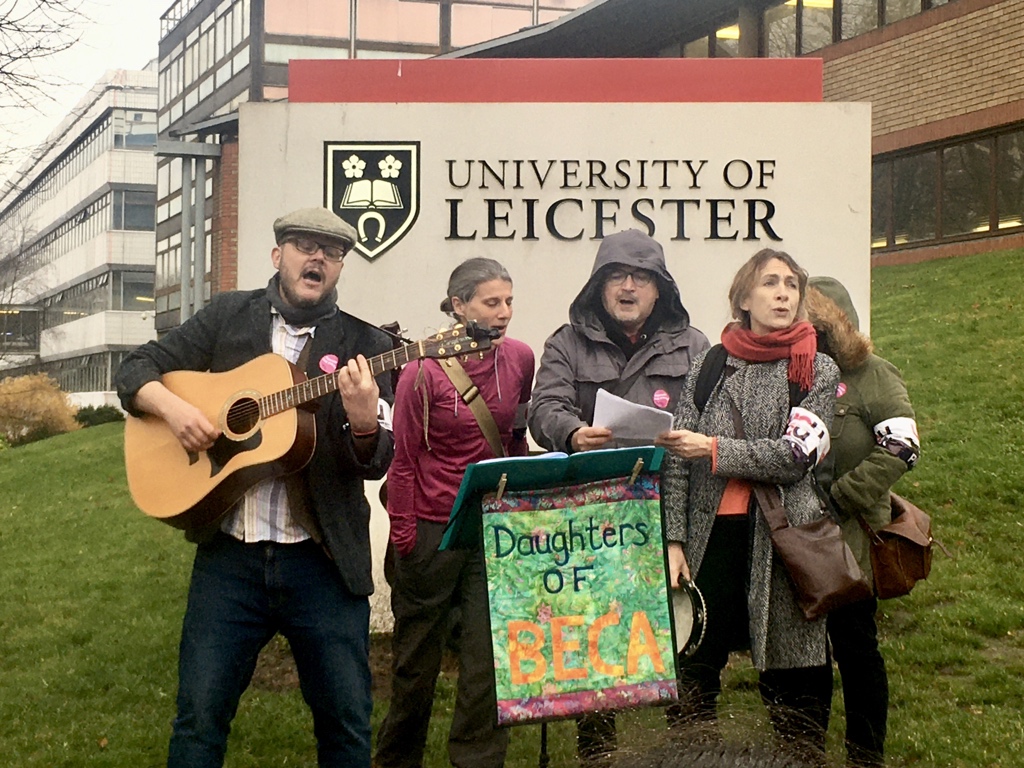 These themes chimed with what many striking staff were discussing on the picket line. Asked why he felt it was important to participate actively in the industrial action, Professor Kevin Schurer of the School of History, Politics and International Relations, said:
More people appear to be stressed, feeling under pressure, struggling to cope with job and career demands, and juggling these with home and family to an extent that I have not previously witnessed before in over three decades in higher education, and I find this distressing at a number of levels. University workloads seem to be inequitable and unsustainable. I worry, especially about younger colleagues, some of whom are given unmanageable workloads and unrealistic expectations, yet with few prospects of job security and career progression. And this is not confined to academics. Professional service and other support staff are equally close to breaking point.

It is up to all of us to do what we can to create a better working environment, one in which we can all be proud, under-pinned by dignity and respect. We owe it not only to our colleagues but also, clearly, to our students. How can we give them the best, if we ourselves are not at our best?
Another theme of the day was the generous support of our student community, from joining us on the picket lines, to stopping to discuss the issues underpinning the strike, bringing us baked goods, and wearing "I support the strike" stickers. We all thank our students so much for supporting us in these ways; they understand that our working conditions are their learning conditions. And we are fighting together for the future of higher education.
As we walked through campus so that the Daughters of Beca could play their tunes in front of the Fielding Johnson building, our Leicester UCU banner was proudly carried by a new figure on the picket lines: the Knight of Solidarity:
We hope to welcome many more new faces to the picket lines tomorrow. As our theme for Day 3 is animals/pets, these two lesser-spotted historians who brought a strong costume game today hope they'll get to meet many more furry friends tomorrow, as we fight together to protect our working conditions, stop casualisation and inequality, and defend our pay and pensions!