#LeicsUniStrike 2019 – Day 6 [Danger! High Voltage!]
Published: 2nd December, 2019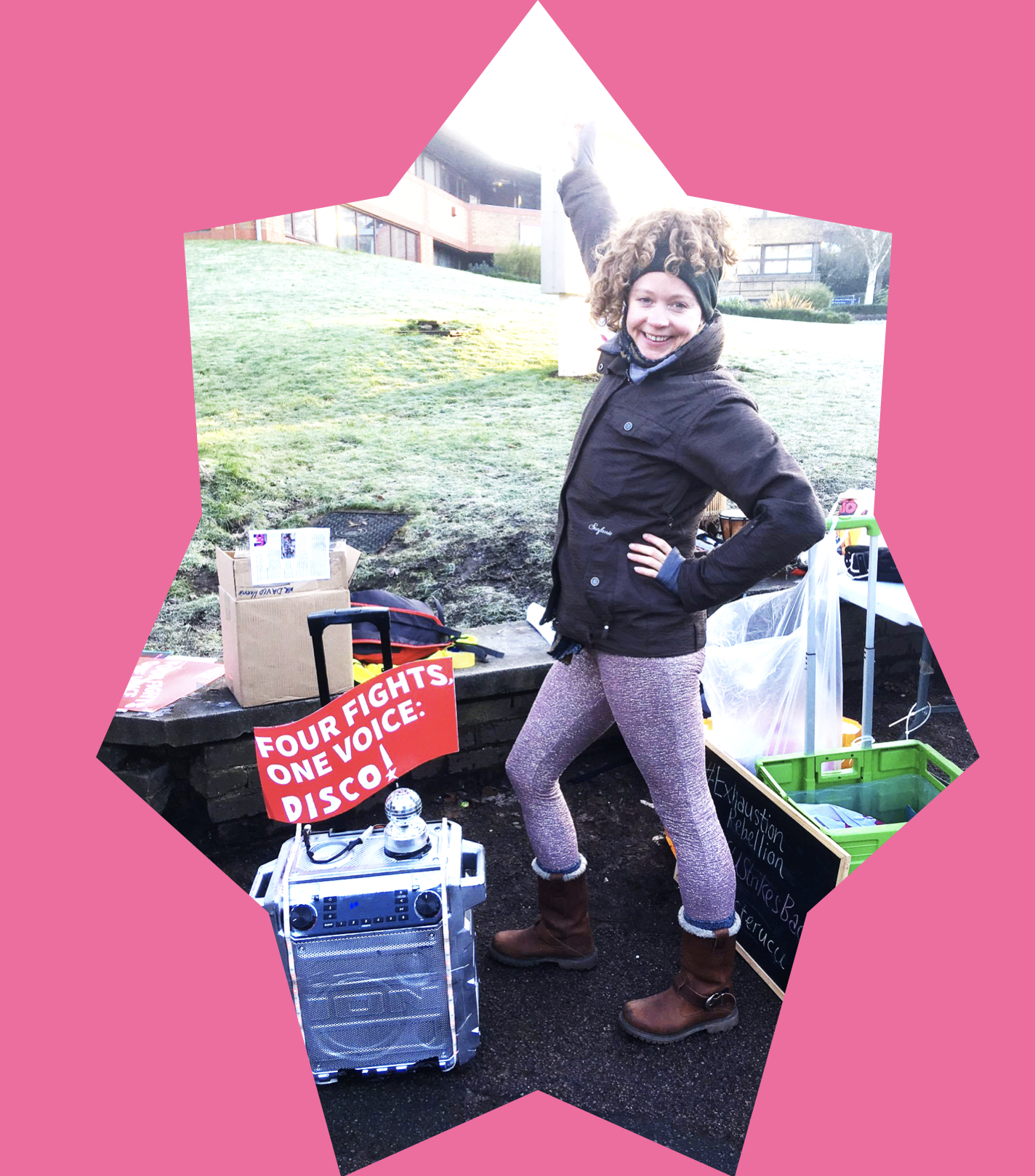 As the industrial action carried on into its second week, and temperatures plummeted below zero, Leicester UCU warmed the cockles of striking staff with a disco theme on the picket lines, and much more besides.
We received many visits of support throughout the day from students and bringers of cake, and we were especially pleased to welcome Oge Obioha, President of the University of Leicester Students' Union, whose statement of support has meant so much to us throughout this industrial action:
Motivated, happy staff are the heart of the university experience – educating and supporting us throughout our student journey. However, pay for staff has fallen behind inflation over the last decade – the same decade that has seen fees rise. In addition to these problems with salaries, increasing numbers of staff (many of whom are postgraduate students) are on short-term contracts that provide no long-term stability. To top all of this, women and BAME staff continue to earn significantly less than their white male peers.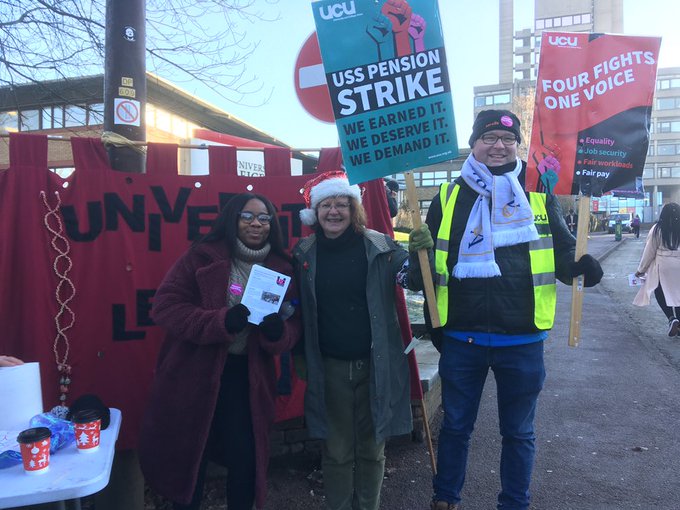 Labour Councillor for Abbey Ward, Vijay Singh Riyait, also made an impassioned speech in support of striking staff, with the overall message that we "are fighting for the future of our universities and what we want them to be." As this excellent article by Dr Lee Jones, Reader in International Politics, Queen Mary University of London, explains, a major driving cause of our concerns about pay, pay inequality, casualisation, excessive workload and pensions is the accelerated marketisation of higher education in the last decade. Only collective action fighting for the future of higher education can address these systemic problems.
We also had several discussions with our Vice-Chancellor, Nishan Canagarajah, on the picket lines and at our daily rally outside the Fielding Johnson Building. He acknowledged that there are problems, at Leicester and in the sector as a whole, with excessive workloads, job insecurity and casualisation, and with the gender pay gap. He also agreed that we have a point in our collective frustration that the Joint Expert Panel's report on the USS pension scheme has not been properly implemented following the suspension of industrial action in 2018. However, as one of our remarkable students said to him: "my mum taught me to never trust a man in a suit until he proves himself worthy of your attention"; we'll follow this student's (and her mother's) advice to judge Professor Canagarajah on what he does about these issues, during the industrial action and beyond.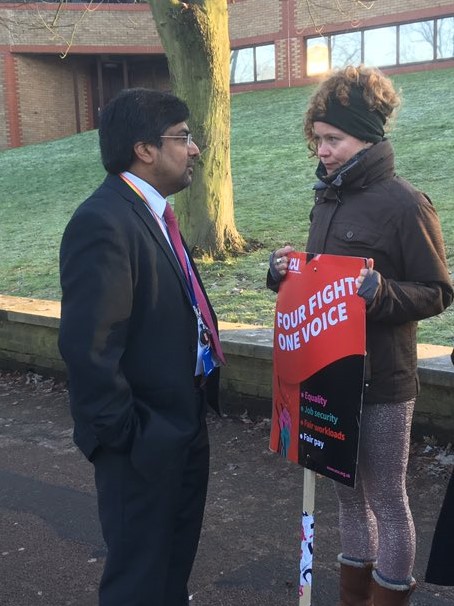 Finally, we spent part of the day learning how to protest against the erosion of our working conditions in French. One particularly poignant phrase we learned was Je ne veux pas perdre ma vie à la gagner ("I don't want to lose my life to earn a living"). It reminded many colleagues on the picket line of the tragic death in February 2018 of Malcolm Anderson, who worked at Cardiff University and who had been dealing with dangerous workload pressures at the time of his death. We may fill the picket line atmosphere with noise, dancing, silly costumes and fun, but we all know we are there because the issues over which we are striking are so extremely serious.
We have also received messages from some of our own colleagues unable to join our picket line protests, who need to use the time on strike to recover from the serious effects on physical and mental health that their jobs have been having. In their honour, and to highlight the impact of excessive workloads and the heavy toll of job insecurity, tomorrow's picket line theme is #ExhaustionRebellion. We encourage those who can attend to come along in pyjamas, dressing gowns, slippers and to those of a certain persuasion, onesies.