Shaping for a Strike
Published: 1st April, 2021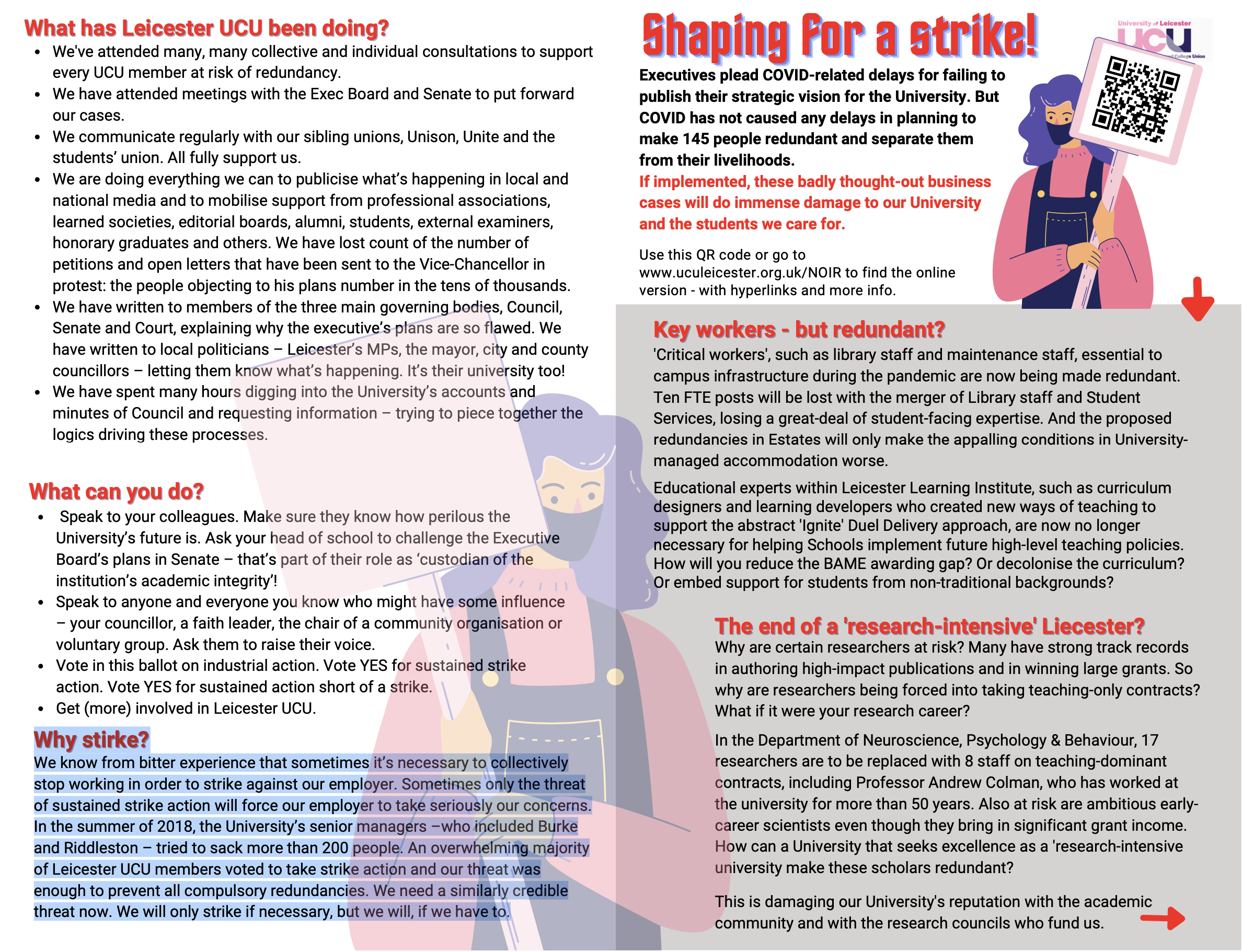 Materials sent in printed form to all members of Leicester UCU eligible to vote, 30 March 2021.
Executives plead COVID-related delays for failing to publish their strategic vision for the University. But COVID has not caused any delays in planning to make 145 people redundant and separate them from their livelihoods.
If implemented, these badly thought-out business cases will do immense damage to our University and the students we care for.
Key workers – but redundant?
'Critical workers', such as library staff and maintenance staff, essential to campus infrastructure during the pandemic are now being made redundant. Ten FTE posts will be lost with the merger of Library staff and Student Services, losing a great deal of student-facing expertise. And the proposed redundancies in Estates will only make the appalling conditions in University-managed accommodation worse.
Educational experts within Leicester Learning Institute, such as curriculum designers and learning developers who created new ways of teaching to support the abstract 'Ignite' Dual Delivery approach, are now no longer necessary for helping Schools implement future high-level teaching policies. How will you reduce the BAME awarding gap? Or decolonise the curriculum? Or embed support for students from non-traditional backgrounds?
The end of a 'research-intensive' Leicester?
Why are certain researchers at risk? Many have strong track records
in authoring high-impact publications and in winning large grants. So why are researchers being forced into taking teaching-only contracts? What if it were your research career?
In the Department of Neuroscience, Psychology & Behaviour, 17 researchers are to be replaced with 8 staff on teaching-dominant contracts, including Professor Andrew Colman, who has worked at the university for more than 50 years. Also at risk are ambitious early- career scientists even though they bring in significant grant income. How can a University that seeks excellence as a 'research-intensive university make these scholars redundant?
This is damaging our University's reputation with the academic community and with the research councils who fund us.
In the School of Mathematics and Actuarial Science, the pure mathematics group is at risk. The London Mathematical Society (the UK's learned society for maths) hit back saying the Exec Board's plans are 'seriously flawed'. They – the experts in this – say that Mathematics 'is a continuum; what used to be called pure mathematics and applied mathematics are these days so closely intertwined as to be inseparable.' It is essential that, in research-intensive universities such as ours, teaching in fundamental mathematics must involve researchers of pure mathematics. The LMS further argued that 'in most universities, it is considered essential, a key part of the STEM ecosystem'. It lies at the heart of national strategies in several areas.
How can this be 'shaping for excellence'?
Hollow Governance, Fragile Finances
Our University is in crisis and now is the perfect moment to embrace change. The University of Leicester can recover and thrive. Or it might die. We – all of us who care about it and its future – must make decisions and act. We are the University.
These gamblers have charted a new course for our University. In 2017 they persuaded Council 'to accept and encourage an increased degree of risk' on our behalf. Since 2016, the institution's long-term debts have more than tripled, from approximately £76m to around £250m. These long-term liabilities include an off-balance sheet deal, to the value of £124m. The 'Freemens Common Village LLP' is a 'special purpose vehicle', created in 2019, whose stated goal is the building of student accommodation, teaching facilities and a carpark. But the structuring of the transaction involves the transfer of risk from private investors onto the University staff and its stakeholders.
As a result of this risk-taking, we are in danger. The University remains a 'going concern', but only just. According to the 2019/20 financial statements, it needs cash reserves of £30m to cover one month's outgoings. It has just £32m and has only managed this by taking on additional short-term debt, including deferring tax payments. In December 2020, it agreed further short-term lending from the Bank of England, under the Covid Corporate Financing Facility (CCFF), one of only three universities to have used this facility: it now owes the Bank of England £60m, which must be repaid within 12 months.
This short-term debt is likely due to their failure to renegotiate agreements with long-term creditors.
Yet, the Executive Board maintains that the reason for redundancies is not financially driven.
Who's to blame?
There is no transparency. Who has driven this risk-taking strategy? Who has reduced our resilience?
We believe current Chair of Council Gary Dixon has played a key role. He joined the University's supreme governing body in 2009, becoming Treasurer in August 2018 and then Chair a year later. Coincidently, he became Chair just as the Freemens Common special purpose vehicle came into existence. He boasts that his 'different experiences… may help shape the Council's thoughts in a different way to most of the members.' We are also concerned about the roles of the current Deputy Vice-Chancellor and Chief Operations Officer. Both are involved in the University's Finance Committee, and the Chief Operation Officer is a designated member of the Freemens Common LLP.
The role played by the present President and Vice-Chancellor is less clear. While he should not be judged by the failures of the previous VC, he has retained and even promoted at least five of his predecessor's lieutenants. In a nutshell, he has become part of the toxic Executive Board.
Redundancies will not save the Univeristy
#NoPlanNishan
With our University's finances so fragile, making redundant 145 colleagues might seem sad but unavoidable. However, the Vice-Chancellor and other members of his Executive Board have repeatedly denied that there is a financial motive. Instead, Professor Canagarajah insists, these redundancies are necessary to 'shape for excellence'.
No underpinning strategy has been shared with professional services departments or Schools. The pandemic has prevented its development, we've been told — though COVID hasn't hindered the creation of business cases for redundancy. A report on strategy was presented to Council on 19 March 2020. Our Freedom of Information request to see this report was denied on the grounds that, "We believe that premature disclosure of the report may have a negative effect on the reputation of the University, which in turn would detract potential students, detract investors, and give an unfair advantage to our rivals." How can a strategy be damaging to students and investors?
The VC insists that: "I don't want to be doing this again". Whilst leaders are soothing staff outside of the redundancy pools that they are 'not directly impacted', the financial statements warn us that 'further Mitigating Actions' might be required as "work is being undertaken to consider further savings".
Who will be next?
What has Leicester UCU been doing?
We've attended many, many collective and individual consultations to support every UCU member at risk of redundancy.
We have attended meetings with the Exec Board and Senate to put forward our cases.
We communicate regularly with our sibling unions, Unison, Unite and the students' union. All fully support us.
We are doing everything we can to publicise what's happening in local and national media and to mobilise support from professional associations, learned societies, editorial boards, alumni, students, external examiners, honorary graduates and others. We have lost count of the number of petitions and open letters that have been sent to the Vice-Chancellor in protest: the people objecting to his plans number in the tens of thousands. (See, for example, statements and letters from Centre for Medieval Studies, the Institute of Mathematics and its Applications, former members of the Department of Computing, and scholars of neurology, psychology and behaviour.)
We have written to members of the three main governing bodies, Council, Senate and Court, explaining why the executive's plans are so flawed. We have written to local politicians – Leicester's MPs, the mayor, city and county councillors – letting them know what's happening. It's their university too!
We have spent many hours digging into the University's accounts and minutes of Council and requesting information – trying to piece together the logics driving these processes.
What can you do?
Speak to your colleagues. Make sure they know how perilous the University's future is. Ask your head of school to challenge the Executive Board's plans in Senate – that's part of their role as 'custodian of the institution's academic integrity'!
Speak to anyone and everyone you know who might have some influence – your councillor, a faith leader, the chair of a community organisation or voluntary group. Ask them to raise their voice.
Vote in this ballot on industrial action. Vote YES for sustained strike action. Vote YES for sustained action short of a strike.
Get (more) involved in Leicester UCU.
Why strike?
We know from bitter experience that sometimes it's necessary to collectively stop working in order to strike against our employer. Sometimes only the threat of sustained strike action will force our employer to take seriously our concerns. In the summer of 2018, the University's senior managers –who included Burke and Riddleston – tried to sack more than 200 people. An overwhelming majority of Leicester UCU members voted to take strike action and our threat was enough to prevent all compulsory redundancies. We need a similarly credible threat now. We will only strike if necessary, but we will, if we have to.
Which side are you on?
Academic Freedom imperiled