On the forthcoming strike…
Published: 7th February, 2020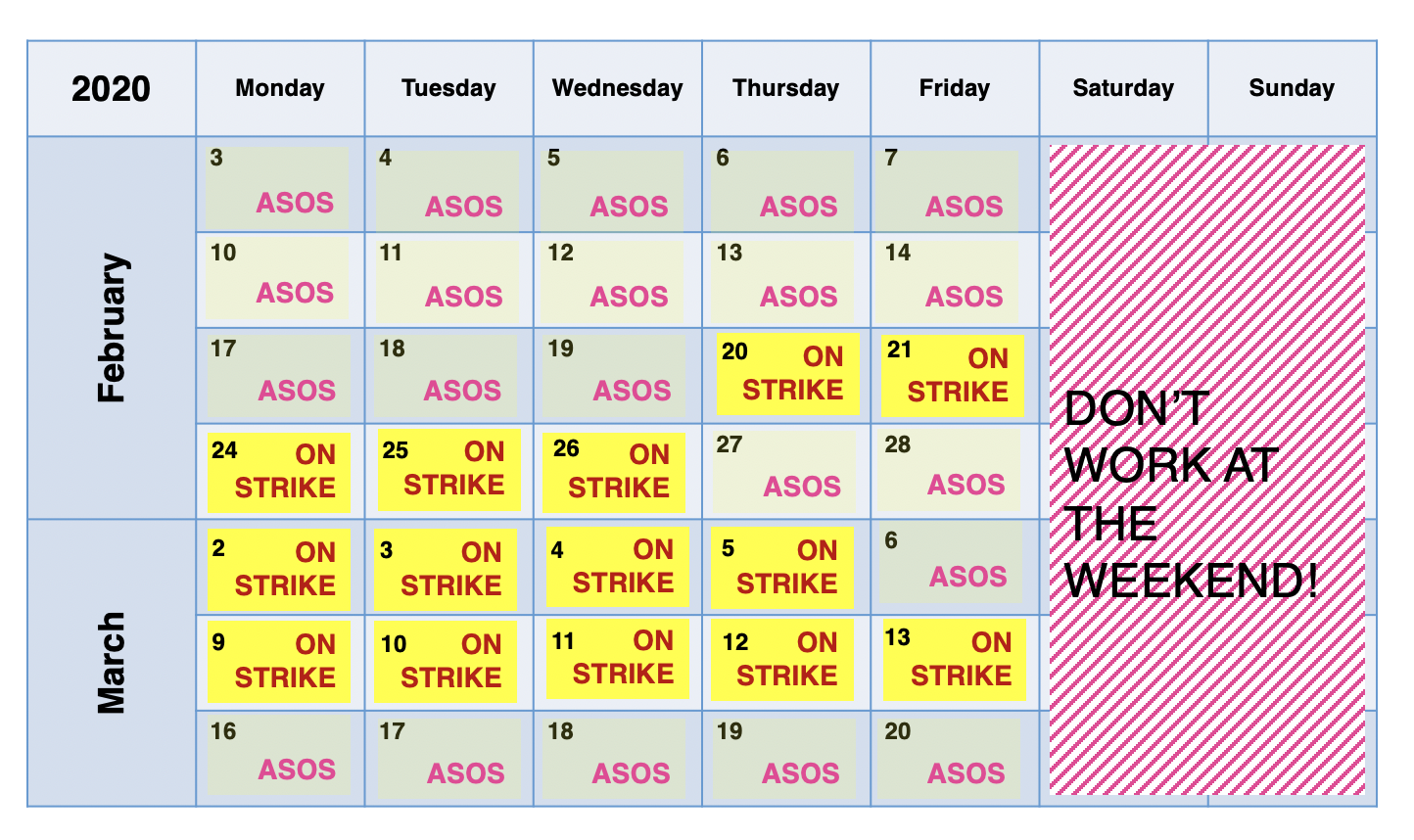 Email sent to all Leicester UCU members, 7 February
You will have received – and hopefully read – the recent email from Jo Grady, UCU's general secretary. You may also have seen the announcement on UCU's website; or read newspaper reports, e.g. in the Financial Times or Times Higher. In a nutshell, our elected representatives on UCU's higher education committee (HEC) have agreed the next steps in our twin disputes with employers – over USS pensions and the 'four fights' dispute for pay, greater equality, security and sustainable workloads – and called a further 14 days of strike action, starting on Thursday 20 February and spread over four weeks.
As always, the decision to strike is a difficult one, for various reasons. We think it's important to echo Jo Grady's message that our experience over the past years has taught us that – unfortunately – it is only strike action or the credible threat of strike action that has forced employers (and USS) to take seriously our claims and to negotiate in good faith. We learned this in February and March of 2018 when 14 days of strike action – in the same escalating pattern as those planned for this February and March – forced USS and Universities UK to agree to the establishment of the Joint Expert Panel. The lesson was reinforced later in 2018, when the University of Leicester leadership team attempted to make redundant a significant number of staff. A large proportion of Leicester UCU members (63% on a 55% turnout for a ballot held during summer vacation) voted for strike action. The dispute was settled with no compulsory redundancies – but this settlement was only agreed two days before strikes were due to begin. We very much hope that in these present disputes too our employers will offer more in the next two weeks, allowing the strikes to be averted.
We would also like to extend a warm welcome to our colleagues at De Montfort University. As a post-92 university, DMU employees are not part of USS, but problems of low pay, precarious working, inequality and overwork plague them as much as – perhaps more than – they do us. We decided we were prepared to take strike action (as well as action short of a strike – ASOS) in ballots in October 2019. In their equivalent ballot, members of DMU UCU unfortunately failed to achieve the necessary 50% turnout threshold. They therefore reballoted members in January. This time 55% of members voted, with 78% of them voting for strike action. We're delighted they will be joining us – already we have started to think about joint strike-time activities. It's not just DMU. This time around an additional 14 universities will be affected by the strikes, 74 in total.
As on previous occasions, we're hoping as many members of Leicester UCU – along with student and other supporters, plus of course DMU UCU members – will join us on picket lines, which are always eventful and good fun. We hope too to arrange more teach-out events – part of our Free University of Leicester. If you can help organise any of these activities or have any comments or questions about what's happening, please get in touch with us, by emailing us or speaking to your departmental rep.