Picket Post: Manageable Workloads
Published: 21st March, 2022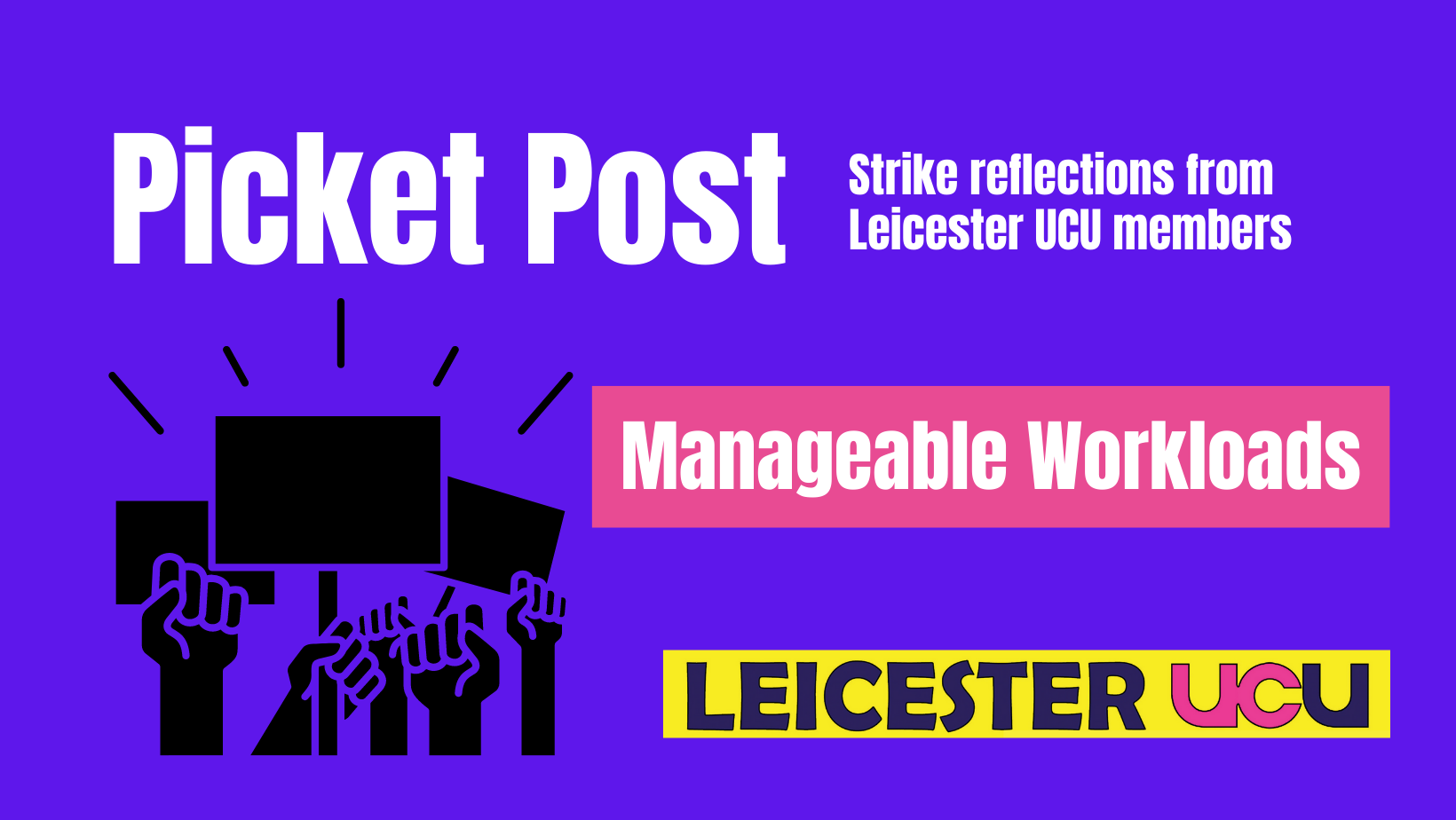 One of the four fights concerns workload, and the rising pressures on staff in recent years. In this next edition of Picket blog posts, we focus on what manageable workloads look like, and why they are important to the Four Fights dispute.
If you would like to contribute to this ongoing series, please forward any pieces to Cara Dobbing, Communications Officer (cara@uculeicester.org.uk). This may be a reflection of a particular day's picketing, or a wider reflection on how you feel about the current disputes.
Are you satisfied with your workload? Does it feel manageable? If the answer is no to both of those questions, you are not alone.
Workload protection is increasingly an issue for staff across all sectors – as resources are reduced, the demands on staff to perform, and to perform well, are increasing.
In a 2016 survey of members, UCU found that staff across the UK in both the higher and further education sectors:
are working an average of more than two days unpaid every week
workload is unmanageable and unsustainable for the majority of academic staff and lecturers
staff are taking on more responsibility and administration
student expectations have increased
professional and career development is suffering as a result of increasing workload pressures.
It's also astonishing to learn that due to increasing workload pressures, 4 in 5 members felt as though they were struggling. Even more astonishing is that 86% had been directed to mental health support services due to spiralling workloads.
As one Leicester UCU member recently put it: 'The university might claim to have paid an hourly rate of £20, but that's because their workload model said that it takes 3 hours to write a lecture and 20 minutes to mark a 3,000 word assignment. In reality, it easily takes twice that amount of time, often more.'
This makes glaringly obvious the problems of the current workload models.
Four Fights
The Four Fights dispute is about demanding fair treatment for staff across the sector and a comprehensive remedy for the way in which our working conditions have been undermined over the past decade.
The average working week in higher education is now above 50 hours, with 29% of academics averaging more than 55 hours. A UCU survey conducted in December 2020 saw 78% of respondents reporting an increased workload during the pandemic.
Finally, workload, pay inequality and casualisation are all directly interrelated and compound one another. The recent UCU workload survey found that women, BAME and disabled staff were all disproportionately likely to report that their workload had increased, and the same groups are also disproportionately likely to be on casualised rather than permanent contracts.
UCU demands a realistic workload model, nationally agreed upon, which means staff undertake 35 hour working weeks.