Reballot FAQs
Published: 11th March, 2022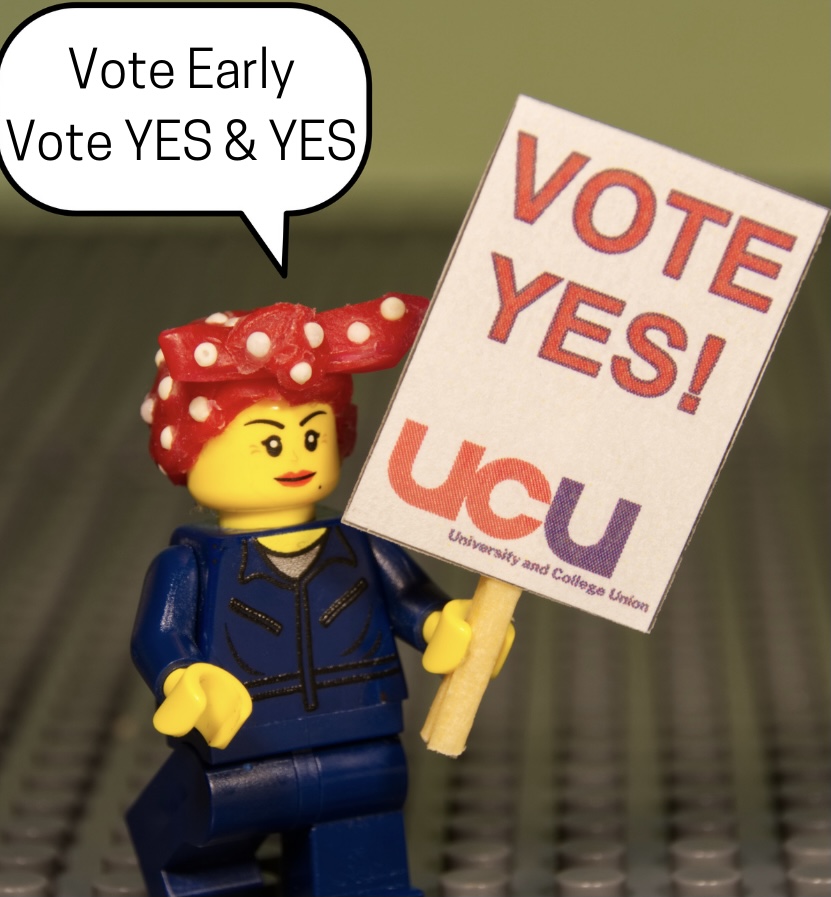 What are the reballots about?
UCU members are being reballoted on the Four Fights, and USS Pensions as the current mandate ends on 3 May.
FOUR FIGHTS:
1. Wages of University staff have fallen in real terms by over 20%.
2. Workloads have increased to unprecedented levels with University staff performing an average of two days' unpaid work every week.
3. More and more people in this sector are working on precarious, fixed-term contracts, with limited rights and uncertain futures, and sometimes without contracts altogether.
4. The effects of this fall disproportionately on female and BME staff. Across the higher education sector, the gender pay gap is 12%: here at Leicester, it's much worse, at 20.3%.
UCU is fighting for fair contracts and manageable workloads for all workers. It wants employers to commit to a national plan for eliminating zero-hours contracts and closing the gender pay gap, as well as similar disparities for BME staff.
PENSIONS: Pensions are deferred pay, agreed by employers to support workers once they retire. This year, workers in higher education are being forced to increase the amount they contribute towards their pensions, an increase which amounts to another pay cut. Use the USS Pension modeller to see how much you will lose.
We recommend you vote YES to Industrial Action and YES to Action Short of a Strike in both ballots, and we urge all members to participate in the ballot.
Why should I vote?
These are crucial ballots, aiming to secure long-needed advances in staff conditions at a time of real uncertainty in the sector and to protect staff from lost pay from below inflation pay awards and increased pension contributions. We want as many members as possible to participate in the ballots and express their views. Participating in the ballot gives members a voice in union decision-making; it gives colleagues a voice (because unless we meet a 50% turnout threshold nationally, even those who are prepared to strike will be unable to do so); and it strengthens the union and its ability to advocate for staff in future.
How do I vote?
You should receive a ballot in the post shortly after 16 March, either at home or at work; the envelope looks like this.
Fill out your ballot papers and return both ballots in the included envelope. It's prepaid, so no need for a stamp.
I want to have a ballot sent to a different address or I haven't received my ballot.
You can apply for a new ballot here [link to be added when ballot opens].
I can't find the envelope with my ballot, what should I do?
You can apply for a new ballot here [link to be added when ballot opens]. If you've lost the envelope you can apply for a new one with the link above, or just use your own (with a stamp), posting to; Electoral Reform Services, London N81 1ER
Who is eligible to vote?
Any UCU member who is employed by the university or contracted to the university, whether full-time or part-time.
It also includes students (most likely doctoral students) who are contracted to teach (Standard Free membership) – even if you are on an hourly rate.
When is the deadline to submit my vote?
Completed ballot papers must be received by Friday 8 April. Remember to allow good time for postage – no later than Wednesday 6 April.
What outcome is necessary for a strike to go ahead?
For the vote to comply with legislation 50% of all eligible UCU members locally will have to participate in the vote. Then out of those who turn out to vote, 50% will have to vote yes to strike.
I'm not sure if I want to strike, should I abstain?
Union democracy is vitally important, we need to know what the whole membership thinks, so please do use your vote.
Remember that the higher the turnout and the higher the Yes vote in this dispute, the more worried the employers will be about more action, and the more likely they will be to come up with a better offer.
I can't afford to lose pay by striking.
Members are eligible to apply to the national fighting fund, which can provide some financial help.
How can I help UCU reach the ballot threshold?
Speak to your colleagues about the ballot and encourage them to vote or to join UCU (a ballot paper will be sent out to them).
What if I still have questions?
Contact us at ucu@uculeicester.org.uk and we'll be happy to help.