Reporting Action Short Of a Strike
Published: 29th April, 2021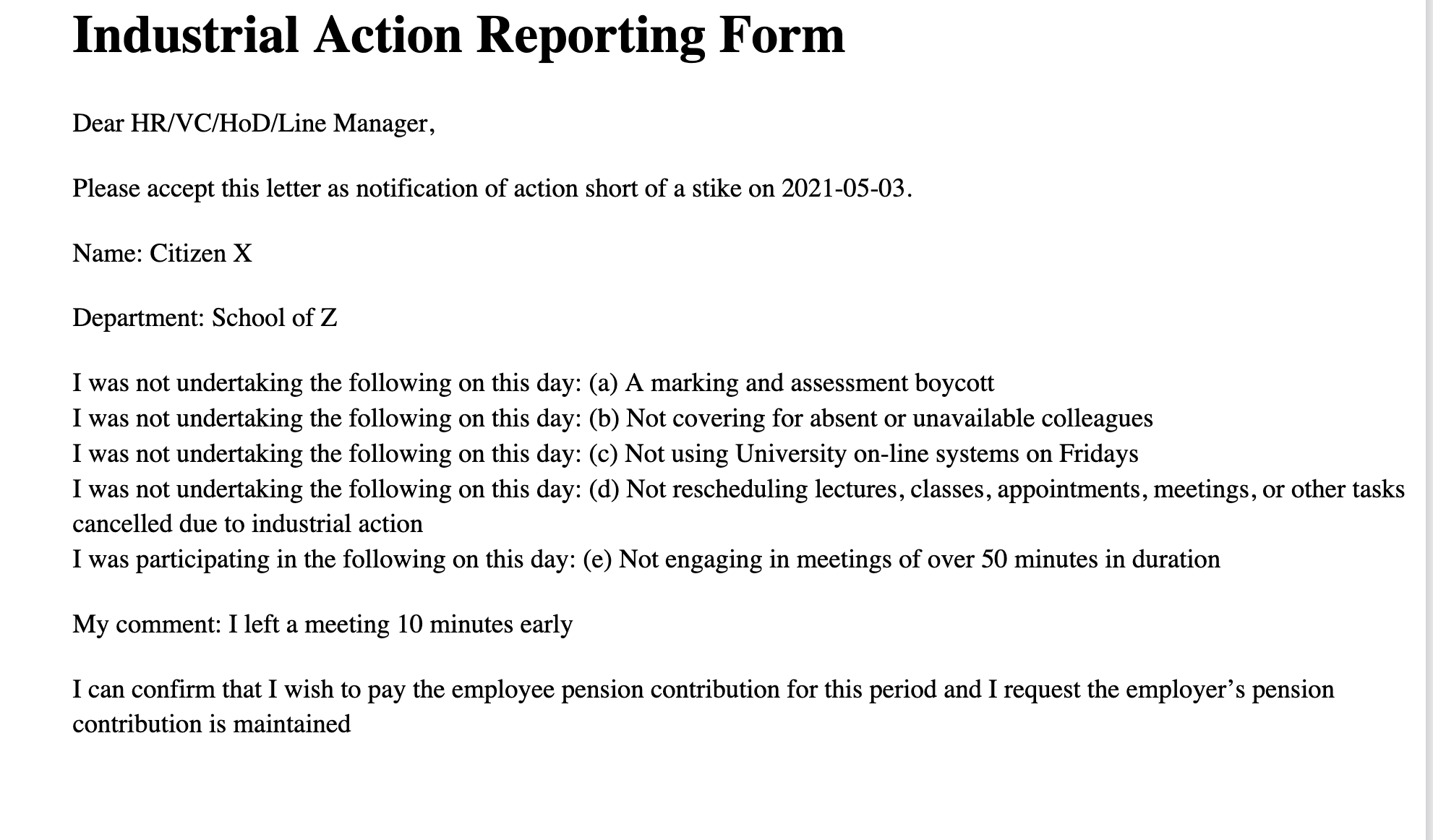 To use our quick, easy and lawful reporting mechanism, click
here
.
Reporting ASOS to your employer
Have you recently read an email from the VC about how, why, and when to report your observance of Action Short of A Strike (ASOS)? Confused? Us too. As it stands, the reporting mechanism suggested by the VC appears to be designed with intimidation through maximum wage deduction in mind. Despite the threat to take from your salaries at a higher rate if you decline to use the 'official reporting method', it is our belief that staff who follow the VC's instructions are likely to lose a far higher proportion of their wages than those who report by other methods.
Here's how you should really be approaching it
There is no legal obligation for you to report that you are observing ASOS in a general sense at any time, and we do not recommend that any of our members do this. Some aspects of ASOS in this current dispute are unambiguous elements of working to contract. Working to contract is not partial performance. Our employer cannot compel us to report it and cannot deduct wages because of it.
Some elements of ASOS may legitimately be described as 'partial performance' and under current UK legislation our employer is legally allowed to deduct wages for this. However, in all bar one case, whether the action constitutes partial performance will depend upon the specific circumstances. We encourage members to use their judgement and report these actions only where they impact on your ability to fulfil the normal obligations of your contract. Where unsure, you are welcome to ask for advice by emailing the branch address.
Example: One element of our actions short of a strike is: 'Not using the University's online systems on a Friday'. This may be partial performance if you have received a specific management instruction to do specific work that necessitates the use of such systems during a Friday and you then decline to do this work on the grounds that you are observing this element of ASOS (rather than a legitimate work clash). But, In the majority of cases, you will be perfectly able to arrange your weekly work in such a way as to avoid the use of online systems on that day without breaching your contracts or performing partially and there is therefore absolutely no need to report that you have taken this action.
The only element of ASOS that is likely to constitute partial performance in every case is the marking boycott.
As with Striking, UCU recommends that people report having engaged in specific forms of partial performance if asked to do so after they have occurred. In some cases you could not report beforehand, even if you wanted to. For example, you will not be in a position to say for certain that you are boycotting your marking until either ASOS has been called off, or the final marks have been returned to the students without your input – whichever comes first.
We have created a form that helps you to report after the event. It's available here and it's easy to use.
In summary
We recommend that you do not report at any time that you are observing ASOS in a general sense as this may lead to unlawful wage deduction that you will then need to pursue.
We recommend that you do not use the official reporting mechanism suggested by the VC. This has the appearance of a trap and is likely to result in unlawful wage deduction that you will then need to pursue.
We recommend that you only report observance of the specific forms of ASOS that may constitute partial performance (see the table below) and that you ONLY report them if you judge them to have constituted partial performance. It is easier for your manager to mount a challenge to this if they disagree than it is for you to reclaim your wages if they have been unlawfully deducted.
We recommend that you ensure you report the specific day(s) on which you took the action. In the case of the marking boycott, this means reporting you have observed it for the number of days it would normally take you to do the marking, counting backwards from the return of the final marks to the students.