Strike Action – Frequently Asked Questions
Published: 26th January, 2018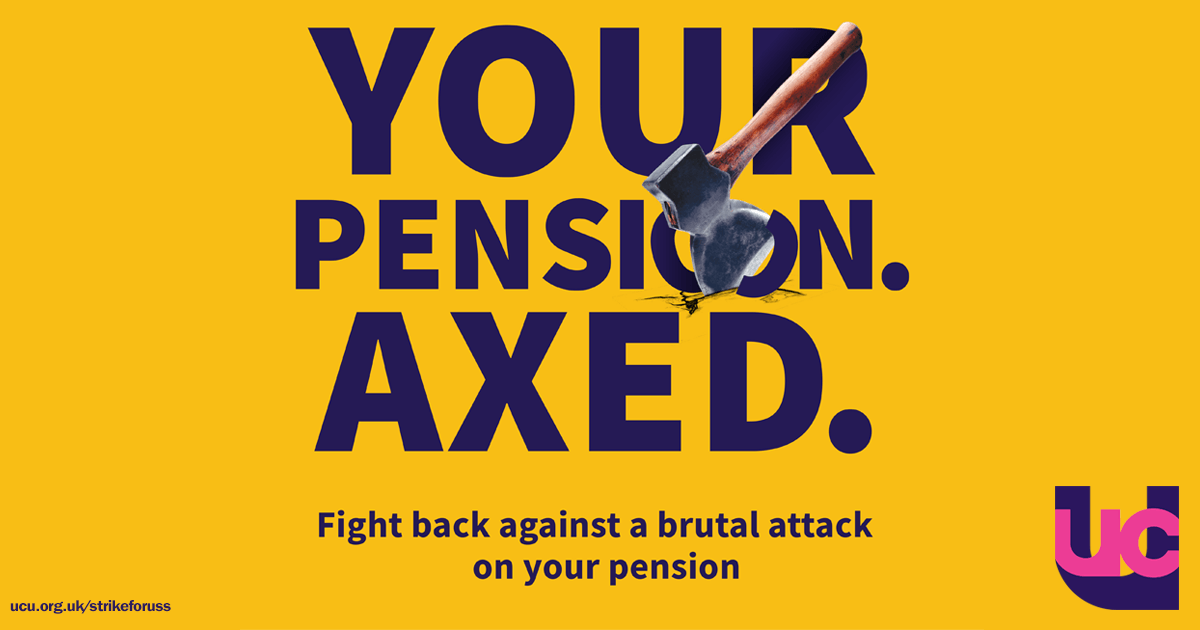 Below we answer the most frequently asked questions. More FAQs are answered on the UCU national website: National FAQs.
Why is this industrial action being called?
Our pensions – our deferred pay – are under the biggest ever attack from our employers (Universities UK). If they succeed we will face:
An average career loss of £208,000 (40% of total value) with even bigger losses for early career colleagues
An end to guaranteed pension benefits (e.g. average salary-based pensions and fixed-lump sums)
Our future pension being entirely based on speculative market returns, not our contributions
For more details see letter from 1,000 professors to THES here
Did Leicester UCU members vote for sustained industrial action?
Yes, Leicester had the sixth highest turnout in the country (69.4%) among the 68 Universities balloted. 85.8% voted for strike action and 92.2% voted for Action Short of Strike (ASOS). This is a very large mandate for strike action at Leicester and new members are joining LUCU every day.
Will the strike action go ahead?
It doesn't have to! UUK are divided and, as Sally Hunt stated in a recent email , there is no reason why negotiations cannot be resumed, but that can only happen if we exert the maximum pressure on all VCs, especially Paul Boyle as a leading member of UUK. If UUK do not agree to resume talks then we will commence 14-days of strikes over a concentrated period of three and half weeks.
When will we be on strike?
The provisional strike timetable is as follows:
Week 1 – 22nd and 23rd February
Week 2 – 26th, 27th and 28th February
Week 3 – 5th, 6th, 7th, 8th March
Week 4 – 12th, 13th, 14th, 15th, 16th March
What happens on a strike?
First, you should not – and are not required to – declare to your manager and/or HR that you will strike beforehand. UCU provides all the information to your employer that is legally required. If you let your employer know in advance that you are taking action they will be able to minimise the disruption caused. If asked you should respond: my union has advised me that I am not required to let you know my intentions prior to the start of any industrial action. You need only declare that you took part if your line manager asks you after each set of strike days. For members on fractional contracts, additional advice on how to declare pro-rata strike participation will be made available in due course.
When on strike, all UCU members are expected to:
Make yourself available for picketing and other strike-day activities
Not attend work and/or your office on strike days
Not log-on to the university network
Not read or respond to work emails during the duration of multiple-day strikes
Put an 'I am on strike, etc.,' automatic reply on your email (precise wording here)
Delete all work emails received during the strike (except those from students)
Not 'catch-up' with work planned for during the strike
Dissuade any colleagues from covering for your absence
Not 'decline' or rearrange meetings
Not rearrange classes
Not attend research seminars and other research events
What is Action Short of a Strike (ASOS)?
ASOS will consist of working to contract (in effect refusing to do all voluntary tasks); refusing to cover for colleagues' absences; and refusing to reschedule classes or lectures, which are cancelled due to strikes or because of ASOS. Unlike the strikes, ASOS is indefinite and will commence from the first strike day, Thurs, 22nd Feb. FAQ-style guidance will be issued on each of these 'work to contract' actions.
What is my democratic responsibility as a UCU member?
Whether you voted for the strike action and/or ASOS or not, you are expected to respect the democratic decision of the members and support your union.
How can I afford to go on strike?
We know this is a sacrifice for members. The good news is that after a successful legal challenge in May this year, universities can only deduct 1/365th per strike day, not 1/260th per day, as they have up till now. This has been confirmed by HR. In addition, there are arrangements being made both nationally and locally to offer hardship funds for those in most need. Indeed, those who can least afford to strike, such as lower-paid and early career members, are probably the ones with most to lose from the attacks on USS. The reality is that you can't afford to not strike given that you stand to lose up to £200,000 in retirement as things stand. Compared to the relatively little lost on strike it is a price worth paying.
Should I work at the weekend during the action?
Most weekend working is voluntary, and not undertaking voluntary activities is covered by our Action Short of a Strike (ASOS) which was supported by 92% of those taking part in the strike ballot. However, if it is a contractual part of your job (e.g. some Admissions Tutors) AND you are instructed to do it, then you should abide by a reasonable instruction from your line manager. If it is NOT a contractual part of your job, then you should NOT volunteer. If you are instructed by your line manager to carry out weekend working, and you do not consider this an unreasonable instruction, then you should ask your line manager to remove some other aspect of your workload in order to free you up to do the weekend work. See also the national advice here.
I work at the University through Unitemps – how can I support the action?
As you are a Unitemps employee and we are not in dispute with Unitemps we are not calling upon you to breach your contract with Unitemps. We are asking you to support our action by supporting the pickets (when you are not working for Unitemps) and by donating to the Strike Fund.
How can students support the action?
Both NUS nationally and the Leicester Students Union support our strike. We call on students to:
tell all your lecturers you support our fight
complain to the vice-chancellor and senior management team (email ultmembers@leicester.ac.uk)
join student demonstrations on strike days
don't attend lectures on strike days – come and join our picket lines instead
postgraduates can join UCU for free as student members – ucu.org.uk/free