Strike Day One: Reflections
Published: 9th June, 2021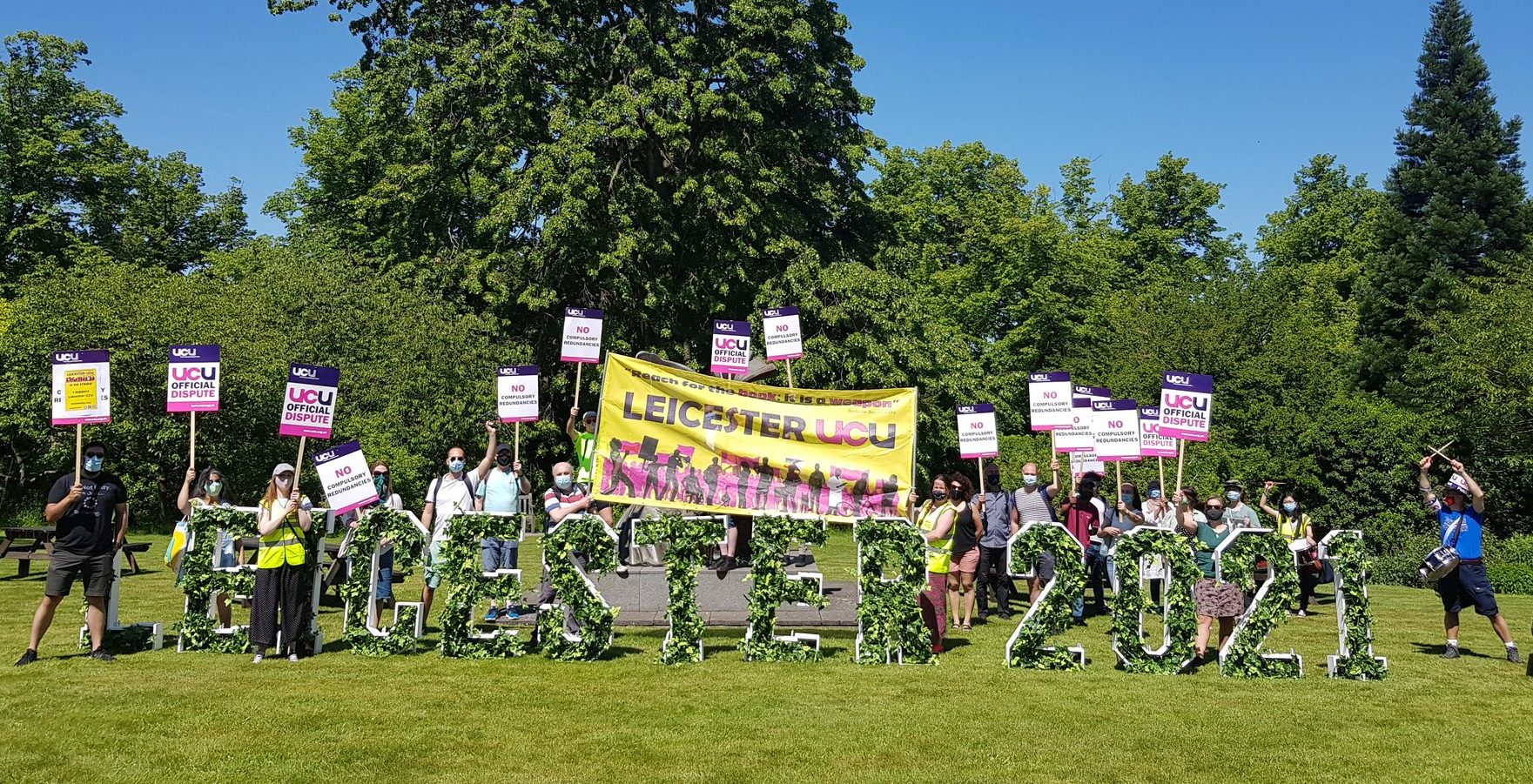 Today, our three day strike began. A socially distanced physical picket line was in force until 11:30am when colleagues marched across campus, ending on the lawn in front of the Fielding Johnson building. The atmosphere was kind, jovial and there was an incredible sense of solidarity. Members conversed with staff, students and members of the public who passed by the picket. There was a huge amount of compassion for our situation, and for all those impacted by the 'Shaping for Excellence' plans. A virtual picket was also in action.
Our physical pickets began at 8am on Victoria Park with the presence of some helpful vans promoting our cause.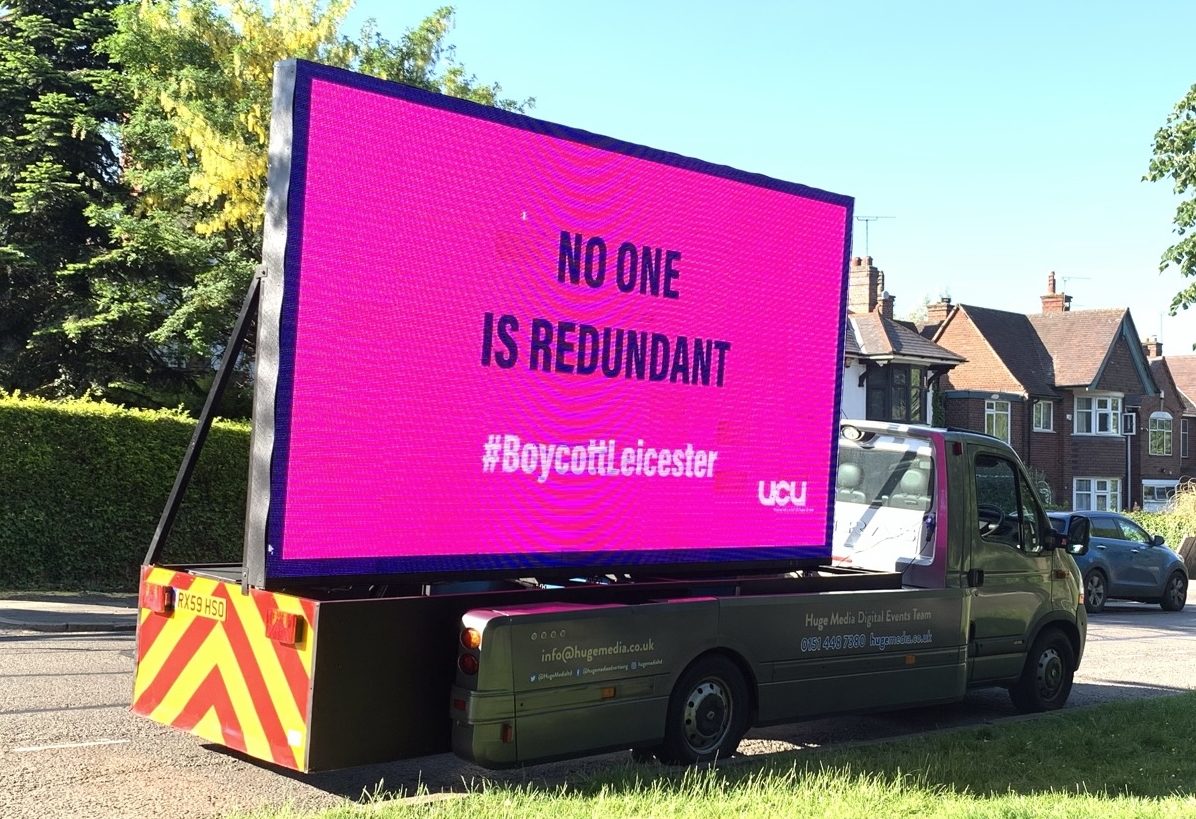 Our virtual picket began at 10am, in order for colleagues to join remotely and share expressions of solidarity. Thanks to Umberto Albarella, Department of Archaeology at the University of Sheffield for joining picketers and uniting in solidarity.
We have reports from both pickets to give you a sense of what to expect for the next two days. Thanks to Dr Richard Badge and Keith Nockels for contributions.
First Day Nerves…
So, it has been a while, over a year in fact, but the first (strike) day nerves are as familiar as ever. Compounded by a whirl of thoughts and feelings, heightened by the ongoing global pandemic. The last time that I set off for Victoria Park, to assemble with UCU colleagues for the strike briefing, the reality of the UK's first COVID-19 wave cresting our coasts was just sinking in: by the end of the day the University had suspended face-to-face teaching. But that was a lifetime away… right?
But yes, the usual thoughts were there – am I going to be the only one there, is this the right way to fight our cause, what will I say to my students, can my family afford the wage deductions?
And a new one… what hat am I going to wear? Having braved sub-zero temperatures, and polar winds in March 2020, having to remember to put sun block on this time was surreal. And, as a "follicularly challenged" UCU member the choice of head gear had to suitable for all day, in the beating sun…of Leicester? Fortunately, the consequence of having little hair is that the hat choice is broad – so that's what I went for – a broad brimmed leather number, usually reserved for camping, and robust enough to survive being squished into a cycle pannier….
What about the other nervous ruminations? Well, of course Leicester UCU colleagues turned out in (socially distanced, in groups of no more than 30) force, so I did not have to worry about solitude. Was visibly picketing the Campus the right way to go, when most teaching and assessment was complete? – absolutely, judging by the conscientious (distanced) monitoring Campus security, and the bemused looks and cautious enquiries of Student Ambassadors and visiting Offer Holders and their families alike. The message was spread wider to the congenially curious public frequenting Victoria Park, and literally emblazoned across the streets by UCU's "digi-vans", rolling through the city, declaring #NoOneIsRedundant #BoycottLeicester and IS THIS THE UNIVERSITY YOU WANT FOR YOUR CITY?
I needn't have worried about the students… they were there on the picket line with us, with real concerns, that "Shaping for Excellence" could mean PhD students lose their supervisors to redundancy, and that the Executive Board's intransigence could lead to disruption of their progression or even graduation, due to the month-long marking and assessment boycott. For my part, I have been humbled by the unequivocal support I have received from undergraduates, graduate students, and personal tutees – after all, our working conditions are their learning conditions.
So, despite the nerves, the first day of action was full of familiar friendliness, messages of solidarity (from around the world), affirmation of the justness of our fight, and re-commitment to the principles of Union.
Oh, and I didn't get a sun-burned head…
A report from the virtual picket line…
Not everyone is able to get to the physical picket line, so we set up a virtual one at the same time. Thanks to Alex Patel for setting it up and thanks to her for being the link with the physical picket. What could a virtual picket line look like?
We had around 20 picketers. We shared our experience of how the present situation is affecting us, some of us directly, some indirectly, but no one unaffected. We met in a spirit of support and solidarity, fitting for the day's theme.
Councillor Gary O'Donnell spoke to us live from the physical picket line and there were interviews with some of the picketers. ITV Central News said hello to us as they talked to physical picketers. And if you were on the physical picket line, we may have seen you!
And we welcomed Umberto Albarella from the Department of Archaeology at the University of Sheffield. The University of Sheffield has decided to close the department, apparently a sudden decision, with no clear rationale, and no eye on the effect it will have on the city, let alone affected staff and students. We were able to share ideas from what we have been doing, and able to draw parallels between their situation and ours – irrational decisions made by senior management with no consultation, followed by a less than meaningful consultation with others and apparently no attention paid to feedback from professional bodies and other academics.
Another virtual picket tomorrow. Details of where and when are at https://web.uculeicester.org.uk/strike-schedule-june-2021/.
If you wish to send your reflections on the pickets (physical or virtual), and wish to share opinions on what is happening/daily themes, contact cara@uculeicester.org.uk Please also share your messages and pictures of solidarity on Twitter, Facebook and Instagram @leicesterucu