Strike Day Two
Published: 2nd December, 2021
Our three-day strike continued today. It was an even chillier morning, but luckily we had the help our picket firepit to keep the frostbite at bay. At the picket locations the music, dancing and lots of discussions about why we are on strike continued.
Today Leicester UCU members were joined on the pickets by Leicester climate strike, University of Leicester Labour Society, and lots of our incredible students. Our fascinating teach out today focused on feminism and gender equality in the workplace, delivered by Jilly Boyce Kay.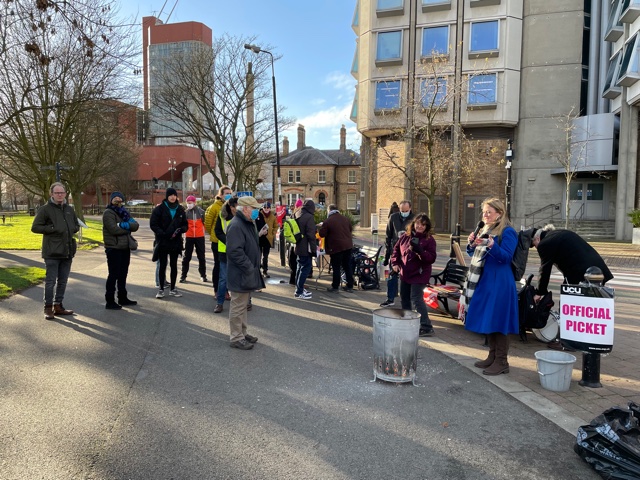 Our second lively rally across campus culminated at the Fielding Johnson lawn in the sunshine. Again, branch reps, members and rally attendees had their chance to speak about what the Four Fights means to them. Discussion turned today to the state of academia and higher education as a whole, with the Leicester Climate Strike participants correctly stating that we are striking to improve their future, and the future of the sector. We also discussed precarious working conditions at Leicester, and our own experiences. In particular, attention was drawn to the hundreds of Unitemps staff whose contracts were terminated in April 2020 with no offers of redeployment: they were just thrown out of the institution at the most insecure and uncertain time. Their workload has not disappeared either. Instead, surviving staff have been expected to absorb more and more duties, with no reduction in workload, and no increase in pay.
Picketers made sure they made lots of noise in front of the Fielding Johnson Building. Management, we know you hear us – it's time to start listening.
Share your reasons for striking on social media using #WhyImStriking and share your messages of solidarity by contacting branch comms officer Cara Dobbing (cara@uculeicester.org.uk), and also on social media using #FourFightsLeicester #OneOfUsAllOfUs
Join us for the final day tomorrow. Full schedule. Strike FAQs. See you on the pickets!