Strike Handbook – Feb/Mar 2020
Published: 17th February, 2020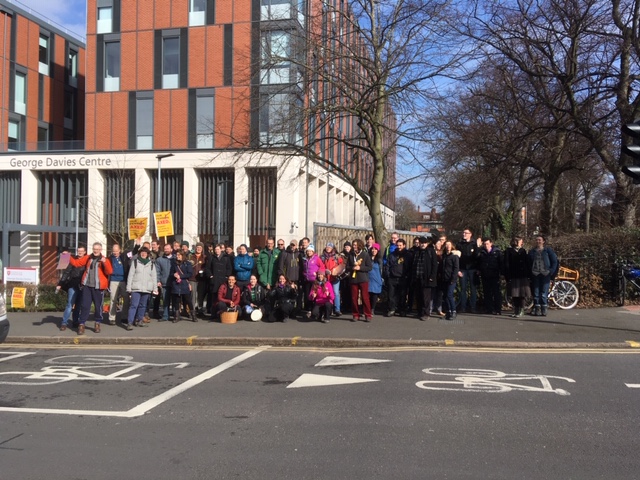 This is the Leicester UCU Strike Handbook 2020 – covering all strike plans and advice for the strike taking place between 20th February and 13th March. This page will be updated as strike plans and events change – please check regularly for updates.
Last revision: 10 March 2020
Contents
Strike action reporting
The recommended method of reporting strike action (following the conclusion of the renegotiated member survey) will be via the University's on-line reporting mechanism.
You should not report until after strike action has completed.
Picket line locations

Picket line organization
ALL MEMBERS ARE EXPECTED, IF ABLE, TO PARTICIPATE IN PICKETING! This is not an optional extra, it is an essential part of our action. During the 2018 USS strikes, the large crowds on our picket lines demonstrated to the University (and, indeed, to the whole HE sector – via social media) the strength of feeling and overwhelming support by members. We must repeat this!
This time the base for picketing will be the Victoria Park entrance picket line (not University Road Entrance 2).
Each day either attend your p[referred picket line or come to the Victoria Park entrance picket line to pick up strike materials.
Support for DeMontfort University
In this round of strikes will include DeMontfort University UCU. The two Universities will be supporting each other on the picket lines, and this will be possible as each branch will be striking over a slightly different weekly pattern.
Week two: Monday 24, Tuesday 25 & Wednesday 26 February: DeMontfort UCU will support Leicester UCU as DeMontfort won't be striking this week.
Week three: Friday 6th March: Leicester UCU will support DeMontfort UCU as Leicester won't be striking this day.
Week five: Monday 16th March, and Tuesday 17th March: Leicester UCU will support DeMontfort UCU as Leicester won't be striking this week.
Why picket
The picket line is a key tool in making strike action effective. That's why it's so essential that that we organise them well and that all members make every effort to take part if they can. The strength and size of pickets show management, the public, the press and our colleagues how determined UCU is to win the fights. Although our pickets will be peaceful, their purpose is also to discourage anyone – colleagues, students and other workers – from crossing them. The goal of the strike, after all, is not simply to have wages docked – it's to disrupt the normal working of the university.
In addition to the rewards associated with maximising the effectiveness of our action, picketing can be an incredible experience – it was for those who took part in February and March 2018. Besides the camaraderie, picketing is a great way to meet your colleagues and students, not only those from your own department or section, but from across the university. Unbounded by the strictures of University-Leadership-sanctified committees, seminars and grant workshops, the picket line can be thought of as the ultimate trans-disciplinary research event. (In 2018, one of our branch officer even made a contact that resulting in a successful grant application.)
Guide to picket-line apparel and equipment
What happens when I am on strike?
First, you should not – and are not required to – declare to your manager and/or HR that you will strike beforehand.
When on strike, all UCU members are expected to:
Support Us
Make yourself available for picketing and other strike-day activities
Not attend work and/or your office on strike days
No Emails
Not log-on to the university network
Not read or respond to work emails during the duration of multiple-day strikes
Put an 'I am on strike, etc.,' automatic reply on your email
Delete all work emails received during the strike (except those from students)
No Teaching or administration
Not 'catch-up' with work planned for during the strike
Dissuade any colleagues from covering for your absence
Not 'decline' or rearrange meetings
Not rearrange classes
No Research
Not attend research seminars and other research events
During Strike – Out Of Office emails
UCU members should not read or respond to any emails whilst on strike, and should immediately delete, unread, all emails on return to work — except for those from students. During strike periods, we ask you to put an out-of-office auto-reply on your emails. We suggest the following text — though of course you may edit this if you prefer.
I am currently unavailable as I am striking over Pensions, Pay and Equality.
Background to the dispute can be found here:
https://ucu.org.uk/strikeforuss
https://ucu.org.uk/he2019
You can support us by joining UCU (http://join.ucu.org.uk/) and taking part in strike action.
If you are a student, I will respond to your email on my return — though you may have to be patient. You may also wish to email the vice-chancellor of University of Leicester, Professor Nishan Canagarajah, to tell him you support our action. His email address is vc@le.ac.uk. More advice is here.
Otherwise, I will not be reading this email, and will delete it, unread, on my return.
www.uculeicester.org.uk
Messages to other staff
To UoL staff that are not UCU members
If you are eligible to join UCU, then do it! You can do so instantly.
Member of others trade unions: Please don't cross our picket line!
If you do have to cross, show us your support (e.g. bring cups of tea/coffee to the picket line!)
To contractors
Please don't cross our picket line.
To Unitemps-employed UCU members (including many PhD students)
The dispute is with the university, not Unitemps, so you do not have a legal mandate to strike and are not given the same protections if they refuse to do your prior-arranged/normal Unitemps work.
Do not accept Unitemps jobs that appear to be new jobs created to cover striking staff.
Messages to students
Tell them that you'll be going on strike and why – we need their support and we need to make common cause with them! But don't tell them that their lectures and classes will be cancelled. There are three reasons for this:
Make managers make this decision – and direct your students to your head of school or department;
Some students (those without EU passports) may still need to 'Touch Green to Be Seen' – don't jeopardise any student's licence to remain in the country;
We hope employers will return to negotiations – if our dispute with them is resolved to our satisfaction, then we will return to work and teaching events will go ahead as scheduled.
Suggest that your students email the vice-chancellor to tell him they support our action. There's is advice on this here.
In addition
Please don't cross our picket line.
Continue your education in a different way by joining us on the picket lines (you're very welcome) and coming along to one of the teach-out events.
Write to the VC expressing your support for us and asking him what he's doing to help resolve the dispute.
Write to your MP (maybe after the election!), telling them you are concerned about situation your educators are in (low pay, precarity, etc) and requesting they ask questions of Pensions Regulator and UUK.
(PhD students: the strikes are for 8 working days so this should not impact on your attendance requirements for your funders – but please check this).
The initial strike is planned for the following timeframe:
For each strike day, please arrive at your designated picket location as early as possible – preferably 7:30am to 8am (allowing for childcare and other commitments). We plan, each day, to converge on University Road Entrance 2 at 11:30am. We would expect to end each day between midday and 1pm…
Date
Theme
Thursday 20th February
Day 1 Strike Report
Friday 21st February
Day 2 Strike Report
Monday 24th February
"Pets on Picket Lines". Report here.
Tuesday 25th February
"Mardi Gras" – Carnival costumes and PANCAKES. Report here.
Wednesday 26th February
"First day of Lent" – giving up form-filling, bureaucracy and metrics for Lent. Placards about TEF, REF, KEF, forms, league tables. Report here.
Monday 2nd March
World Book Day –
Dress as your favourite book character or textbook…
Report here.
Tuesday 3rd March
'Let's get physical': highlighting the impact of workload on our physical health. Dresscode: Lycra, leg warmers, headbands, sweatbands.
Wednesday 4th March
International Solidarity – with striking university workers in France, striking school teachers in California…
Thursday 5th March
To coincide with the University of Leicester's Mental Health Day, we will focus on the impact on mental health of workload and precarious working – two of our #FourFights.

From 4pm onwards, in the Queens Road Tap (it's on Queens Road, if you hadn't guessed), an open-mic solidarity evening: play a song, read from scripture, deliver a polemic, drink good beer (or soft drinks) and raise money for the UCU Strike Fund.
Monday 9th March
'Feminists to the Front' – International Women's Day
Tuesday 10th March
Friendship and support – Meet up with DMU UCU and WQE National Education Union colleagues and comrades.

Teachout led by comrades from Leicester Vaughan College on setting up an HE Co-op and co-operative pedagogy. 2-4 pm at the Queen's Road Quaker Meeting house.
Wednesday 11th March
National Day of Action against Prevent (joint with Leicester Union and NUS) – focus on the Prevent duty, its problems and what we can do to resist and abolish it
Thursday 12th March
Grade 7 Day – footballer David Beckham always wanted to wear the no. 7 shirt. At our university, an enormous amount of work is done by our No. 7s but – unlike Beckham – they rarely get the acclaim they deserve. Many should be grade 8 or 9. Bring your 'to-do' lists and pin them on our special wall. Featuring our resident superheroes, The Unaffordables.
Friday 13th March
It's Friday the 13th, so it's obviously Horror Day – what scares you about working in higher education? Come as a ghoul, ghost, skeleton,…

There'll also be a great teach-out (led by Kaity Mendes) on
Feminist Craftivism – Come on by for a fun and creative session (with biscuits!) and use play-doh, lego, collaging or meme-making to speak out on feminist issues that concern you. This may include body positivity, menstruation, sexual violence, LGBTQ+ rights, rape culture or more.
Daily Prize
A much-sought-after UCU insulated cup will be the prize each day:
Strike fund
UCU have announced that there will be a strike fund to cover some lost salary. Full details are here. UCU have committed:
those earning £30,000 or more will be able to claim up to £50 from the third day onwards.
those earning below £30,000 will be able to claim up to £75 per day from the second day onwards.
Non-members should be encouraged to donate to the strike fund: https://www.ucu.org.uk/fightingfund
Leicester UCU will not be operating its own strike fund.
Daily strike reports
Strike reports from the last round of strike action are available below. New strike reports will be written for each day of the strike new strike.
2020 Daily strike reports
Day 1 (Thursday 20 Feb) – It Never Rains
Day 2 (Friday 21 Feb) – Unaffordables
Day 3 (Monday 24 Feb) – Staying Dry
Day 4 (Tuesday 25 Feb) – Fat Tuesday
Day 5 (Wednesday 26 Feb) – Giving Up?
Day 6 (Monday 2 March) – A Beautiful Day for a Picket
Day 7 (Tuesday 3 March) – Picketers Fit for Purpose
Day 8 (Wednesday 4 March) – Another Riotous and Righteous day
Day 9 (Thursday 5 March) – A New Banner
Day 10 (Monday 9 March) – Women to the Front
Day 11 (Tuesday 10 March) – Friendship and Solidarity
Day 12 (Wednesday 11 March) – Wild times!
Day 13 (Thursday 12 March) – Not all heroes wear capes!
Day 14 (Friday 13 March) – Friends not farewells
2019 Daily strike reports
Tuesday (day 2) strike report.
Wednesday (day 3) strike report.
Thursday (day 4) strike report.
Tuesday (day 7) strike report.
Wednesday (day 8) strike report.
We encourage lots of social media use during the strikes as this will get our messages to our colleagues, students and the wider public.
Please use #LeicUniStrike
Coffee
Leicester UCU supports The Bridge Homelessness to Hope charity. We encourage you to purchase drinks from here.
Frequently asked questions
More FAQs on the UCU website.
I am on a research only contract – what should I do?
If you are on a research-only contract and you are taking strike action, you should not work and should follow all other advice.
For researchers, strike action does have an impact on the University. Your work will be slowed down and your email auto-responses will go to your funders, partners and colleagues. Your presence on the picket lines will help our action.
I am on a research-only externally funded contracts – what should I do?
If you are employed by the University on an externally-funded contract and you take strike action you should not work and should follow all other advice.
If your employment contract is with an external funding body, or any other body or agency, you should not strike.
I am on an hourly-paid and GTA contract
If you are employed on an hourly-paid or GTA contract and you take strike action you should not work and should follow all other advice.
I am on research leave – how do I strike?
If you are on research leave and you take strike action you should not work and should follow all other advice.
I am on annual leave/parental leave/sickness absence. Can I strike?
If you are not at work for these reasons during strike action, you cannot strike. We encourage you to donate any earnings to UCU fighting fund.
I am a migrant worker with a visa – can I strike?
Since the UCU industrial action in early 2018, there have been changes to the immigration rules that make explicit that unpaid leave for the purposes of industrial action is exempt from the reporting duties for sponsors of Tier 2 and Tier 5 visas. The change was announced in July 2018 by Sajid Javid (see full statement here): "It is not the Government's policy to prevent migrant workers from engaging in legal strike action; and, to date, I am not aware of any case where a migrant worker has had their leave curtailed, or been removed, as a result of having engaged in legal industrial action. However, to put the matter beyond doubt, I will be making changes to the guidance and Immigration Rules for migrant workers (under the Tier 2 and 5 immigration routes) and their sponsors." You can view the updated rules here, and the updated guidance for sponsors here.
Further advice has been provided by UCU here.