Strike Report – Day 11 (Deal or No Deal?)
Published: 13th March, 2018
Was that the most intense day so far? It's been an emotional 20 hours. Yesterday evening we learned that our UCU negotiators had struck a deal with their Universities UK counter-parts. UCU General Secretary Sally Hunt was selling it as a good deal – a done deal?
But it took no time to work out that Sally was trying to sell us a pup. The deal was clearly – to us in Leicester UCU at least – awful on almost every level. One of most interesting and exciting things about the present strike is the extent to which activists and branches have organised horizontally – facilitated by social media like Facebook and Twitter and, of course, by personal connections – branch-to-branch and activist-to-activist. We drew on the power of these networks last as thousands of UCU members – furious with the apparently 'done deal' – attempted to make sense of what was happening and coordinate a response. But it led to a nervous night, as we wondered what the new day (Day 11) would bring, with a planned meeting of branch representatives at UCU HQ in Carlow Street, set to agree a national response. (Too soon to call out 'Mornington Crescent', surely?)
Fortunately, the morning brought clear skies and even clarity from the Guardian, which correctly reported that we were 'irate over pensions' deal. (The Guardian even correctly referred to as 'university staff' – as opposed to just 'lecturers' – well done!)
It also brought geese to the Leicester picket lines…
Was this a test for vice-chancellor Paul Boyle, we wondered? We know that he's a little nervous of talking to either his students or his employees… would he dare say boo to a goose?
The human pickets were furious too. #NoCapitulation had become the hashtag of the day.
We are many, they are few… strength in numbers… power in a union… One reason collectives are powerful is that they can make better decisions. A hastily convened emergency meeting of all branch members – called to discuss our response to the 'deal' – attracted almost 200.
With 195 members voting for, none against and with two abstentions, we agreed the following.
Of course, much of the day's focus was on London. Early in the morning we learned that protestors were blockading UUK's HQ in Bloomsbury…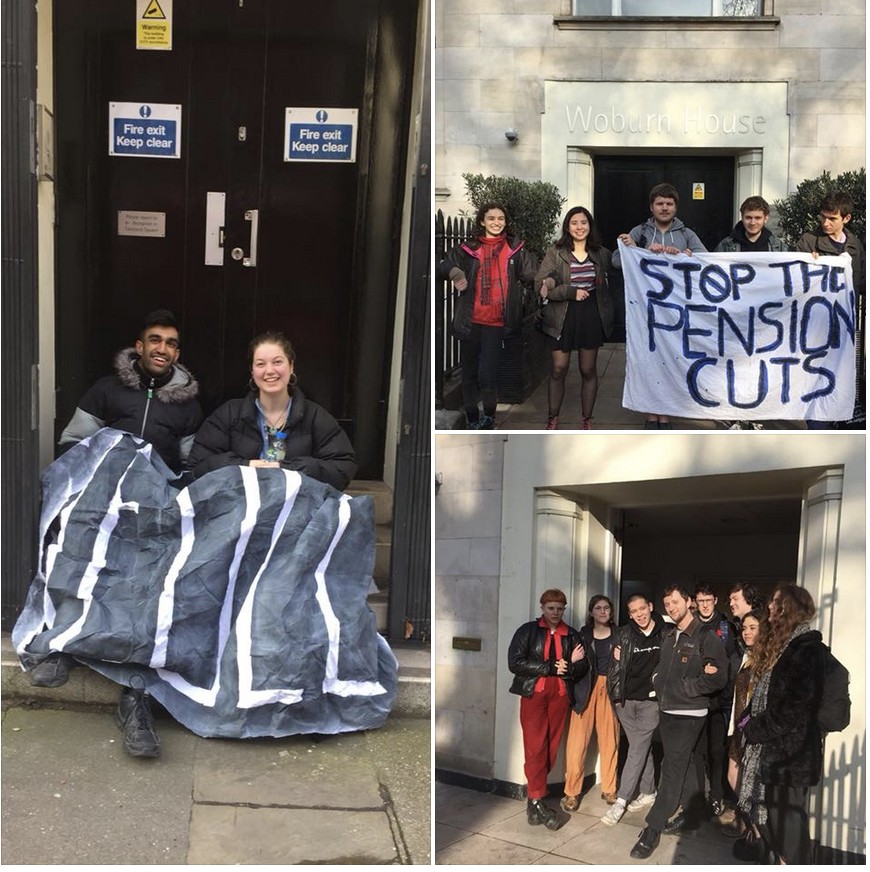 … and less than a mile north, angry UCUers gathered outside UCU demanding no 'sell out'. Sally Hunt – who went out to speak with them – faced a hostile audience, with one person accusing her of "now [being] objectively on the side of the employers" and another telling her not to get too big for her boots.
Back in Leicester, we had our own business. Another University Senate meeting, another students' union-sponsored motion – and this one supported not only by Leicester UCU but also by the vice-chancellor and his 'university leadership team'. We wonder what made Professor Boyle change his mind… A victory for the strength of unions – announced via Twitter.
There was much to be learned in the successful teach-outs of Free University of Leicester…
… and there were drums to be drummed, dances to be danced…

… and as incessant as the rain the preceding day came the steady drip of announcements from our fellow UCU branches as they too decisively rejected as derisory the 'deal'…
… the news, when it came around mid-afternoon seemed inevitable, though still something of a relief. UCU had formally rejected the proposals. The strikes remain on for the remainder of this week and – unless UUK can put forward something more acceptable – it's likely there'll a second wave of strikes after Easter. The UCU statement is here. And we will Strike On Just A Little While Longer…