Strikes 2020… Day 11: Friendship and Solidarity
Published: 10th March, 2020
Friendship and Solidarity are major themes on the #LeicsUniStrike picket lines every day but, well, today was extra special. Most importantly, we want to highlight the extraordinary work of precariously employed staff at the University of Leicester today in tackling endemic problems caused by precarity in Higher Education.
During the November-December strikes, one of our amazing and precariously employed members raised the need for a meeting with the university executive to discuss the impacts of casualisation and precarity on staff at Leicester (big thanks, Jenny!). Today, we held that meeting. The intention was to develop a clearer and more open-hearted understanding of how these issues negatively impact individuals (personally and professionally), their families, our students, our colleagues and the wider university community. We extended the invitation to the VC, and it was very meaningful that not only Nishan but the entire university executive attended. We also had our incredible SU president, Oge, and second-year student, Jacob, who attended to support, witness, and learn. More than a dozen personal and powerful stories were shared, and we dropped the mask we often feel we have to wear as precariously employed staff and spoke honestly and frankly, and the university leadership team listened. It was powerful, difficult, and important both for speakers and those who heard. At the end, our ask was for a follow-up meeting to consider the ways we can work now to address precarity at Leicester, and that 'ask' was granted. We hope today helped to illuminate the issue, emphasise the excellence and achievements of precarious staff, and highlight the potential and real possibility of making positive change here at Leicester. Look for further updates here in the coming weeks.

We honour the stories shared, and the courage and strength of our members who spoke difficult and upsetting truths today. Warmest thanks to members not directly involved in the meeting who gave emotional and practical support before and after the meeting to participants. Together, we are strong.
Our lines of friendship and solidarity extended in all educational directions. Northampton UCU, one of the universities unable to participate in this strike action due to anti-trade union laws, visited our picket line early in the morning to lend their support to the #UCUStrikes. We were swiftly joined by a representative from Unison in Higher Education, which represents many of our colleagues in professional services and support roles at lower pay grades than typical UCU members. We are all working together to make universities better places to work and learn.
After gathering with some rousing drumming at Victoria Park, we then took our picket on the road, to join up with our DeMontfort University UCU and National Education Union strikes from Wyggeston and Queen Elizabeth I College for a joint Rally for Education in Jubilee Square in the centre of Leicester. Our colleagues at NEU are fighting against funding cuts to sixth form colleges, a decade of real terms pay cuts for staff and significant increases to workloads which means over-stretched staff and under-supported students, all of which sounded very familiar to us striking over the same set of problems in the UCU #FourFights dispute.
Beyond the sheer joy of seeing the Walrus of Righteous Protest and Picketchu – the respective mascots of Leicester UCU and DeMontfort UCU meet up in solidarity – it was invigorating to see so many passionate educators gather together to defend the future of Further Education and Higher Education. Our shared messages to our employers are that staff need to be treated fairly because our working conditions are students' learning conditions, and education is a social good, not a commodity.
These principles were also the focus of today's teach-out by our friends from Leicester Vaughan College, who held a session on co-operative pedagogies. The LVC was established as an independent higher education college to continue the vital work offering flexible part-time education to learners at all stages of life in Leicester, after the Vaughan Centre for Lifelong Learning was disestablished by the University of Leicester in 2016, as part of an ill-conceived cost-cutting exercise.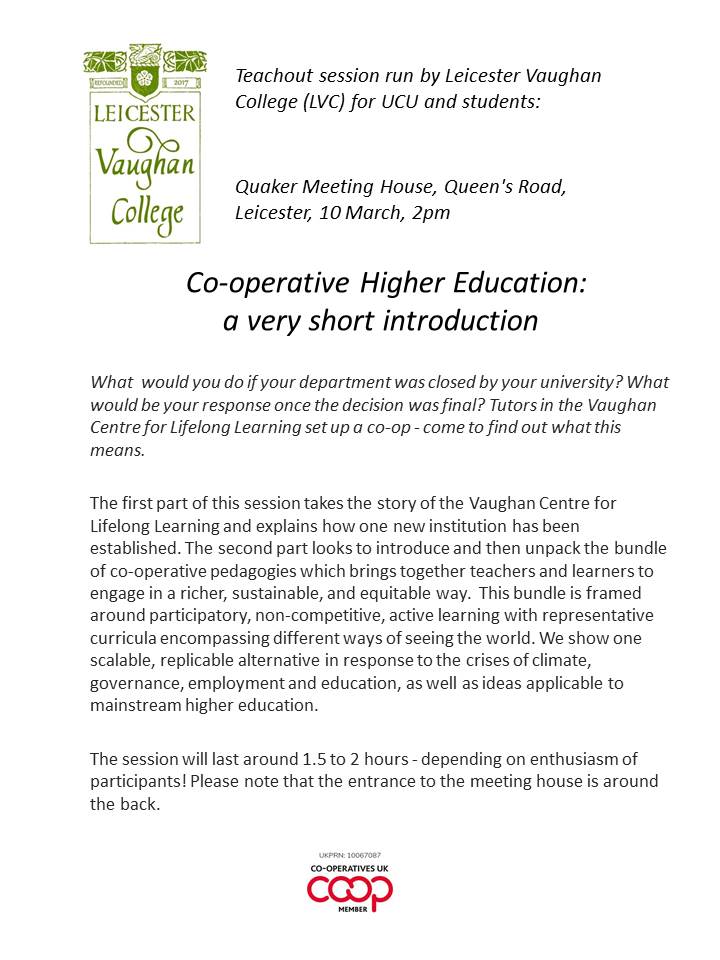 Our focus for tomorrow's picket line will be part of the nation-wide Day of Action against the Prevent Duty, highlighting the problems it causes and what university workers and students can do to resist and abolish it. Please join us if you can!