Strikes 2020: Day 4… Fat Tuesday
Published: 25th February, 2020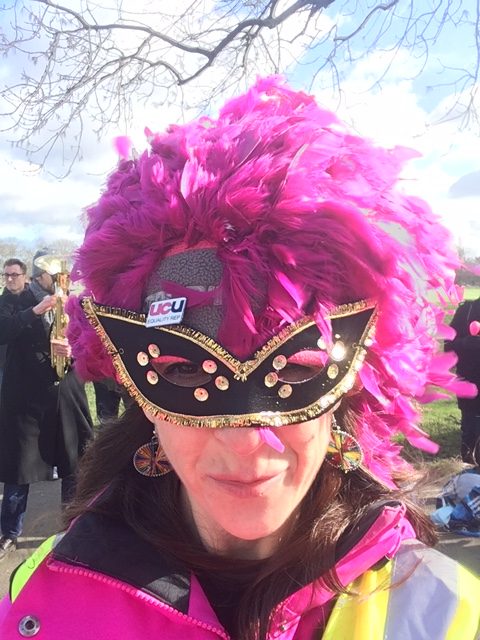 Today was Shrove Tuesday. Having already practised our pancake-making skills during the last strike, one of our members suggested we picketed Mardi Gras [Fat Tuesday] style.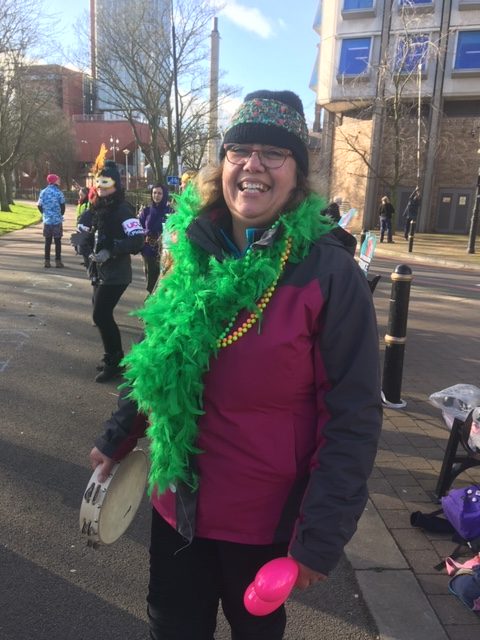 Masks, beads and feathers were aplenty, we danced and sang, and one member turned up in beach gear – indeed, he seemed to bring the sunshine with him, which was a welcome change after the wind and rain from the first three strike days. 
The sunshine also enticed the vice-chancellor out of the Fielding Johnson building. He came to chat to members at both Victoria Park and Entrance 2 (He appeared to like our costumes – perhaps dressing like this for lectures and classes will drive up student satisfaction.) This gave us chance to ask him about his plans relating to precarious working (one of the #FourFights) and the plan for a meeting between him and some of Leicester's precarious workers.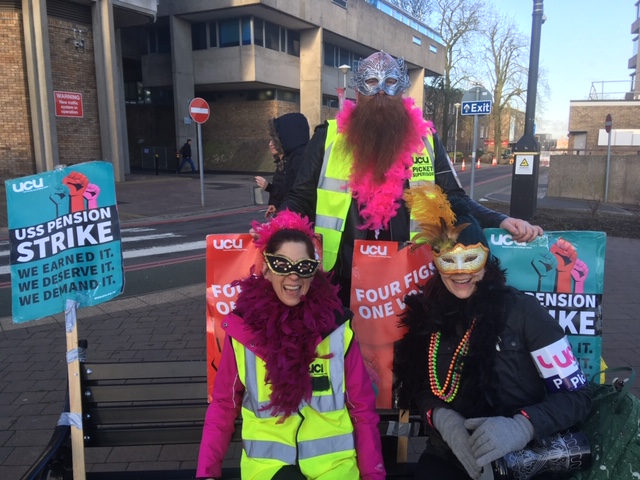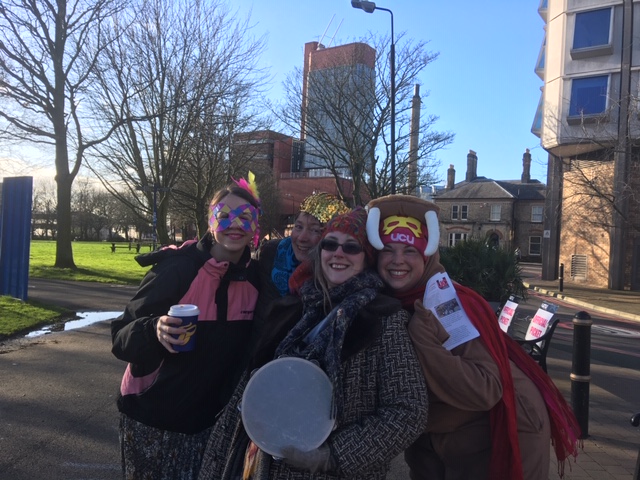 While adhering to the agreement of not marching on campus our band jazzed up for the occasion – first playing at Entrance 2 and then Victoria Park (but not crossing campus to get there, of course – we are nothing if not an honourable branch: our word is our bond).
We welcomed friends from DMU – not striking this week there, but back at it next week
There was no chance of going hungry today, with at least five types of pancake on offer including Canadian ones with maple syrup  
As the sun sets on Mardi Gras, we mark the start of Lent on tomorrow's pickets by thinking about things that we could give up for 40 days (and nights). On this note, we look forward to seeing members' costumes and placards that highlight the impact of metrics and 'unnecessary' form-filling (think REF, TEF, KEF, league tables…) and the relation of these to #FourFights dispute.