Strikes 2020: Day 5… giving up?
Published: 26th February, 2020
This morning's headline: the University of Leicester students' union voted last night 'with an overwhelming majority' to support our strikes. We are, of course, very grateful for their solidarity – we hope we will soon have the chance to reciprocate.
As trailed in yesterday's report, we decided to mark the first day of Lent – and Day 5 of the #UCUStrikesBack on Leicester UCU's pickets – by thinking of all the things we'll forego: 'unnecessary' form-filling, bureaucracy, and metrics (REF, TEF, etc.), and so on. We wanted to highlight how all this relates to the #FourFights dispute, how it impacts adversely on staff and, in turn, on students.
Our members didn't disappoint with their placards and costumes, securing our 4* rating in the Picket Excellence Framework, which branch Co-Secretary Gareth took very seriously indeed.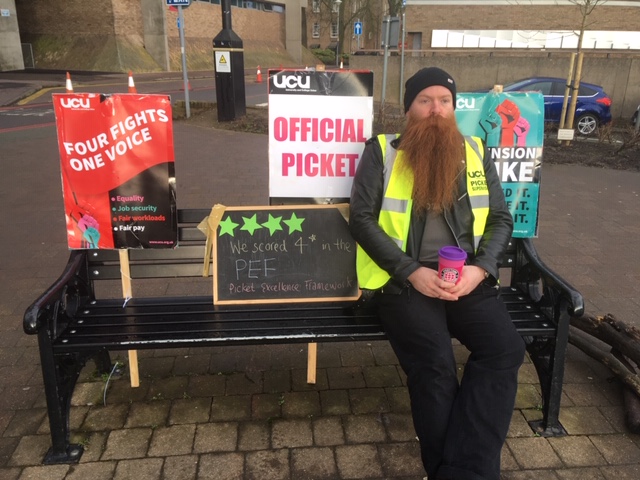 Katy highlighted the burden of non-stop emails…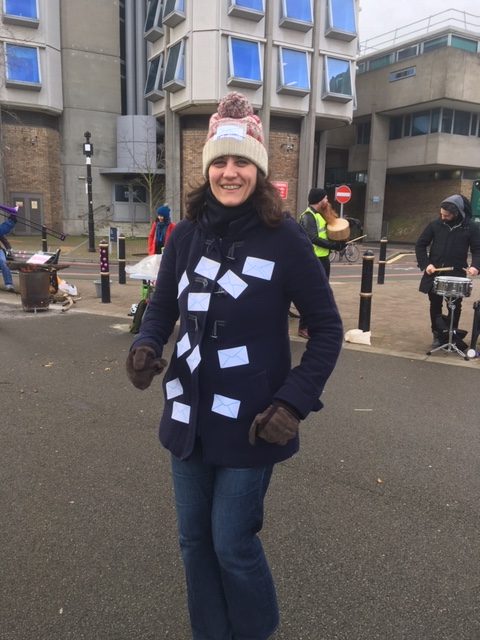 … while Sally & Lucy were all about the red tape and paperclips…
We used REF criteria to judge our members' contributions: Nico's drumming was rated as world leading (4*) while Gareth's 'noise' only achieved 2* due to being recognised nationally in originality, significance and rigour, but not internationally excellent.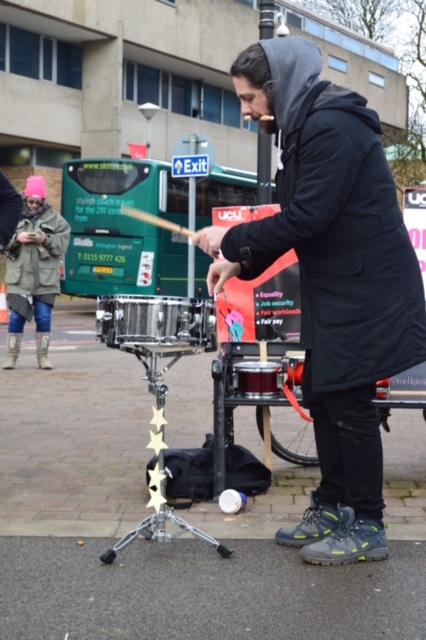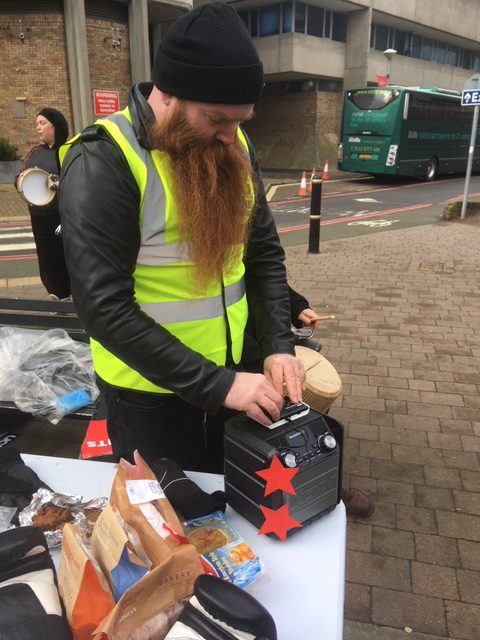 Once again, we refrained from marching on campus, but instead stretched our legs by strolling the long way around the perimter of our university's campus. (The wind was more bitter today than a USS executive's valuation of our pension: certainly it was too cold to stand still.)
Thursday 27th and Friday 28th it's back to work – but, of course, we're still taking action short of a strike, so no one will be working longer than contracted hours to deal with any backlog. We encourage members to spend time over the next few days discussing the disputes with colleagues – talk to them about why you are striking, direct them to useful blogs and threads on twitter (as well as this website, of course) and arrange to meet them on a picket line one day next week.
Sarah Bell – a professor of environmental engineering at UCL – has written a particularly powerful blog, explaining the necessity of withdrawing one's labour in order to protect the university – definitely a piece some of our more senior colleagues should read!
The following flowchart – credit to @PlacardSticks and @Bronterre1 – is also a very clever resource:
We return to the pickets on Monday 2nd March – there's loads of useful information in our strike handbook, including details about themes and special events on specific days.