The Global Academic Boycott: An Explainer for Prof. Edmund Burke
Published: 25th June, 2021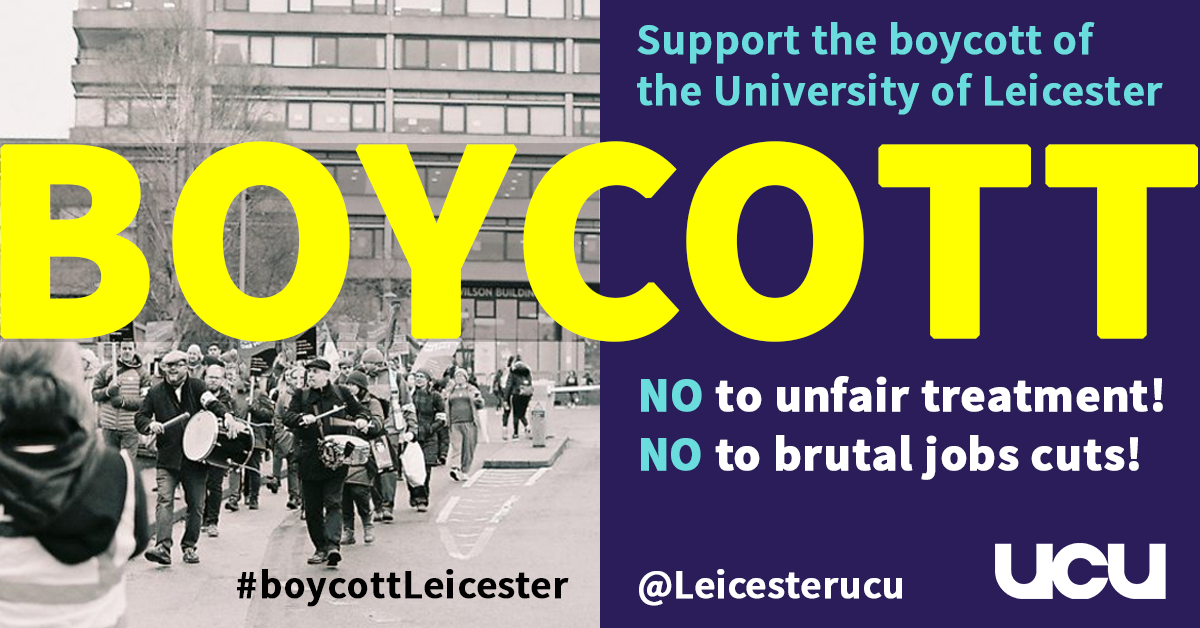 During a dispute resolution meeting on 23 June 2021, your Deputy Vice-Chancellor Edmund Burke wondered why National UCU had launched a global academic boycott against the University of Leicester on 4 May 2021. Specifically, he was unsure whether other university employers who are busy trying to make staff redundant have also been subject to an international boycott. And, if not, why not?
Leicester UCU officers suggested, perhaps uncharitably, that it should have been relatively easy for the Deputy VC to find this out for himself at some point in the last two months, and steered the meeting back towards the question of negotiating a resolution to the dispute.
The content of that negotiation meeting, which the executive board called for, is quick and easy to sum up: the executive board would like Leicester UCU to (1) call off the marking and assessment boycott, (2) ask National UCU to call off the global academic boycott, (3) promise to be nicer to them on social media, and (4) start working with them to make 'phase 2' of 'shaping for excellence' less of a catastrophe than 'phase 1' has been. In return for your largesse, the executive board was prepared to offer… nothing.
The executive board refused again your main asks, and it's worth stressing that these become more reasonable with every passing week, as more 'unaffected' staff walk out the door – including the executive board's own PVC for Education: first, to withdraw the remaining compulsory redundancies (now 25) given that well over 100 staff – a lot more than Prof. Canagarajah thought necessary to achieve excellence in January 2021 – have already departed. And, second, to guarantee there will be no compulsory redundancies involved in 'phase 2' which involves IT Services, the Research & Enterprise Division, and Learner Services (AccessAbility Centre and the Library Study Skills Centre). They simply said no.
However, as we have agreed to meet with the executive board again next week, it is perhaps a good idea to clarify for the Deputy Vice-Chancellor what the global academic boycott is, why it has been applied to Leicester by National UCU, and why the very least they can do to start undoing it is to cancel all remaining compulsory redundancies in both phases of 'shaping for excellence'. Hopefully he'll appreciate the explainer, complete with links to further learning resources, should he find more information useful.
How the Global Academic Boycott came to be
Leicester UCU branch members overwhelmingly voted in favour of a motion to ask National UCU to 'greylist' the institution at the Annual General Meeting on 14 April. (The motion was proposed by Deirdre O'Sullivan, former co-chair of Leicester UCU, who had been supporting numerous members at risk of redundancy. She explains why in this short video.) On 24 April the UCU Midlands Regional Committee voted unanimously to bring this motion to the next national UCU Higher Education Committee, where it passed, again without dissent, on 30 April. It thereby became National UCU policy on 4 May 2021.Admittedly, May 4 was also the date that Leicester UCU's industrial action began – specifically action short of a strike, including a marking and assessment boycott. (If Professor Burke has forgotten how we come to be taking industrial action against the executive board, we remind him that 56% of our members voted in a ballot held over Easter: 70% voted for strike action and 84% for ASOS.) Two different boycotts meaning two different things starting on the same day might have made matters confusing. Sorry about that.
Why the Global Academic Boycott has been applied to the University of Leicester
This is where it might get a bit uncomfortable for the Deputy VC, and the executive board as a whole, because it will require some critical self-reflection. But, as any good educator would tell you, learning is often at its best when it makes you uncomfortable.
As the Academic Boycott FAQ page, which has been publicly available for the Deputy VC and anyone else to read since 7 May, states: a Global Academic Boycott "is incredibly damaging to an institution's reputation and is, quite rightly, rarely used, being reserved only for the most egregious cases of mismanagement that are likely to cause sector-wide damage to our working conditions and to those of our students" [emphasis added].
Translation: National UCU have applied this sanction to the University of Leicester – and not all universities who have ever made staff redundant – because of the exceptionally bad manner in which the redundancy proposals have been orchestrated and executed by the senior management of the University of Leicester to the extent that their actions are considered a grave threat to the whole Higher Education sector. (For the avoidance of doubt: Deputy VC and the whole executive board, this means you.)
Executive Board asks: Alright then, but what have we done that's so bad?
Leicester UCU replies: Take a seat, there's quite a long list. Although there is nothing you haven't already been told, multiple times.
Breach of Academic Freedom
In May 2021, more than 70 senior staff across the University implored the executive board to reconsider its actions. They noted that "the breach of academic freedom in the decision to select candidates for redundancy in the School of Business on the basis of the intellectual approaches imputed to their past writings and research… is a compromising of academic integrity which is without precedent". On one of the occasions that #BoycottLeicester was trending on social media in May, academics from the around the world, students, alumni, politicians and concerned citizens found the reasons given for redundancy cases in the School of Business genuinely alarming. Words like 'fascism', 'totalitarianism' and 'book burning' were used (not by Leicester UCU). A local social worker said: "Isn't that what's called censorship and suppression?" A criminologist working at a Canadian University described it as "an existential threat to higher education". A nursing academic at Manchester University said: "one of the worst attacks on academic freedom I've ever seen". There are literally thousands of these examples.
Meanwhile, having done a full sweep of the #BoycottLeicester hashtag on one of these days, 13 May, Leicester UCU located precisely eight posts that unequivocally supported these redundancy decisions. All were posted by anti-"woke" culture warriors whose feeds contain some combination of xenophobia, misogyny and other forms of hate speech. [Note: we're deliberately not linking to these, but a compiled list can be provided on request]
Trade Union Victimisation
At all stages of the redundancy "consultation" process and its outcome, Leicester UCU has raised concerns about trade union victimisation that have not been addressed. Indeed, raising such concerns has only seemed to increase the executive board's determination to attack visibly active members of Leicester UCU.
Leicester UCU officers and departmental representatives were disproportionately included in the original pool of 145 staff notified of being at-risk of redundancy in January 2021. Despite the statistical anomaly and various more qualitative evidence being highlighted, the Director of HR arbitrarily concluded in April 2021, after considerable foot-dragging, that no further investigation was necessary. Leicester UCU calculated that the proportion of trade union officers and representatives at risk of redundancy was 8.4% of the total pool of at-risk staff. The proportion of trade union officers and representatives not at risk of redundancy, compared to all staff not at risk, was 1.7%. This amounted to a negative disproportionate impact of the redundancy proposals on trade union organisers of 6.7%. The University's equalities policies say that any negative disproportionate impact of such over 5% is cause for concern and mitigation. Yet, despite this, the concerns were dismissed as insignificant by the Director of HR.
At the end of the redundancy "consultation" process, 26 staff members were issued with compulsory redundancy notices. Of these 27% were Leicester UCU officers and representatives. This cannot be described as anything else but a blatant attack on trade union organisation.
Consultation and Selection Processes so "absurd and unjust" they have "yet to be documented in dystopian fiction"
Both of the foregoing points have been compounded by matters around the selection of staff to be included in the at-risk of redundancy pool that are more difficult to be explicit about because they concern individuals. In the School of Business, the change proposal's creation of a pool of staff at-risk of redundancy was based on a screening exercise in which no notes were taken; across the course of the "consultation" various spurious and shifting explanations of the basis for selection were advanced by the senior managers leading the case for change. An analysis conducted by two non-at-risk staff members in the same School, concluded that there was "no evidence to support [management's] claim that redundancies in the School of Business are about disinvesting from political economy and Critical Management Studies. By far the most statistically significant factor is union activism. An underperforming Economics, Finance & Accounting professor who researches in political economy has a 5% chance of redundancy if they stay out of the union. However, if they decide to become a UCU officer, the chance of redundancy rises to over 80%."
In Neuroscience, Psychology and Behaviour, staff seem to have been placed at risk of redundancy if they did research which takes up too much space in campus buildings. Most people here were forcibly moved onto teaching-dominant contracts rather than be made redundant, but among those who did receive compulsory redundancy notices in May, it's striking how significant a factor having outstanding complaints against senior managers at the University of Leicester seems to have been.
Intimidation of internal critics "of so crass a nature it has attracted international news"
Many staff not at risk of redundancy – like many tens of thousands of respected scholars, learned societies, professional associations, students and alumni – have spoken out strongly to criticise and protest against these plans, which have unquestionably caused serious reputational damage to the University of Leicester. Rather than listen to, hear, and address any of this seriously, the executive board sought to intimidate and silence those critics, by weaponising the Dignity and Respect policy against them. In several cases, 'informal' conversations – which employees were instructed to attend, led by managers at least one rank senior to their line manager, and in some cases several ranks senior, in the presence of HR business partners – were convened at the express behest of the Deputy Vice Chancellor. In the cases with which Leicester UCU officers are familiar, no individuals had actually reported that they felt their dignity and respect had been compromised: instead the Deputy VC assumed indignity and disrespect had been, or could be, caused on behalf of "the University".
The ham-fisted attempt to pressure a highly respected Emeritus Professor from saying what he thought about the executive board's plans and treatment of current staff, caused The Guardian to report that, 'Criticism has focused not only on the way in which the redundancies have been handled, but also on governance of the university's finances and broader concerns about restructuring and the direction in which the university is being steered. The university has also been accused of attempting to "intimidate and silence staff" who speak out.'
Flabbergasted member of staff asks: Well, it's all going to end here though, isn't it?
Despite never having talked about 'phase 1' and 'phase 2' of 'Shaping for Excellence' until the dispute resolution meeting with Leicester UCU on 23 May, the Vice-Chancellor said in the 24 May 2021 executive board Q&A that he "had always been clear" that there would be a 'phase 2' and that there were absolutely no plans for further cases for change/redundancies after 'phase 2'.
Phase 2 will involve cases for change in IT Services, the Research & Enterprise Division plus all those responsible for supporting postgraduate researchers, and Learner Services (AccessAbility Centre and the Library Study Skills Centre). The Deputy Vice-Chancellor said in the meeting with Leicester UCU on 23 June 2021 that he could not (or would not) rule out compulsory redundancies in 'phase 2'. Surely, given the perilous state of staff morale, if he knew that these proposals – which staff have been promised to be shared 'very soon' for several months now – did not involve compulsory redundancies, he would say so at every available opportunity.
Well, maybe they are telling the truth about no bad things after 'phase 2'?
Maybe they are. However, it may seem like a small untruth that the Vice-Chancellor said he had 'always been clear' there would be a 'phase 1' and 'phase 2' on 24 May, when the very first time any member of staff heard the words 'phase 2' was the day before. It may seem like a small untruth that the Vice-Chancellor said in the same Q&A event that the Global Academic Boycott had led to 'one or two events being cancelled', when Leicester UCU provided him with an itemised list of 19 events, some of which were major international conferences, that had been cancelled, external examiner resignations and research collaboration withdrawals, the day before. It may seem like a small untruth that School managers tell staff one thing about how the marking boycott is being circumvented, and University managers tell students the opposite a week later.
There are the larger untruths embedded in the above to which these smaller untruths should be added. And then the question becomes, why should you think they are telling the truth about one very large thing they have every reason not to?
In conclusion
Leicester UCU made clear to the Deputy Vice Chancellor that only National UCU can call off the Global Academic Boycott and they will only do so if the executive board makes a significant and serious offer of change in direction. If they persist in refusing to cancel the current compulsory redundancies and to commit to no compulsory redundancies as part of phase 2, it is unlikely that anything Leicester UCU says or does will convince National UCU to lift the boycott. If they agree to cancelling the current compulsory redundancies and committing to no compulsory redundancies in phase 2, Leicester UCU may be able to persuade National UCU to lift the boycott (instead of, for example, refusing to do so until significant members of the executive board lose their jobs). National UCU cares about the outcome of this dispute not just because it cares about the University of Leicester, but because this dispute has serious ramifications for how Higher Education staff are treated across the country.