Three Day Strike: Reflections
Published: 14th June, 2021

Reflecting on our short, sharp strike action last week, there is a lot we can be proud of. Physical and virtual picketers turned out in solidarity, along with lots of well wishers supporting our cause and some rousing speeches from external commentators.
The strike took on three key daily themes that have been incredibly relevant to our branch over the last few months…
Solidarity
Solidarity has been a crucial focal point of this bout of strike action. Undertaking such divisive, drastic and damaging cuts during a pandemic has meant that branch members and impacted colleagues have felt doubly isolated in their suffering at the hands of 'shaping for excellence'. However, our strength as a collective has been unwavering. Whether you joined us physically or virtually on the pickets, our sense of solidarity is stronger than ever, and this three day strike has helped to cement that.
We had some helpful vans to solidify our message…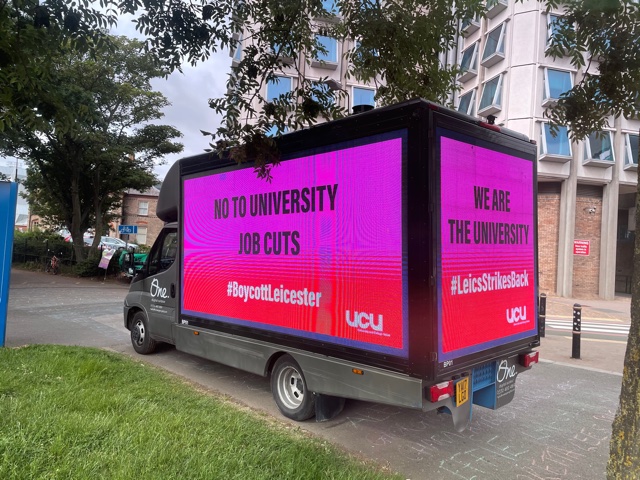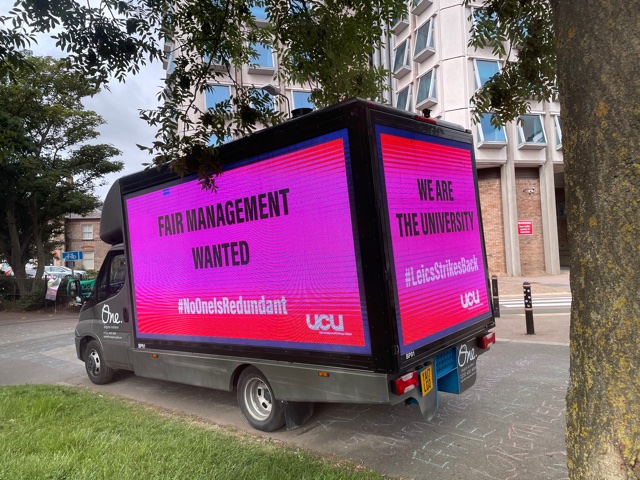 On Friday, the joint rally with Liverpool was a coming together of two branches in disputes over compulsory redundancies that had been driven to taking strike action. At Liverpool they are fighting 28 redundancies, full details of which can be found here. Speakers included staff at risk of redundancy from both institutions, Leicester MPs Jonathan Ashworth and Claudia Webbe, and UCU president Vicky Blake. Coincidentally, Friday was the end of strike action for both branches. We now both look towards ASOS and the marking boycott. We, of course, have been observing the assessment boycott since 4 May, but Liverpool embarked on theirs this week, and these are great tools in making senior leadership listen to our demands.
For a real sense of the solidarity we have received in the last seven days, visit our social media accounts on Twitter, Facebook and Instagram to see the full extent of the global support for our dispute (#SolidarityLeics).
Governance
Colleagues embroiled in any of the eight business cases, and members aware of what has been happening, understand the importance of considering the theme of governance. This was visually depicted by our physical picketers with a mammoth piece of pavement art, which listed the names of the senior staff who wrote to the Vice Chancellor to express their opposition to the 'Shaping for Excellence' plans. Full details of which you can find here.
The Executive Board have constantly shifted the goal posts throughout this process, and indeed throughout their tenure. Affected staff are still faced with navigating appeals processes that breach the University's ordinances and principles of natural justice: all details of these appeals have been shared with the individuals who authored and executed the business cases. Inexplicably, colleagues who have appealed are having to wait up to 45 working days before their appeal is heard: the University's ordinances state that appeals will normally be heard within 15 working days. Immoral and unlawful on so many levels. 
The governance theme was discussed in our virtual picket. With contributions from Anne-Marie Greene (who also wrote a fantastic piece for Thursday's rep) and Chris Williams, this was a great collective expression of exasperation, but also a forum for the sharing of strategies. One point that was raised, which certainly gives us food for thought, are the 'Nolan principles', and how many we think Professor Canagarajah and his Executive Board have broken/upheld…
Academic Freedom
Our final day centred on academic freedom, and specifically the attacks encountered by staff to their own research agendas, their livelihoods and indeed their careers. A key feature of 'shaping for excellence' has been the attack on academic freedom. Staff whose intellectual approaches to areas deemed no longer aligned with the strategic direction University leadership have decided they are going to take, with little – or no – rationale, were chosen for redundancy. Spurious selection methods were used to identify suitable colleagues to make redundant, which included the use of certain words in their publications, and their publication in specific journals. More information on the attack on academic freedom can be found in relation to the school of business here. If the University of Leicester Executive Board are successful in pursuing these 26 redundancies, it sets a dangerous precedent for the higher education sector.
On the final day of strike action, the physical picketers embarked on a visual piece of pavement art to depict those 115 (and counting) members of staff that have already been forced out of the University in the wake of 'shaping for excellence'. 
A 'wall of names' has also begun on our website. If you are happy for your name to be added, please do contact us as we shall keep this updated.
Looking ahead…
ASOS, and the marking boycott are our strongest weapon as we continue through this dispute. Managers are ramping up the pressure on UCU members to return marks. We ask you to stay strong and hold your positions. Please refer to our FAQs if you are unsure of anything, and do not hesitate to contact your departmental rep for guidance, or the branch committee.
A local fighting fund has been created and will be available for Leicester UCU members that are impacted by pay deductions arising from ASOS. We already have donations from other UCU branches, which we are incredibly thankful for as it greatly strengthens our position. Members in a position to do so should donate contributions as well: details on the ASOS FAQs page.
A parliamentary motion has been tabled to halt University redundancies, support UCU strike action and call on the government to end the marketisation of higher education. MP for Leicester East, Claudia Webbe is the motion's primary sponsor, and delivered a powerful speech to picketers last week. Please ask your MP to add their name: https://edm.parliament.uk/early-day-motion/58532/university-redundancies