WHO is doing WHAT to WHOM
Published: 12th May, 2021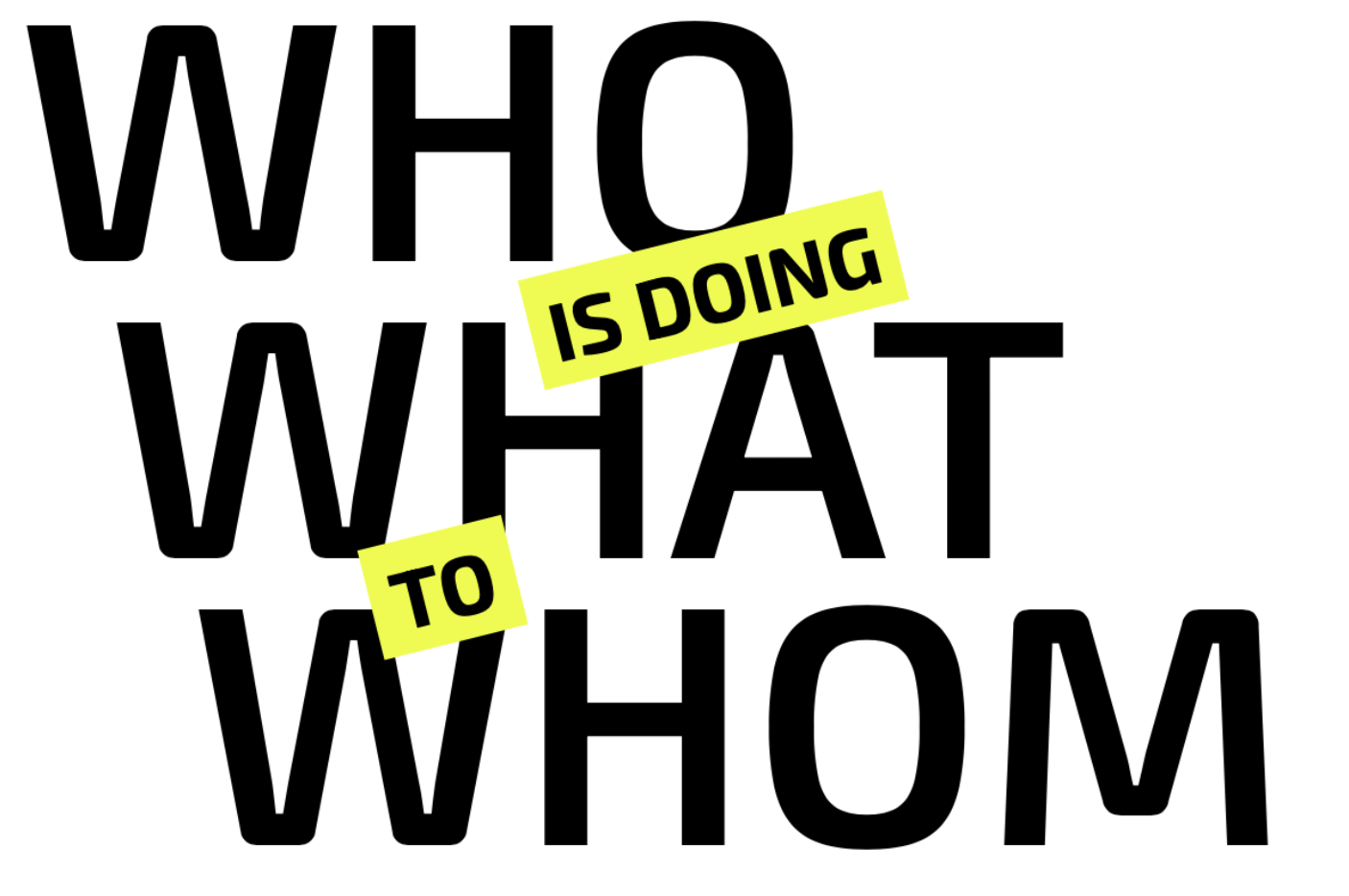 Do you know any of the individuals below? Ask them what's happening at University of Leicester. Ask them what their role is, ask them what they're doing to defend the University!
Are you a member of any of same organisations as any of the individuals below, whether a professional assocation, or voluntary or religious body? Write to that organisation, expressing your concern that one of its members is behaving in a way that might be antithetical to its values.
Already know the story?
Go straight to the names:
Members of University of Leicester are currently in dispute with the University's senior managers, especially its Executive Board and some key members of University Council. A summary of what's at stake is here. Briefly, the future of our University hangs in the balance. Its finances are in a parlous state. It has "minimum headroom" against its most stringent agreement with creditors. It owes the Bank of England £60m – money that must be repaid inside 12 months. The leadership has not ruled out "further mitigating actions" should the University's "forecast position deteriorate further". COVID might be a proximate cause, but the problems are far deeper: we are in peril because of leaders' rash and hubristic decisions to take on risky debt, as this devastating report into the University's long-term liabilities makes clear. These leaders have refused to meaningfully consult with those whose jobs are at risk. They have kept their own strategy a closely guarded secret – this isn't due to be published until September or October 2021, i.e. a month after those they are seeking to sack have received their final salary payment. They remain in hiding, declining interviews with the media and refusing to engage with staff, students, outraged MPs and alumni, flabbergasted members of the scientific and other scholarly communities. They are wholly unaccountable. We have no trust or confidence in them.
Executives' war against the University of Leicester has taken various forms. For instance, in the library they have targeted frontline staff, those who answer queries and stack shelves. In Educational Services, they are attacking the specialists of the Leicester Learning Institute, who made it possible for teachers to deliver 'blended learning' throughout the pandemic. Academic freedom is being attacked: in the English department, where the study of Early Modern and Medieval liberature is deemed redundant; and in the School of Business, where bosses selected staff because of their overly 'critical' approach to management studies or because they are political economists. There is a large element of trade union victimisation. Of the 16 staff were initially targeted in the School of Business, half are elected union branch officers or departmental reps. As opposition to executives' plans has mounted, they are resorting to the crudest threats, attempting to silence all critical voices from within the institution.
It's possible to point the finger at seemingly impersonal forces and outside actors – 'marketisation', government policies, COVID. But individuals always have choices. Individuals at the University of Leicester have chosen to act in certain ways – or they have chosen not to act. We have in mind individual members of the University's governing bodies, especially its Executive Board, Council and Senate. But also members of Court (particularly its 'Full members') and some less senior managers who are nevertheless complicit in attacking livelihoods. These people all have power. We must ensure that they accept responsibility for their actions. We must make them accountable.
Why should you care?
If you work in another higher education institution, what's happening in Leicester should worry you too. Your own bosses will be eagerly watching. If the University of Leicester leaders succeed it will set a dangerous precedent for the entire sector, removing another level of protection and taking us to a new low.
If you care about scholarship and intellectual freedom – wherever you are in the world, whether you have some association with the University of Leicester or none – then you should be bothered by what's happening. Because it is an attack on scholarship and intellectual freedom.
If you live in Leicester or its environs, the University is – or should be – yours too. Leicester University was established on the initiative of local people, as a memorial to those who lost their lives in the Great War. It was established to serve society. Like most universities, it's lost its way in recent years – and the present shambles is only the latest, most egregious instance of this. But we have not abandoned hope that we can reclaim our University. We can pioneer a new model of governance, one that is collective, diverse and inclusive of all members of our communities, allowing this university to serve society's needs, not bow to the logic of finance.
Assigning Accountability
University Council is the University of Leicester's 'supreme governing body'. The majority of Council's membership consists of 'lay' members. (They are mostly appointed by Council itself – it's a self-reproducing body in that way.) They are mostly local business people, entrepreneurs, respectable members of the community. You might be a client of their business. Ask them what they are doing about it, if anything. They should be doing something: 'In their governor role as "critical friends" of the University, members of Council are expected to ask probing, searching questions in relation to the above matters and to satisfy themselves that the responses are sound, confident and consistent.'
Council has taken some crucial decisions in what we describe as the stealing of Leicester University. In 2017, for instance, members of Council 'confirmed … [their] willingness to accept [on our behalf] and encourage an increased degree of risk in pursuit of the University's mission and objectives'; they have overseen a tripling of the University's long-term liabilities over the past five years. (See this report, mentioned above, for details.)
The Executive Board is responsible for steering and supporting the strategic direction of the University. Its members are the most senior individuals in the University. Most have academic backgrounds (and even pretend to remain serious scholars). They are the people who are most responsible for the planned redundanies and the ongoing undermining of the University's fabric and reputation.
Senate is the University's principal 'academic board', it is 'the custodian of the institution's academic integrity'. It has approximately 50 members: almost all of these are senior academics, mostly heads of departments and schools. As 'custodians of the institution's academic integrity', Senate's members are surely responsible for holding the Vice-Chancellor and the executive board to account, especially where their decisions concern scholars' livelihoods, academic freedom and the capacity of the institution to support scholarship (undermined by making redundant frontline library staff and pedagogical experts). Four members of Senate also site on Council.
Court is 'one of the University's main external "stakeholder" bodies', with approximately 100 'Full' members and around 75 'Associate' members. most of whom are drawn from amongst the University's retired professorial staff.
Who-What-Whom
This list is a work in progress. If you able to help us update it – either augmenting the information about individuals already mentioned or adding new names – please contact us at ucu@uculeicester.org.uk. (To help us process emails, please put who-whom-what in the subject line.)
THE 'TROIKA'
Gary Dixon Chair of Council. A member of Council since 2009, Dixon is also on its Finance committee and was University Treasurer during the period when the Freemens Common special purpose vehicle was created. He became Chair in August 2019. Dixon has numerous business interests, as a quick look at Companies House data or his LinkedIn profile reveal. He's a non-executive director of the Universities Superannuation Scheme and a Trustee of Leicester's Curve Theatre. According to the University's 2020–21 register of interests, Dixon is a director of management consultants LHSBM Ltd; he's a shareholder of Kinnell Holdings, Angels Den Services Ltd and SkinGen International Ltd, a partner of Momentum GRC (now dissolved), and a member of the Financial Reporting Council's appointments committee. In his own words: "I am a commercial entrepreneur and knew that I had quite a lot of different experiences that may help shape the Council's thoughts in a different way to most of the members. My motivation was partly about giving something back as a graduate but also a genuine belief that my experience is pretty scarce, locally."
Nishan Canagarajah President and Vice-Chancellor, the University's de facto Chief Executive Officer; member of Council and chair of the Executive Board, Senate and Court. According to his Companies House profile, Canagarajah is a director and secretary of Bristol-based property management company 16 Royal Park. Here's his LinkedIn profile. He has published in engineering and computer science, specifically image processing and coding.
Edmund Burke Deputy Vice-Chancellor. Appointed by Paul Boyle in July 2018, Burke was interim Vice-Chancellor between Boyle's departure in March 2019 and Canagarajah's arrival five months later. Member of Council, Executive Board, Senate and Court. Burke: is Fellow of the Royal Academy of Engineering; President of the Operational Research Society; Fellow of the British Computer Society; Fellow of the Institute of Mathematics and its Applications. According to the University's 2020–21 register of interests Burke has financial interests in EventMap and the Journal of Scheduling, of which he's editor-in chief. Here's his LinkedIn profile.
EXECUTIVE BOARD
Philip Baker Pro Vice-Chancellor, Research and Enterprise. Before his promotion to Pro VC in March 2021, Baker was head of the College of Life Sciences and led redundancy meetings with colleagues in Neuroscience Psychology and Behaviour. No stranger to scandal, in 2011 Baker was forced to resign as dean of University of Alberta's medical school after plagiarising parts of a graduation speech. According to the University's 2020–21 register of interests, Baker is a Board member of University Hospitals of Leicester NHS Trust, a shareholder of Metabolomic Diagnostics, a Board member of Tuntum, managing director of Millwood Holdings (a portfolio of companies) and director of Newton Baker Holdings, which owns this 'lovingly converted holiday property'.
Graham Wynn Pro Vice-Chancellor, Education
Sarah Davies Pro Vice-Chancellor and Head of College of Science and Engineering
Henrietta O'Connor Pro Vice-Chancellor and Head of College of Social Sciences, Arts and Humanities. As Head of CSSAH, O'Connor is leading the business cases against colleagues in the School of Business and English. A professor of sociology and a former trustee of the British Sociological Association, O'Connor has asserted that sociological approaches have no value for the study of management. (The BSA's president has declaimed against the plans the O'Connor is overseeing.)
Thompson Robinson Pro Vice-Chancellor and Head of College of Life Sciences. Robinson replaced Philip Baker as College head in March 2021. Before that he was deputy head of College and thus a key protagonist of the attack on Neuroscience Psychology and Behaviour colleagues.
Martyn Riddleston Chief Operating Officer and formerly Chief Financial Officer. Along with current chair of Council Gary Dixon and deputy VC Edmund Burke, Riddleston has overseen an explosion of the University's long-term liabilities. You can see his other interests on his Linkedin profile.
Kerry Law Chief Marketing and Engagement Officer. Here on Linkedin.
Geoff Green Registrar. Leading the business cases against staff in the Library (also see this), in Education Services. Green's favourite statistic is that 55% of the books in the library have not been borrowed since 2016. On LinkedIn.
UNIVERSITY COUNCIL
Leicester UCU wrote to all members of Council on 23 February, explaining our perspective in detail. A copy of that letter is available here.
Ian Johnson (Treasurer)
The following are all lay members appointed by Council itself
Janet Arthur Towle has many interests. She is: Director of property company Mains Estate; Trustee of Leicester Cathedral Charitable Trust; Canon of Leicester Cathedral; Chair and Trustee of Leicestershire Historic Churches Trust; Deputy Chair of Campaign Panel for Leicester Cathedral Revealed. Here's her LinkedIn profile.
The following members of Council are appointed by the Senate – thus all are senior academics at University of Leicester
Professor Stephen Garrett Head of School, Engineering; Head of School, Mathematics & Actuarial Science. Garrett is leading the attack on mathematicians and information scientists at the University of Leicester
The following members of Council are appointed by the Court
Vijay Sharma Vice-Chair of Council
The President of the Students' Union
Appointed by the Alumni Association
UNIVERSITY SENATE
Leicester UCU wrote to all members of Senate on 23 February, explaining our perspective in detail. A copy of that letter is available here.
James Devlin Dean of the School of Business. Devlin is architect and executor of the attack on colleagues in the School of Business, in which the strategy is to 'disinvest from research and scholarship in critical management studies and political economy'; eight of the 16 colleagues who were initially target were elected UCU branch officers or departmental reps. (More info here.) Devlin's LinkedIn profile is here. His September 2020 welcome message to new students is also revealing.
Richard Thomas Dean of Research, College of Social Sciences, Arts and Humanities. Professor Thomas has rubber stamped the research case against colleagues in this college, including in the School of Arts and the School of Business, providing a pretence of academic credibility after the Associate Dean for Research in the School of Business as well as the whole research committee expressed her opposition. Professor Thomas seems to think that this has nothing to do with him, but by not opposing the case he is effectively owning it.
You can see a full list of Senate members here. Please contact us (ucu@uculeicester.org.uk) if you information about any of these individuals that you think we should include.
OTHER INDIVIDUALS OF NOTE
Daniel Ladley. Deputy Dean of the School of Business. The co-architect and executor (with his immediate boss James Devlin) of the attack on scholarship in critical management studies and political economy in the School of Business. (See here for more info.) Here's Ladley on LinkedIn.
UNIVERSITY COURT
You can see Court's membership here.