Why we are striking again – and other FAQs
Published: 18th February, 2020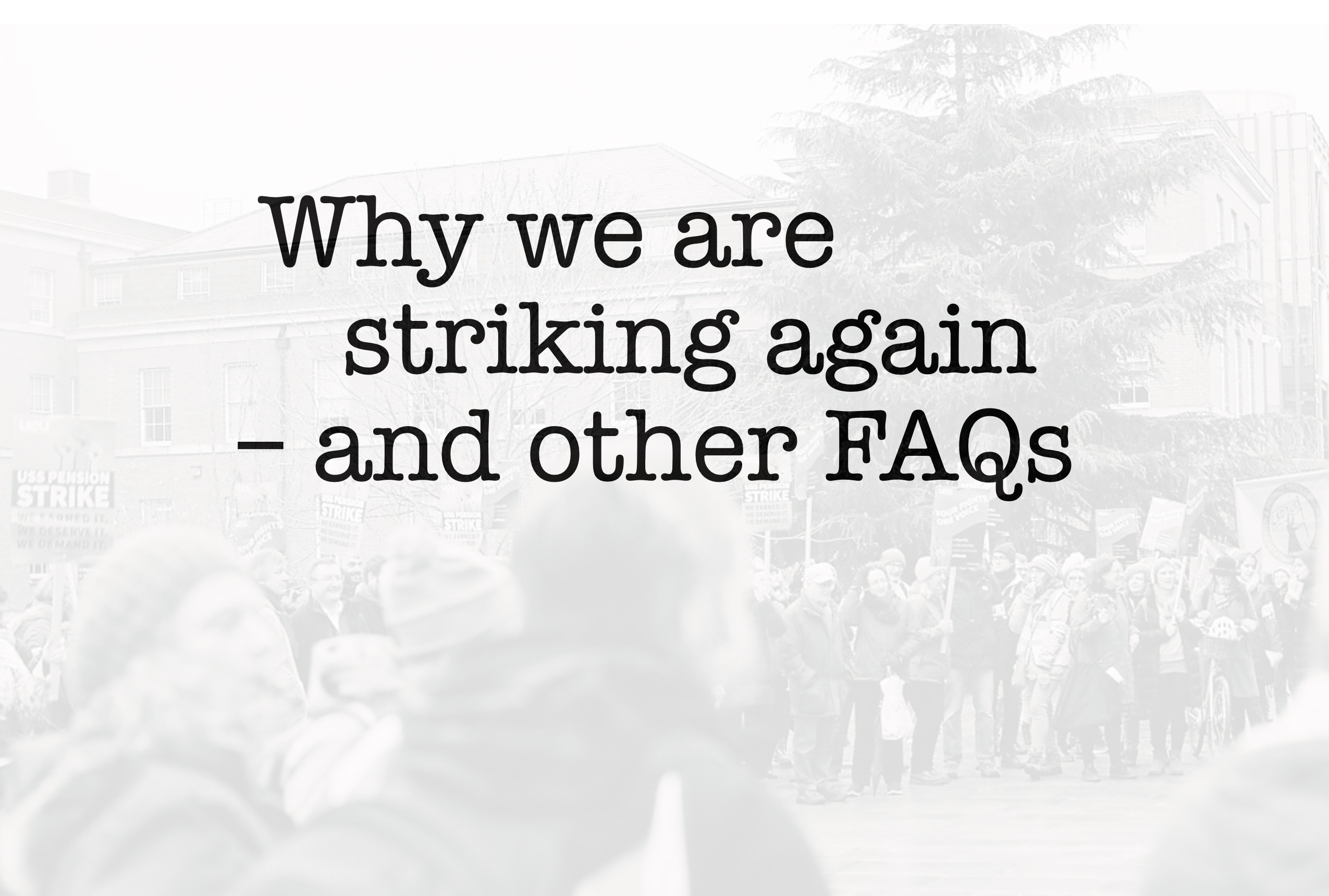 Why are we striking again?
In a nutshell, because although UCU's negotiators in both disputes have made progress, our employers have not shifted enough.
As UCU's general secretary Jo Grady has explained we have made considerable progress in the USS dispute – and Universities UK has the opportunity to end that dispute right now. The situation certainly looks promising. But it did in March 2018 too. Following our effective strikes then USS and UUK consented to the creation of a Joint Expert Panel and we, in response, called off our action. Since then, however, USS and UUK have backtracked, they have contested the JEP's findings and they have conceded very little. That's why we struck again in November and December last year. But we shouldn't repeat the mistake we made in March 2018 – we need something more than promises.
In the 'Four Fights' dispute we have made less progress. The employers' representative body UCEA has conceded a little on job security and equality, but almost none on workload and none at all on pay. This forthcoming strike was called only after UCEA walked away from the negotiating table.
Will the strikes be as big as in November and December?
Probably bigger. Then UCU members at 60 universities took strike action. This week – and for the subsequent three weeks – employees at 74 institutions will walk out.
Won't our claims cost a lot of money? Can the sector afford it?
Not necessarily. And yes.
Our pensions dispute has mostly concerned the valuation of the USS scheme (see our guide to the JEP's second report) – and its governance. It's a shame Universities UK took so long to understand that their interests and ours were largely aligned on this, but many employers, including our own, do now accept this.
The situation vis-à-vis pay, workloads, equality and casualisation is a little more complicated. This is essentially a dispute about values – brains or buildings, pedagogy or performance indicators – but we think the sector can afford to value us and so can the University of Leicester. We addressed this question in much more detail 15 months ago, drawing on data in our employer's financial statements. Little has changed since then. Our analysis reveals a lot about our leaders' priorities and values.
But a lot has changed at University of Leicester. We have a new vice-chancellor for a start!
Nishan Canagarajah does seem more sympathetic to staff interests and equality than his predecessor. But we firmly believe that the problems we face – pensions, pay, overwork, casualisation and inequality – are national and require national-level solutions. That is why we are participating in a national-level dispute.
Regarding our own institution, it's true that Prof. Canagarajah has made some encouraging noises – but this is all he has done so far. In his inaugural address, delivered at the end of January, he discussed his vision, his priorities for our university and he made three 'pledges': 1. to eliminate the BAME 'awarding gap' (we have no quarrel with this); 2 to 'invest in staff' by creating an (unspecified) number of research scholarships and ten new 'centenary chairs'; and 3. to become more environmentally sustainable, including divesting from fossil fuels (again we have no quarrel with this). In this inaugural address, Prof. Canagarajah did not mention any of the issues we are currently in dispute over. Employing ten new professors will cost at least £1 million every year, and perhaps closer to £1.5m Why not mark our centenary by pledging to make all employees secure in our employment?
Some aspects of our leadership team's approach have changed not one iota. Take the 'For Sale' signs that have suddenly appeared outside the buildings on Salisbury Road that house two of the University's oldest research centres (English Local History and Urban History), the first indication of a plan to decant colleagues to Attenborough Tower: highly disruptive, no consultation, no preparation and, in the words of one affected scholar, 'ill-mannered'. Has University of Leicester's leadership team learned nothing from the Business School's bungled Brookfield move?
Finally, colleagues will no doubt have read our new vice-chancellor's email concerning the dispute (sent at one minute to nine on Monday morning). We are currently consulting members on Prof. Canagarajah's request that we stay away from the campus – his deputy Prof. Edmund Burke offered us the same 'deal' last week. Whether members accept or reject it however, we consider it an example of powerplay – and not the action of a man who is sympathetic to the people who make the University he sits at the top of. We also note that, following our 14 days of strike action in February and March 2018, Prof. Canagarajah's predecessor, Paul Boyle, agreed to spread deductions over 7 months.
I can't afford to lose 14 days' pay – what can I do?
As in previous disputes, UCU has a fighting fund. It's easy to claim. Details are here.
I want to support colleagues worried about loss of pay – what can I do?
Donate to the fighting fund: details are here.
How can I get involved? How can I support the strike?
Come to our EGM tomorrow (1–2.30pm in Attenborough LT3) to meet others and discuss picketing and other activities – teach-outs, entertainment, daily strike reports, etc.
Check out our Strike Handbook for more information and advice.
Come along to the pickets – every day from 7.30am, at the entrances along University Road and on Victoria Park.
Join our activists' discussion group: email ucu@uculeicester.org.uk (using a non-University of Leicester account) if you wish to participate in these discussions
Think about becoming a departmental rep. See here for current reps – but we can never have too many!